The 1958, 1960 Studebaker Hawk
As the 1958 Studebaker Hawk was rolling around, S-P's financial situation was precarious, so both Hawk models were carried over with only minor alterations. Air conditioning was available for the first time, and one-inch smaller (14-inch-diameter) wheels lowered ride height slightly.
A surprising new variation on the Hawk theme debuted to replace the previous 400: a Packard Hawk, with unusual front-end styling that some described as "the old duckbill." Again the work of stylist McRae, it was inspired by Roy T. Hurley, president of Curtiss-Wright Corporation, which was then a management consultant to S-P. Hurley was said to have been fond of a Maserati 3500GT bodied by Allemano, and ordered up a Hawk with a similar nose for his personal use. S-P managers saw this car and, amazingly, decided to put it into production with the Packard name attached.
Hawk sales slumped badly in 1960 as Studebaker dealers concentrated on the popular Lark compact. There were few appearance changes but many mechanical improvements in the Hawk's final years.
The focal point of the one-year-only Packard Hawk was its low, fiberglass hood and wide "catfish-mouth" grille. It also had distinction at the rear, where a trunklid borrowed from the 1953-1955 coupes was adorned with a simulated spare tire cover a la Virgil Exner's then-current Imperial. McRae told author Langworth in a 1974 interview that this model's curious exterior "armrests" were applied to "give the effect of interior overflow reminiscent of crash padding around the border of early aircraft cockpits." The interior was nearly identical to that of the 1957 Golden Hawk 400, but was offered only in tan. Ironically, this car was really less a Packard than the 1956 Golden Hawk had been, because it was powered by the supercharged Studebaker V-8 -- with Packard valve cover decals.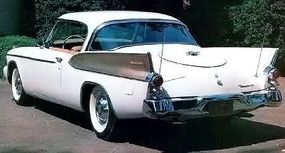 There would be no more Packards after 1958, andthis was one in name only.
All Packards, including the Hawk, disappeared for 1959, along with the old full-size Studebakers. The company now pinned its hopes for survival on the pert, compact Lark, built on a slightly shortened version of the 1953 sedan/wagon platform.
The Studebaker Hawk nearly died, too, mainly because of dismal 1958 sales (only about 8,230 units). What kept it alive was pressure from dealers, who wanted a companion model to sell alongside the Lark. The company obliged, but it had to cut its losses somewhere, so there was now only a single pillared Silver Hawk, available with a destroked 90-horsepower 169.6-cubic-inch six or the "small-block" 259.2-cubic-inch V-8 in 180- and 195-horsepower form. Air conditioning, power steering and brakes, and automatic remained on the options roster, but finned brake drums were no longer available and the six/automatic combo left the Hawk dreadfully underpowered.
Minor appearance tweaks included relocated parking lamps (from the front fenders to the side grilles), "Silver Hawk" nameplates on the fins, and the return of 15-inch wheels. Reclining front seats were a new option. Sales continued in the cellar, with 5,371 V-8s and only 2,417 six-cylinder cars built for the model year.
The 1960 edition didn't go on sale until February of that year, and was now simply called Hawk. Though styling was pretty much as before -- and looking quite dated -- there was good news under the hood, where the six was dropped in favor of the 210-horsepower 289 V-8 as standard. The 225-horsepower unit was optional. Performance buffs applauded the adoption of heavier-duty rear axle, transmission clutch, and cooling system, as well as reinstatement of the finned drum brakes. New options included split front seat, headrests, and tachometer.
On the next page, read about the Studebaker Hawk's final model year.
For more information on cars, see:
Classic Cars

Consumer Guide New Car Search

Consumer Guide Used Car Search