Early Ferraris like the 1955 Ferrari 250 MM GT Berlinetta were typical of low-volume cars in that there was little apparent consistency among them. In any one year of the early 1950s, Ferrari offerings spanned a variety of wheelbases, engines, and coachbuilt bodies, yet all had a certain commonality in chassis and running gear.
In late 1954, Enzo Ferrari began to bring some order to the model chaos with the 250 GT Europa, generally regarded as his first true production car. It featured a 3.0-liter (2,953-cc, 180-cubic-inch) version of the "Columbo" short-block V-12 and rode a 102.3-inch wheelbase, 6.7 inches shorter than the predecessor 250 Europa. Further, coils replaced the transverse front spring and the frame now passed over the live rear axle.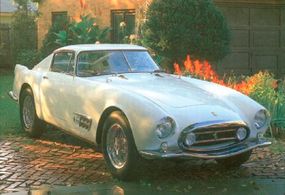 Though no one knew it at the time, the new GT Europa would be the first in a long line of 250 GTs that would stretch into the middle of the next decade. And as this newest of Ferraris was greeted with enthusiasm, spin-offs wouldn't be long in coming.
Among them was the unique 250 MM GT seen here, a handsome berlinetta designed and bodied by Pinin Farina. A one-off with a special interior, it was first seen at the Paris Auto Show in late 1955. The MM stood for Mille Miglia, the famed road race that Italian hillclimb champion Giovani Bracco had won in 1952.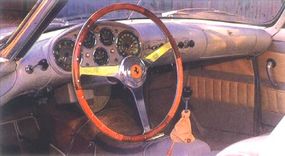 His winning car rode a 94.5-inch wheelbase, but was fitted with a Columbo 2.7-liter V-12 bored out to 3.0 liters. With triple Weber carbs, it developed 230 horsepower at 7,500 rpm. The "classic" 73 × 58.8-mm bore × stroke of this MM engine would remain the same during the lifetime of Ferrari's 250 models.
All in all, about 32 250 MMs were built, and about 36 of the longer-wheelbase GT Europas. The 250 MM GT Berlinetta featured here, chassis 0393 GI, is notable not only for its show-car heritage, but also because it was the first of several forerunners of the later Tour de France Ferrari berlinettas, the cars that gained fame for Ferrari in French competition.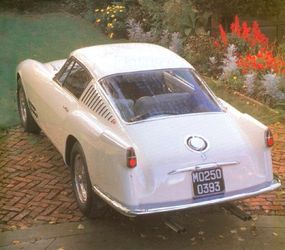 In addition to the basic drivetrain and chassis, a number of design touches were carried over to the TDFs, among them the louvered sail panels and the vents in the lower front fenders -- there was no mistaking the design heritage of the 1957 competition berlinettas. Note also the plexiglass covers over the headlights. Only one styling element, the little tailfins, would be discarded.
For more information on cars, see:
Classic Cars

Consumer Guide New Car Search

Consumer Guide Used Car Search