1954 Corvette Manufacturing and Marketing
Corvette pricing had been a sore point with critics and would-be customers. In a ploy to make the car appear to be more competitive in this respect, Chevy lowered the advertised base figure from $3,498 to $2,774 for 1954. Or did it? In so doing, the company made the Powerglide automatic -- still the only gearbox available -- a $178.35 "mandatory option." When all the legitimate options were added -- directional signals, heater, radio, whitewalls, parking brake alarm, courtesy lights, and windshield washer -- the sticker was still about the same: precisely $3,254.10. Needless to say, most potential buyers saw through this marketing sleight of hand, and the pricing chicanery did nothing to spark sales.
This early Corvette add quoted no
mechanical specifications.
The early Corvette may have had its faults, but unreliability wasn't one of them. It wasn't a temperamental prima donna that was prone to breaking down like a Jaguar, nor did it demand constant attention like a Ferrari. Not that the Corvette didn't display a few quirks: Synchronizing the triple carburetors for smooth idle and throttle response was tricky at best; and water leaks were a problem, mostly from around the top and side curtains, though the leading edges of the door openings were suspect on some units. But these problems were hardly major, and Chevy issued service bulletins to cover them. Running gear? The powertrain was as boringly reliable as in Chevy's everyday passenger models, which was expected but pleasant nonetheless -- especially in a sports car.
For all that, the Corvette arrived at a crucial crossroads by the end of 1954. Though Chevrolet had hoped that '54 volume would be as many as 1,000 units a month, the actual number built for the model year was only 3,640 -- less than a third the projected total -- and at year's end the division found itself with a surplus of some 1,500 cars.
Would-be buyers were put off by Chevrolet's ill-conceived "teaser" marketing approach, which amounted to "look, but don't touch." Additionally, the Corvette was not considered to be a "pure" sports car but a cross between a boulevard tourer (like the Kaiser-Darrin and the soon-to-be-introduced Ford Thunderbird) and an out-and-out sports-racing roadster (like the Triumph TR2 and Jaguar XK-120). Purists sneered at what they considered to be out-of-place features, like the Powerglide transmission and nonfunctional cosmetic items like the car's dummy knock-off wheel covers, while comfort-lovers objected to inconveniences like the clapped-on side curtains, manual folding top, and a recirculating heater that didn't allow for windows-up ventilation. That there were fit-and-finish problems on top of all this didn't help matters.
But perhaps the real problem facing the Corvette was a sports-car market that remained tiny at best. Multi-car ownership was still far from common, and most motorists still needed a more practical vehicle as their primary mode of transportation. Though adequate to support low-volume imports like Jaguar or even Triumph, the market was still ridiculously small by Detroit standards, which demands sales in the tens, if not hundreds, of thousands every year. That the car was high priced further limited potential sales.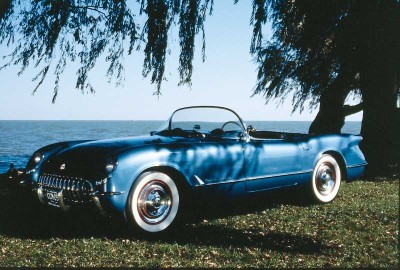 Chevy hoped to sell 10,000 of the 1954 Corvette but ended up building
just 3,640, many of which were unsold at year's end.
Despite the initial huzzahs of the Motorama crowds, favorable press reaction, and steady product improvement, it was becoming clear that Chevrolet's bold sports car experiment had laid a considerable egg. It wasn't long before rumors began drifting through GM corridors that the Corvette was on the verge of extinction as management debated the car's commercial viability.
A stay of execution would come, oddly enough, largely because of GM's corporate pride and competitiveness, with rival Ford introducing the Thunderbird on September 23, 1954. Although a two-seater like the Corvette, it was more of a "personal car" than a flat-out sportster. A comparatively plush and comfortable steel-bodied boulevard cruiser with handsome lines, the T-Bird included amenities like roll-up windows and a standard V-8 engine that made it quite quick. Ed Cole was prepared for the competition, however, and he had a new powerplant ready for production, which would also play a part in the Corvette's renaissance: the brilliant new 265-cid small-block V-8 he'd been working on for Chevy's totally redesigned 1955 passenger cars.
At about this time, a new member joined the Corvette team, who, as it turned out, would help ensure the vehicle's long-term viability. Zora Arkus-Duntov was a 45-year-old German-trained enthusiast, race driver, designer, and engineer who had been "fiddling" with Corvettes in his spare time since joining the GM Research and Development Staff in 1953. As a racer, he not only knew what serious drivers demanded of sports cars but how to achieve it.
Duntov, whose seat-of-the-pants feel for what was right -- and wrong -- with Corvettes would make him a legend among GM insiders and Corvette enthusiasts alike. So respected was he that when it came to management showdowns over suggested changes, the white-haired wizard usually won. "Fiddling" with Corvettes would become Duntov's life's work for the next 20 years.
Learn about other Corvettes in this generation:
Looking for more information on Corvettes and other cars? See: