Before World War II, Alfa Romeo produced exotic sports cars and occupied a niche similar to that of Ferrari today. (In fact, Enzo Ferrari managed Alfa's racing team before building his own cars.) But to survive in the postwar European market, Alfa Romeo decided to market a mass-produced sedan, a series that would include the 1954 Alfa Romeo 1900.
The 1900, introduced in 1950, broke with Alfa traditions and opened new markets for the Milan automaker. The prewar ladder frame was replaced by unibody construction and an expensive independent rear suspension was replaced by a cheap, but well-located, solid axle.
Coil springs were used on all four corners. European racing convention favored right-hand drive and race-oriented Alfa Romeo always put the steering wheel on the right -- until the 1900.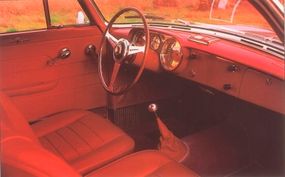 The new engine was a four instead of a six or eight but retained dual overhead cams. It was a jewel of an engine with good power for its size and a wonderful exhaust note.
The 1900 proved a practical, reliable car, but still carried on the Alfa tradition of performance and good handling. Alfa sloganeering called it "the family car that wins races."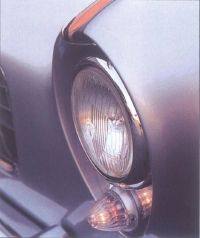 Alfa hadn't totally forgotten its storied past, though. The 1900 was a joy to drive and
Alfa knew it could make it into something more exciting.
In 1951, a short-wheelbase 1900 was made available for custom work. Italian coach-builders used it for some of their most unusual efforts. The Disco Volante -- "flying saucer" -- resembled its namesake, as did the tailfinned BAT.
More successful was a low-production
series of attractive 1900 coupes and convertibles. Lighter weight and dual carbs increased performance.
For 1953, an increase in engine size and a five-speed gearbox (in place of a four-speed) hiked performance further. Top speed for coupes was more than 110 mph and 0-60 came in at around 11 seconds. Fuel consumption was a thrifty 22 mpg.
The success of the 1900 line allowed Alfa Romeo to develop the smaller and even more successful Giulietta series that established Alfa in the United States.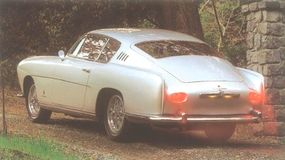 Our featured car was displayed at the 1954 Los Angeles Auto Show, where it was voted most beautiful car. The one-off body by Ghia bears a strong resemblance to the Ghia-bodied Ferrari 195 Berlinettas. The car cost almost $20,000 when a regular 1900 coupe cost only $6,100.
The car's first owner was Al Williams, proprietor of the El Pappagallo restaurant in San Francisco's Fairmont Hotel. He had a custom back seat added for his dog.
The Ghia coupe is currently owned by Frank Gabrielli of Danville, California. Mr. Gabrielli says his 115-horsepower Alfa can keep up with more powerful vintage race cars on all but long straightaways. The 1900 CSS has always taken first place when shown.