With all the delays the all-new 1952 Nash didn't actually get introduced until March 14, 1952. Nash rolled it out with an elaborate press kit, necessary to explain the car's many new features. Also, it was obvious the American press wasn't all that familiar with, nor enamored of, the Pinin Farina name or reputation. Nash felt it necessary to educate the press and the public about its new design consultant, Farina, making sure to include him (and sketches of some of his earlier designs) in the sales catalog.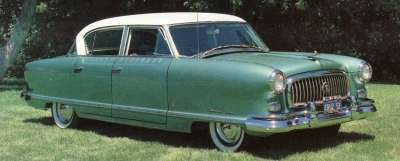 One magazine called the 1952 Ambassador
"one of America's top family cars."
These brochures, however, said Farina "has worked with Nash to help create the outstanding style car of our time" rather than give him sole credit for the car's look, as was the original plan. The cars themselves did their part to help hammer home the connection by wearing a Farina crest on their right front fenders.
"ENTER A NEW 'WHO'S WHO' IN MOTORING" suggested Nash's handsome sales brochure. It went on to proclaim, "Today Nash places in your hands the proudest achievement of its fifty golden years ... The Golden Airflytes for 1952 ... cars excitingly new to the motoring world!"
There were a number of new features, all carrying those important-sounding names so popular in the Fifties: "Airflex" front suspension, "Eye-Level Visibility," "Road-Guide" fenders, "Super Jetfire" engine. But behind those high-sounding tags were real product improvements.
Airflex suspension was basically a large-car version of the compact Rambler's "Deep Coil" front suspension, wherein long front springs were mounted high and angled for better ride and handling. Eye-Level Visibility referred to the huge glass areas, including a windshield that was 44 percent larger than in previous models, while the raised Road-Guide fenders helped in parking.
The lineup began with Statesman two- and four-door sedans in base Super and snazzier Custom trim, and a two-door hardtop, which Nash called the Country Club, available in Custom trim only. Customs came with foam cushions, two-tone upholstery, a clock, directional signals, chrome wheel discs, and courtesy lights. Custom Country Clubs also included a specially tailored interior.
The earlier Statesman L-head six-cylinder was stroked to 195.6 cubic inches, putting out 88 horsepower at 3,800 rpm. Nash called it the Super Flying Scot. Wheelbase was increased as well, up 2.25 inches to 114.25.
The Ambassador series, flagship of the Nash line, had a model range identical to that of the Statesman. From the cowl back, Ambassadors shared body and interior dimensions with the Statesman. Up front was where the differences were. The Ambassador's wheelbase was 121.25 inches, and those extra seven inches were all ahead of the windshield. Longer front fenders were used, of course, though they were styled like the smaller car's fenders.
Ambassadors also came with a much more powerful engine, an overhead-valve six called the Super Jetfire. A 1/8-inch overbore of the 1951 Ambassador engine resulted in 252.6 cubic inches that put out 120 horsepower at 3,700 rpm, a gain of five horsepower over the 1951 version.
As Nash pointed out, the Ambassador's engine had a feature available "Only in Nash and Rolls-Royce -- not in any other American car -- a 100% counter balanced 7-bearing crankshaft." Both Nash series came with a column-shifted three-speed manual transmission as standard equipment, with overdrive or Dual-Range Hydra-Matic transmissions optional.
At 78 inches in width, these cars were immense by any standard. Ambassadors stretched out 209.25 inches long overall, exactly seven inches longer than Statesman series cars. Inside, the old "Uni-scope" instrument cluster was replaced by a wide, handsome dashboard with Nash's unique slide-out package drawer centrally mounted, speedometer offset in front of the driver, and speaker grilles placed on each end. Interior space was commodious, and Nash's front seat that converted into "Twin Travel Beds" was a popular option.

This 1952 Nash Statesman is decked out
in uplevel Custom trim.
Tom McCahill tested the new Ambassador for Mechanics Illustrated. Although an anonymous Nash executive had admitted the design wasn't entirely the work of Farina, Uncle Tom said of the famed designer: "He has turned out the best-looking Nash in the company's history."
But McCahill wasn't one to judge a car by its looks alone. He put the Nash through its paces and concluded, "the new Ambassador has, in my book, the finest shock-proof ride in the world today. ... A short time ago I reported the Buick Roadmaster had the finest rough road ride of any car made in America but that was before I tested the Nash Ambassador." He summed up by saying, "The Nash Ambassador is a magnificent riding car."
Motor Trend also tested an Ambassador and noted, "Hardly any body vibration is noticeable by passengers, even over washboard and dirt roads. This is accomplished by the structural strength and rigidity afforded by the unitized-type of body construction." It went on to state, "Without a doubt, the Nash Ambassador is one of America's top family cars."
Nineteen fifty-two was a down year for automakers and Nash was no exception. Calendar year production totaled 152,141, a drop of 8,999 compared to 1951. Model year production for Nash's "5200" series was 144,200, and that included 53,000 Ramblers. More telling, however, were fiscal year sales, down 40,026 units to 137,587 for the 12 months ending Sept. 30, 1952.
Some of that reflected government restrictions on materials, as well as a strike at a steel supplier's plant. Still, Nash president George Mason expressed overall satisfaction with the year's results. It was hoped that with production snags resolved, 1953 would be a better year.
For more information on different types of cars, see:
Consumer Guide Automotive
Consumer Guide Used Car Search
Advertisement