1956 Plymouth Belvedere
Model year 1956 wasn't a great one for Detroit, but Plymouth took a worse drubbing than most, sales falling some 39 percent. Even so, Plymouth ousted Olds from fourth in the production standings, helped by the 1956 Plymouth Belvedere.
Styling changes were confined to a reshaped grille and side trim, plus uplifted rear fenders that furthered the corporate "Forward Look" theme but seemed ill-matched to the basic 1955 styling. Models expanded as a four-door hardtop, pioneered the previous season at GM, joined the Belvedere line as the Sport Sedan, and Savoy picked up a two-door Sport Coupe. Wagons were now a separate Suburban series, with Deluxe, Custom, and Sport models paralleling Plaza, Savoy, and Belvedere trim.
On the engineering side, Plymouth switched from six- to 12-volt electrics, and PowerFlite acquired the controversial control pushbuttons (four, in a pod to the driver's left) that would be a fixture at Highland Park for the next nine years. There was also a gimmicky but unpopular new option: the "Highway Hi Fi" record player.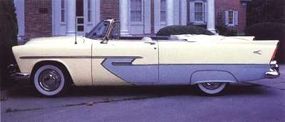 The 1956 convertible had fins and jazzier two-toningto dress up the 1955 body.
But with the "horsepower race" at full gallop, performance again got Plymouth's major emphasis for 1956. The old six was tweaked (via 7.6:1 compression) to 125 horsepower, while the base Plaza/Savoy V-8 was bored to 3.63 inches for 270 cubic inches and 180 horsepower at 4,400 rpm with two-barrel carb, single exhaust, and 8.0:1 compression. Standard Belvedere/Suburban power was a new 277-cubic-inch Hy-Fire (bore and stroke: 3.75 × 3.13 inches) with 187 horsepower at 4,400 rpm. PowerPak boosted that to 200 horsepower.
Then Belvedere was eclipsed as Plymouth's best by the Fury, a limited-edition hardtop coupe arriving two months behind the rest of the 1956 line. Identified by flashy gold-anodized side trim and special interior, it carried a new 303-cubic-inch V-8 (3.82 × 3.31 inches) with 240 horsepower that made Plymouth the performance surprise of this year's Daytona Speed Weeks.
Base price was $2,866, nearly $400 above the Belvedere convertible and over $600 more than the Belvedere Sport Coupe, so orders totalled only 4,485. With wagons set apart, Belvedere was also eclipsed in sales, by the expanded Savoy series, though it ran ahead of Plaza and Suburban.
To find out about the redesign for 1957, continue reading on the next page.
For more information on cars, see:
Classic Cars

Consumer Guide New Car Search

Consumer Guide Used Car Search