Although Chrysler celebrated its Silver Anniversary in 1949, that didn't stop the Corporation from trotting out identical, reserialed 1948's -- including Plymouths -- to open the 1949 model year. Meanwhile, Ford had debuted its stunning all-new 1949's way back in June of 1948. Like Plymouth, Chevrolet announced its 1949's in January 1949, but the Chevys were all-new. Plymouth limped along with its First Series 1949's until spring, when the "real" 1949's, the Second Series P-18 and P-17 models, bowed in March and April.
Though late, at least "The Great New Plymouth" was all-new, and -- like its corporate sisters -- conservatively styled and practical. Compared to its Big Three rivals, the Plymouth looked higher and boxier. This was deliberate -- Chrysler president K.T. Keller had earlier told the postwar public that Chrysler would shun fads. The 1949's proved it: new but hardly radical, fully restyled but still tall and boxier than before. Only Chrysler called them "stylish."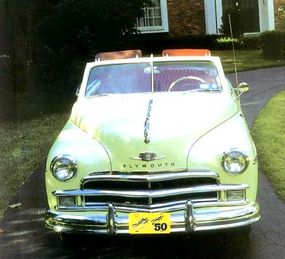 No matter, the 1949 Plymouth sold well -- 520,385 in all -- and the lightly face-lifted 1950, "The Beautifully New Plymouth," saw 610,954 built. Changes included a cleaner, single horizontal-bar grille; smoother bumpers replacing triple-fluted units; and a larger rear window on some models. Only Plymouth among the Low-Priced Three sported any new sheet metal: slightly peaked rear fenders with flush horizontal taillights. Notably absent was the center-mounted brake light (long a Chrysler Corporation trademark), so decklid hardware was also reworked.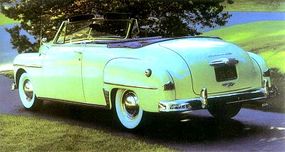 The 111-inch-wheelbase P-17 Deluxe series became the P-19, with business coupe, fastback two-door sedan, and all-steel two-door Suburban wagon as before. The 118.5-inch-chassis P-18's, now P-20's, listed DeLuxe two- and four-door sedans, plus Special DeLuxe sedans, Plymouth's last four-door woody wagon, and -- for sun worshippers -- a convertible.
At $1,982, the ragtop -- officially listed as the Special DeLuxe Convertible Club Coupe -- was the second priciest model in the lineup. It was also the second weightiest: 3,295 pounds. Only the four-door wagon outdid it: $2,372, 3,353 pounds. But when it came to "sporty good looks," the only 1950 Plymouth that came close to that description was the convertible. Despite the conservative styling, the cleaner-looking 1950 face-lift combined with top-down airiness to give the ragtop a pleasantly jaunty look.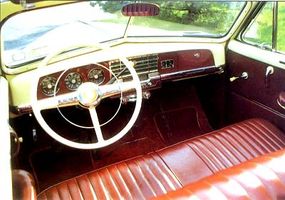 Inside, the convertible imparted a feeling of richness, with pleated upholstery, deluxe steering wheel, and a two-tone dashboard generously trimmed in chrome. The last placed three round instrument clusters in front of the driver: a speedometer flanked on either side by the then-usual array of gauges. The central portion of the dash was dominated by a radio speaker grille, with the radio below it and heater/defroster controls at the bottom. To the right were a rectangular clock and glovebox.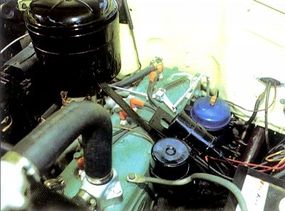 As since 1942, Plymouth ran with its faithful 217.8-cubic-inch L-head six. Over the years, horsepower had increased by two to 97 at 3600 rpm, this on a 7.0:1 compression ratio. Though hardly exciting, the engine had gained legions of followers over the years. It was mated to a three-speed manual transmission.
For more information on cars, see:
Classic Cars

Consumer Guide New Car Search

Consumer Guide Used Car Search