The 1950 Town & Country Newport, with its pillarless beltline, "Clearbac" rear window, white ash embellishments, four-wheel disc brakes, and deluxe interior stood as the most impressive Chrysler in the 1950 line, and the last of the luxury Town & Country models; after 1950, the name was applied strictly to Chrysler station wagons.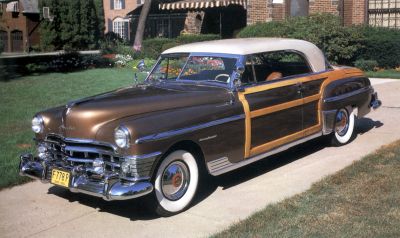 ©2006 Publications International, Ltd.
1950 Chrysler Town & Country

The series had begun back in 1941, when the general manager of Chrysler Division, David Wallace, got the idea of a "civilized" station wagon: wood-bodied, of course, but with smoother, more aerodynamic styling than the huge boxes-on-wheels which had comprised wagons up to that point. Under Wallace, Chrysler built a handful of Town & Country wagons for 1941 and '42: nicely rounded shapes with distinctive "clamshell" rear doors.
After the war, Chrysler needed something new to light up showrooms replete with warmed-over prewar bodies. Wallace hit upon the idea of non-wagon woodies: the Town & Country sedan and convertible. Built from 1946 to 1948, these were the best known and most luxurious examples of the T&C breed, the convertible priced as high as $3400. They were beloved by moneyed classes, especially Hollywood society. Leo Carillo, slapstick "Pancho" in the Cisco Kid TV western, drove a T&C convertible with a huge steer's head on the hood, the eyes wired to blink for left and right turns!
With its 1949 restyle, Chrysler continued the Town & Country as a convertible on the 131.5-inch New Yorker wheelbase. Then in 1950 the Town & Country nameplate went on Chrysler's newest body style, the Newport hardtop. (A convertible '50 model was considered but dropped in favor of the Newport, which was thought a better sales prospect. However, the 1950 version accounted for only 700 sales, 300 fewer than the year before and well short of the 1946–48 annual rate.)

©2006 Publications International, Ltd.
1950 Chrysler Town & Country

Chrysler promoted the "low-swept, road-hugging lines of a convertible with a permanent solid steel top that gives the comfort and convenience of a sedan," and the Clearbac rear window with its broad glass area. T&C interiors were beautifully tailored and designed, available in green or tan leather and nylon cord, or black leather with silver-gray nylon cord. The four-wheel disc brakes (a feature shared that year with Chrysler Imperials) were a "first" for the industry, although Crosley's Hot Shot/Super Sport roadster, which also appeared about this time, had them too. The discs were Ausco-Lamberts, with twin expanding discs that rubbed against the inner surface of a cast iron brake drum/housing. They remained standard on Chrysler Imperials through 1954 and a $400 option on other models.
Through 1948, Town & Country models had used mahogany (or mahogany decal) inserts between the white ash wooden trim, but this was abandoned and the inserts on 1950 (and 1949) T&Cs were painted the body color. The white ash itself was largely decorative rather than structural, as it had been in earlier T&Cs. Still, it was of uniformly excellent quality, beautifully finished, and mitered at the corners and joints with the precision of fine furniture.
Applying all this extra trim cost a great deal of money, of course, and the 1950 Town & Country was base-priced at $4003, almost $900 more than a New Yorker Newport. Even the Imperial Newport, when it debuted in 1951, cost only a few dollars more. In fact, the Town & Country took honors as the most expensive closed car in the 1950 Detroit lineup, excepting limousines and corporation sedans. It cost about $500 more than the Cadillac Coupe de Ville and over $1000 more than the four-door hardtop Kaiser Virginian.
Chrysler didn't expect a car of this class to sell in large numbers, but it certainly anticipated building more than 700. At that level the Town & Country simply didn't justify the extra labor it took to manufacture (from New Yorker Newport shells). The decision to drop it in favor of an Imperial Newport for 1951 was obvious. "Imperial" had a better name, and "Town & Country" was now also being applied to workaday Chrysler wagons, which confused and diluted the image. Unfortunately, the 1951 Imperial Newport sold only about 750 copies in 1951, so the change didn't make much difference—and the Imperials never had the sheer class of the Town & Country hardtop.

©2006 Publications International, Ltd.
1950 Chrysler Town & Country

Marginal Note:
At $4003, the 1950 Chrysler Town & Country cost a bundle and was built in limited numbers, only 700 units. It was powered by a 323.5-cubic-inch straight eight that cranked out 135 horsepower. Despite the low production, the T&C did accomplish its mission of adding a bit of glamor to a basically dull Chrysler lineup. Page No 70.
Advertisement