Though the 1950 Rambler weighed in at just 2,430 pounds, Romney claimed that its "Airflyte construction practically doubles torsional rigidity." He also bragged that "because of the lighter weight resulting from Airflyte construction, we have been able to achieve to an extraordinary degree both excellent economy and excellent acceleration."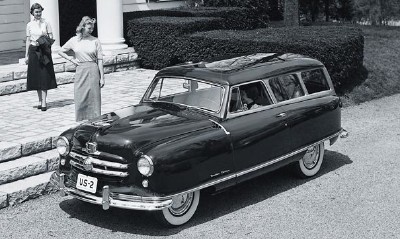 The 1950 Rambler was loaded with standard features.
Despite its compact exterior, engineers felt that Rambler would satisfy the needs of many families because it wasn't a Crosley-like midget. It provided generous interior room. Rambler was small, but it wasn't tiny.
The biggest problem Nash faced was building enough cars to meet expected demand. Raw materials and components, then regulated by the government, were doled out according to historic production; in other words, the supply of materials to build new cars was figured on how many cars an automaker had built in previous years.
This meant Nash got only a fraction of the materials it needed to produce Ramblers in large volume. Mason decided to produce only one body style initially, the most expensive one, the convertible. Further, Mason directed that Ramblers be sold loaded with equipment.
Since Nash could build only a limited number of cars, they'd have to fetch a higher price to be profitable. As a result, nearly every option would become standard equipment and the base price adjusted upward.

Wide whitewall tires; electric clock; custom steering wheel, wheel discs, and upholstery; pushbutton radio; Weather-Eye heater/defroster; directional signals; foam seat cushions; courtesy lights: All were standard, making Rambler one of the best-equipped cars of 1950. A three-speed manual transmission came standard, with overdrive as an option.
Rambler's rounded body styling was pleasant, looking for all the world like a downsized Nash Ambassador. The trademark enclosed wheels didn't restrict cornering as much as one might think; Rambler's turning radius was smaller than every other American car except Crosley.
Interior trim was elegant. Styled by Nash consultant Madame Helene Rother, formerly a chic fashion designer in Paris, Rambler's expensive fabrics and coordinated colors were designed to appeal to the feminine eye.
The instrument panel was beautiful. A version of the Nash Uniscope gauge cluster sat directly in front of the driver, with the radio in the center of the dashboard.

Speaker openings were framed by two rows of chrome "buttons" flanked by large black control dials, all very stylish and modernistic. Atop the center of the dash sat the clock.
Of course, the most unusual feature of the Rambler convertible was its fixed side roof rails. These were incorporated to ensure safety and rigidity in the unibody.

According to Ted Ulrich, Nash's chief body engineer, "Permanent overhead rails provided ample beam strength without extra underbody structure." Better door fit and a quieter ride were other advantages.
Production began in February 1950, and Rambler was introduced to dealers during announcement meetings held in late March and early April 1950. Public introduction was April 10.

As noted, the only model available at first was the convertible priced at $1,808, which should put to rest that old chestnut that Ram­blers were the cheapest cars on the market.
By comparison, a Chevy DeLuxe two-door sedan was priced at $1,482 and a Ford Custom Tudor was $1,511. For what Nash charged for a Rambler, a buyer could have an Olds­mobile Futuramic 76 Deluxe coupe with a few bucks left over.

Of course, Rambler was a convertible, traditionally among the most expensive of body styles. In an apples-to-apples comparison with Big Three ragtops, Rambler was lower-priced.
The high price brought on by the high level of equipment was also meant to limit demand, but that didn't seem to happen. Buyers flocked to showrooms and, before long, Nash executives were swamped with phone calls from ac­quaint­ances needing help locating one of the popular cars.
Toward the end of the year, Nash technical advisor L. H. Nagler joked that "[Nash] officials never realized they had as many friends as those who have shown up during the last six months!"
Explaining Rambler's virtues, George Romney noted that low-priced cars had grown significantly larger in the previous 20 years. Rambler was finding favor with buyers, he felt, because unlike tiny European cars, Rambler was sized for American tastes.
In fact, he said, "On three basic counts, the Nash Rambler is a full-size car. First, in wheelbase and length, it is about equal to what 'big three' models used to be. [Truthfully, one would have had to go back to the Ford Model T to find a 100-inch-wheelbase car from either Ford, Chrysler, or General Motors.]
"Second, as compared to their present models, while its wheelbase is about a foot shorter; its overall length is two feet less; and its weight nearly 500 pounds less, it has comparable passenger roominess and comfort. Third, its performance factor is on a par with the larger models, regardless of make or size, and it has superior economy."
Sure, there were glitches early in production. Service bulletins indicate some problems with the top bows cutting into the roof fabric and troubles with the front cross member. But Rambler's basic engineering was first-rate, and it proved to be a sturdy, well-built machine.
In June, a Custom two-door station wagon joined the Rambler line, priced the same as the ragtop at $1,808. This was another of what Mason called the "fringe models," higher-priced styles rather than the basic two-door sedans that dominated the low-priced field back then. For an extra touch of class, the Rambler wagon featured Di-Noc simulated woodgrain trim around the side windows.
When Nash closed its 1950 fiscal year on September 30, it reported its best year ever up to that time. Car sales -- 178,827 versus 139,521 for the prior fiscal year -- were running at twice the pace of 1941.

Public acceptance of the Rambler was outstanding, although its late start re­stricted 1950 model-year orders to just 11,428. (According to company documents, almost 400 of that total came from nonproduction prototypes and a run of California-built convertibles with what appear to be 1951-series model numbers.)
Owners loved their Ramblers. "What do I like about it?" asked one. "Everything." Another happy owner bragged about "plenty of power and I especially like all the accessories built in."

Still another reported, "I have had a bad accident in this car; the heavy car that hit me is junk, while the Nash held up very well." In a poll, owners reported gas mileage averaging 23.5 mpg in town and 27.4 on the highway, far better than competitors.
Continue on to the next page to read about the 1951 Rambler.
For more information about cars, see:
Consumer Guide New Car Search
Consumer Guide Used Car Search