In 1948, Packard, one of America's finest luxury cars, was starting its decline. Meanwhile, Carrozzeria Vignale was a promising newcomer among Italian coachbuilders. The two came together to create the 1948 Packard Vignale Convertible Coupe.
Alfredo Vignale learned his skills in Pinin Farina's brother's firm. Shortly after World War II, he opened his own shop, turning out creations that won awards and attracted press attention.
Soon Vignale was building cars for Ferrari, Maserati, and others. He not only built his own designs but executed the designs of others, such as prolific Italian designer Giovanni Michelotti.
The car featured here is the only Vignale-bodied Packard. Registered as a 1948, it is mounted on a 1939 One Twenty chassis. It's a mystery how Vignale obtained the prewar chassis, but the economy of using an older chassis probably appealed to a new firm in postwar Italy.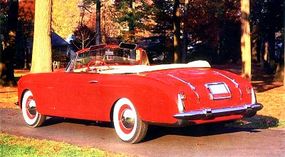 In spite of the age of the chassis, the body was ahead of its time. The workmanship and quality of trim suggest a much more established coachbuilder.
The smooth sheetmetal of the exterior wraps under the car to the driveshaft tunnel, forming belly pans. The hood opens on either side or can be lifted off altogether, similar to a factory 1948 Packard.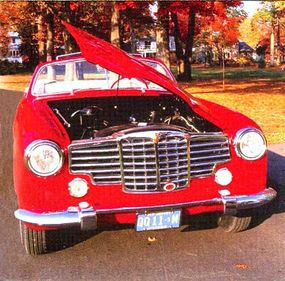 Gauges are not Packard, but have an American look, though the speedometer registers in kilometers. The taillights are Fiat units.
The One Twenty was Packard's junior series. The first moderately priced Packard, it saved the company in the Depression. It was also a good car in its own right.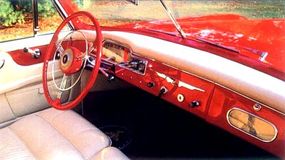 The 282-cid straight-eight put out 120 horsepower. With its lighter aluminum body, the Vignale Packard is probably a little faster than a standard One Twenty.
This Vignale has won awards in most of the major concours d'elegance. The restored car has only 19,000 kilometers (11,780 miles) on the odometer.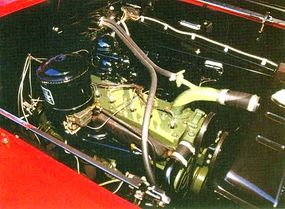 According to its owner, the car drives like a Packard One Twenty. The steering wheel is placed for the narrower 1939 factory body -- not the full-width Vignale envelope body -- making for an unusual driving position. It rides comfortably and has peppy performance.
As for Vignale, in the 1960s, he built a larger factory near a Fiat plant. Vignale-bodied Fiats were the main product. But high prices and questionable quality, along with some missed opportunities, got the firm in trouble by the end of the decade. (One of Vignale's last projects was an American Motors AMX concept car. An engineless, fiberglass show car was replaced with an operational steel-bodied car in just 78 days.)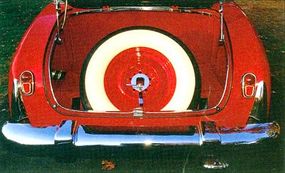 The factory was bought by Alejandro DeTomaso (who had also acquired Ghia) in 1969. Alfredo Vignale died in a car crash three days after the sale. DeTomaso later used the factory to build Panteras, though they wore Ghia badges.
Ford acquired Ghia and Vignale in 1973. Ford used the name for an occasional show car, such as the Lagonda Vignale in 1993.