Little known outside its native Britain, HRG produced uncompromising sports cars, such as the 1948 HRG 1500 Roadster, to rival those of H. F. S. Morgan. The initials refer to founders E. A. Halford, Guy Robins, and H. R. Godfrey, who in 1935 set up shop in Surrey to build stark, light open two-seaters a la Morgan and Frazer-Nash.
Like Morgan's, the HRG formula was always the same: wood-frame Thirties-style body, leaf-sprung solid axles, and minimal creature comforts. The earliest cars used a 1.5-liter Meadows four-cylinder engine and Moss four-speed "crashbox." In 1939, a Singer-powered "1100" was added with coil ignition (versus magneto) and first-gear synchromesh; the 1500 got those changes too, plus its own Singer engines of either 1,496cc ("long stroke") or 1,497cc ("short stroke") capacity. Either way horsepower topped out at 65 and 1500s could reach about 90 mph in full flight.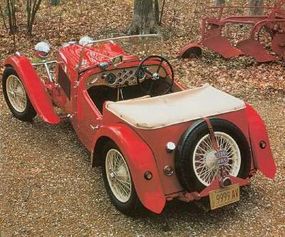 Both models were unchanged postwar, but the 1100 was dropped in 1949. The 1500 lasted through 1955, when tiny HRG ceased production after some 240 cars, all but 33 of which were built following World War II. The firm then soldiered on as an engineering consultancy through 1966.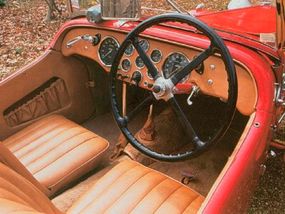 The prize-winning beauty shown here is a 1948 "long stroke" 1500 owned by Ben Rose of Highland Park, Illinois. Being light and fast, HRGs compiled a fine record in rallies and track racing, and this car ran at Silverstone in 1949 -- the very model of a "race and ride" British classic.