Not one
Packard
stylist ever admitted to creating the Station Sedan, although some of them most certainly did. The 1949
Ford
, by contrast, has a half-dozen claimants. From different aspects, each
car
represents an old Detroit adage: Success has a thousand parents, but failure is an orphan. As Lee lacocca once cracked, "Trying to find the designer of the Edsel would be like old Diogenes with his lantern, looking for an honest
man
."
So who among Packard's management team officially approved the decision to make a station wagon one of Packard's priorities after World War II? The heft of opinion has always cited Edward Macauley, son of the company's legendary chairman Alvan, and Packard's Vice-President for Design. Perennially described as "a nice guy who knew nothing about styling," Ed Macauley is regularly dismissed as a fellow placed in high authority because his old man ran the company. And nepotism is a lousy way to run a car company.

Yet the charges against Ed Macauley were made long after he wasn't around to reply to them, and we ought to be careful before we assign him all the blame for this interesting wrong decision. Certainly, he gave the Station Sedan his blessing; just as certainly, he didn't invent it. Even in the relatively uncomplicated Forties, product planning rarely rested on the authority of one person. Sales, marketing, engineering, and advertising departments all chimed in, and, bear in mind, their reasoning was grounded in the situation at the time. Things are clearer 50 years later, and hindsight is cheap -- and far too easily indulged.

As well as they've dodged the bullets, Packard's chief stylists, led by such lights as Howard F. Yeager and Johnnie Reinhart, have to be saddled with a degree of authorship of the Station Sedan. Why should they not? The design files of every car company active during the Forties were stuffed with renderings of modern derivatives of the prewar woody wagon: long, low, and as swoopy as a bar of well-used bath soap. The part-steel or all-steel utility wagon, which became the darling of American suburbia in the Fifties, was taking shape on drawing boards years before the end of World War II. Stylists were eager to promote venturesome ideas for a new world in the morning, set to dawn the moment peace was declared.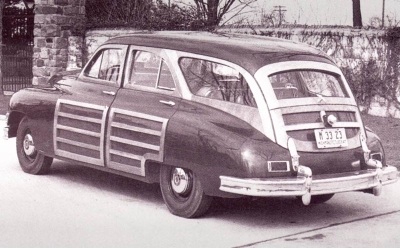 The 1948 Packard Station Sedan was just one bad
choice in a few that led to Packard's demise.
Why was the Station Sedan a bad decision? Ah, the answer to that has nothing to do with its qualities as a car, which as we shall see, were very good indeed. Nor was it related to the wartime doodles of stylists, passing the time by planning for the future while their companies fueled the "Arsenal of Democracy." It was a bad decision because, once again, it was based on an incorrect or at least inchoate corporate self-image.

For more information on cars, see:

New Car Search
Used Car Search
Advertisement