The 1947 Bentley Mark VI Drophead Coupe combined the precise steering and good handling associated with the Bentley name, while the ride was up to Rolls-Royce standards.
Classic Cars Image Gallery
Years earlier, Bentleys were fast sport tourers -- absolutely dependable, but loud. By 1931, when Bentley Motors went into receivership, its larger cars were competing with Rolls-Royce. In a surprise move, Rolls bought its English competitor to prevent future rivalry.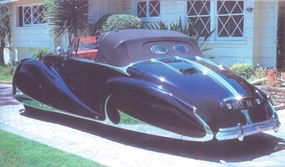 The Mark VI used a revisedchassis from the WWII Mark V.
The Rolls/Bentley used a modified version of a Rolls-Royce engine and a chassis from a shelved baby Rolls. Offering good performance and handling with Rolls-Royce refinement, Bentley was dubbed the "Silent Sports Car." The Mark V introduced a new chassis with independent front suspension just as Hitler was invading Poland. The postwar Mark VI used a revised version of that chassis.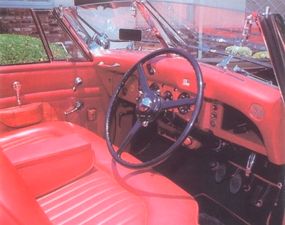 The 1947 model could hitspeeds up to 90 miles per hour.
One hundred thirty bhp was provided by a 4.25-liter F-head version of the prewar ohv six. Intake valves were overhead, while the exhaust valves were on the side. This allowed unusually large intake valves for better breathing. In 1951, Bentley enlarged the engine to 4.5-liters for 150 bhp, which increased top speed from 90 to more than 100 mph. This particular car was retrofitted with the 4.5-liter by its first owner, a Monsieur Gudol.
Gudol, a French munitions dealer, ordered the car as a reaction against wartime austerity and to win Concours d'Elegance. The Bentley was first seen at the 1947 Paris Auto Show. Following its debut, the Bentley won two major French concours.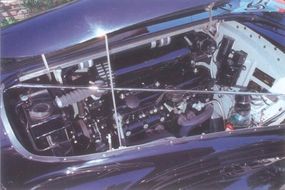 This particular car was retrofitted with a biggerengine that allowed for speeds of more than 100 mph.
The cabriolet body by Franay combined styling elements from two other leading French coachbuilders: Saoutchik and Figoni et Falaschi. French coachbuilders of the late Thirties used a teardrop shape to achieve superior aerodynamics and produced some of the most flamboyant cars ever built. Front wheels were often enclosed in voluptuous skirted fenders This increased the width of the Franay Bentley to seven feet.
The sumptuous interior was as extravagant as the exterior. The driver was cossetted on a huge leather bench seat with a four-speed gear-change by his right knee. A rear passenger sat in a jump seat facing a full bar, his feet resting near Franay fitted luggage. In the event the Mark VI failed to live up to its reputation for reliability, the trunk contained a comprehensive collection of tools and manuals.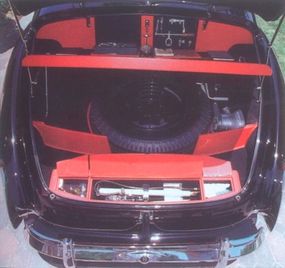 The trunk was loaded with equipment, thoughthe Mark VI was known for its reliability.
By the time this car was purchased by Gary Wales of Woodland Hills, California, in 1979, it was a rusted hulk missing most of its trim. Today, the cabriolet is the winner of 44 major concours and is possibly the most valuable Bentley in the world.
For more information on cars, see:
Classic Cars

New Car Search

Used Car Search