The 1946 Chrysler Continental coupe was actually built by Derham Custom Body Works of Rosemont, Pennsylvania, specially for Chrysler.
There weren't many custom coachbuilders left after World War II, as most of them had fallen victim to the Great Depression. Derham was one of the few still doing business in 1946, which turned out a small number of special models for Chrysler.
Most of the Derham-built cars were mounted on the long-wheelbase chassis, which stretched some 139.5 inches between wheel centers. A five-passenger town limousine with a padded canvas or leather top and blanked-out rear quarter windows was most often seen.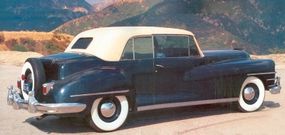 Derham also produced several one-off Chrysler specials, such as a dual-cowl phaeton for King Saud, of Arabia; an unusual, formal-looking Pullman limo for Post Foods' heiress Marjorie Merriweather Post; and a six-passenger Crown Imperial limousine with a roof section that lifted up automatically to allow passengers a stoopless entry.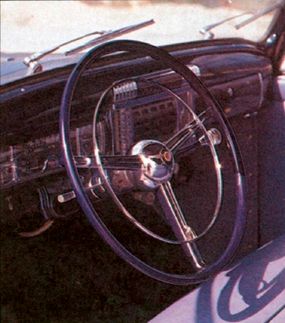 Derham also built two 127.5-inch wheelbase cars in 1946 on the C-39 Saratoga chassis. Ahead of the B-post, the cars looked like a regular Chrysler. At the rear of the B-post, however, they gave the appearance of a close-coupled Lincoln Continental coupe.
They featured a padded leatherette top, exposed spare tire, a top-opening, squared-off trunk, and reworked rear fenders.
The Chrysler Continental coupes were built at a cost of $17,000, a princely sum back in 1946. Not only that, the two cars were built for the same man.
Power came from a 323.5-cubic-inch straight-eight engine, which put out 135 horsepower. It was mated to Chrysler's semi-automatic Fluid Drive transmission.