A turning point in Jeep CJ history came in 1970, when American Motors bought the Toledo-based firm and renamed it Jeep Corporation. Two years later, the new owner began substituting its own engines for Kaiser Jeep's proprietary units and lengthened the list of Jeep CJ options.
Thus, AMC's 100-horsepower, 232-cid inline six became standard. Optional were its two-barrel 258 six with 110 horsepower and the CJ's first factory V-8, AMC's 150-horsepower, 304-cid unit.


©2007 Publications International, Ltd.
The Jeep CJ Renegade II appeared in early 1971 after AMC took over production.

Though it had changed in countless ways by this time, the Jeep CJ remained the recognizable descendant of the wartime Army Jeep and was more nostalgically lovable than ever. Not that AMC didn't try to broaden its appeal.
New for 1976 was the CJ-7, with a 93.3-inch wheelbase for a more comfortable ride and offering the first automatic transmission available on a Jeep CJ (the Wagoneer had been America's first 4WD so equipped).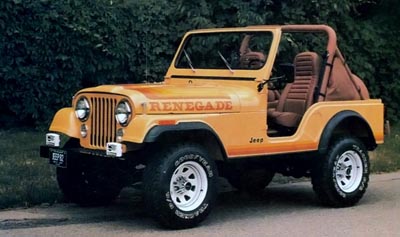 ©2007 Publications International, Ltd.
The Renegade was one of several CJ-5 option packages available for 1982.

By now, a host of car-like luxury features threatened to outnumber the functional ones: power steering and brakes, fancy upholstery, cut-pile carpeting, even air conditioning.
Fuel economy concerns in the wake of "Energy Crisis II" brought the return of a standard four for 1980, only now it was the 151-cid, 117-horsepower unit AMC was then buying from Pontiac.
Also, a new Jeep CJ-8 export model appeared on a 103,3-inch wheelbase. The V-8 departed the following year along with the Jeep CJ-6.

By the end of 1985 a total 27,792 Jeep CJ-8s and 379,299 Jeep CJ-7s had been built. But the record rightfully belonged to the Jeep CJ-5: exactly 603,303 since introduction.
Then in late 1985, AMC announced that U.S. CJ production would be halted after 40 years to free up capacity for the much more popular new XJ-series Jeep Wagoneer and Cherokee compact wagons.


©2007 Publications International, Ltd.
By 1984, the Jeep CJ-7 was the only Jeep left on the U.S. market.

This move was not entirely unexpected. On December 21, 1980, the CBS news program 60 Minutes aired a devastating report on the Jeep CJ-5. It alleged that because of its high, narrow design, the hallowed Jeep was much more prone to tip over in certain conditions than similar 4WDs with wider tracks and had already caused several injuries and deaths.
Based partly on studies by the Insurance Institute for Highway Safety, the report included interviews with victims or their families, as well as a film purportedly made by AMC that actually demonstrated the Jeep's relative lack of stability.

The 60 Minutes story rightly pointed out that any vehicle with a high center of gravity is more likely to tip over on a steep incline than one with a lower center of gravity. Nevertheless, John Lawlor chided the report for a number of errors in an article for Four Wheeler magazine.
For example, the CJ-5s shown tipping over were "driven" by servos that generated lateral forces no human could duplicate.

Nevertheless, the damage was done. The report stirred additional lawsuits that alleged rollovers, unleashing a torrent of adverse publicity that drowned Jeep CJ demand. While trying to settle quietly, AMC did everything it could to bolster sales: rebates, low-rate financing, lower prices, the works.
Meantime, it put the rush on developing a replacement for the vehicle that even CBS reporter Morley Safer admitted would be "near sacrilege to criticize . . . given the Jeep's noble history." With all this, AMC had little choice but to cancel the Jeep CJ-5, and it disappeared within two years of the 60 Minutes broadcast. Now the Jeep CJ-7, the last of the civilian Jeeps, is gone, too.

For its long life-span, the Jeep CJ didn't change all that much. Continue reading to learn more about the Jeep CJ's evolution.

For more information on cars, see:

Consumer Guide New Car Search
Consumer Guide Used Car Search