Over the years, the 1946-1986 Jeep CJ has represented many things to many drivers. Above all, though, the Jeep CJ is all-American: the most red-blooded stars-and-stripes buggy ever to run on four wheels.
It was born of the greatest and most heroic war the United States ever fought and was cherished by the people who won that war. In World War I, nothing meant as much to a cavalryman as his horse. In World War II, millions of service personnel developed a similar affection for the Jeep. Civilian offroaders have felt the same way ever since.

©2007 Publications International, Ltd.
The 1946 Jeep CJ-2A was the first of an illustrious Jeep line. See more classic car pictures.

That more than anything explains why the civilian Jeep, commonly known as the CJ, has hung on so long. But now it's gone, the last of the line having rolled out of the original Willys factory in Toledo on January 28, 1986.
Of course, there is a successor. It looks quite similar and is even superior in some respects. Still, for thousands of Jeep lovers, the Jeep CJ was, is, and always will be the only real Jeep.

The Jeep began the way it ended: mired in controversy. Let's first deal with the long-debated origins of the name. According to the two most popular stories, it was either derived from the Army's designation "GP" -- for General Purpose vehicle -- or taken from Eugene the Jeep, the fanciful "Popeye" cartoon character who liked to eat orchids, could make himself invisible, and had the ability to walk on walls and ceilings.

Which is true? Whatever you'd like to believe -- and these aren't the only explanations. Actually, "jeep" had been used before the 1940s, but it wasn't widely known until the military vehicle of World War II.
That was officially described at first as "truck, 1/4 ton, 4x4," but some newspaper reporters began calling it "Jeep" during early tests in Washington and it stuck. After a fight, Willys copyrighted the name in 1946, though it would be contested.

The idea, of course, originated with the U.S. Army. Ever since World War I and its forlorn memories of dying horses and supply wagons that never reached the troops, the Army had been considering various motorized contraptions that could do a better job.
Now, the Army is not inclined to rush unless a situation is acute, so it wasn't until a new war was underway in Europe -- and U.S. involvement more or less inevitable -- that anyone thought much about a go-anywhere, do-everything vehicle that could serve as a functional replacement for the horse. Enter the Jeep.

Continue to the next page to learn more about the origins of the Jeep CJ.

For more information on cars, see:

Consumer Guide New Car Search
Consumer Guide Used Car Search
Jeep CJ Origins
As unlikely as it seems, the Jeep CJ was prompted in part by Adolf Hitler and his politically motivated "people's car" project, the Volkswagen. Once Dr. Ferdinand Porsche began adapting his lightweight, rear-engine, air-cooled car design for military use, it was clear that America and her allies needed something similar for scrambling across the battlefields of Europe.

©2007 Publications International, Ltd.
The Willys' 1940 Quad prototype was one of the several models built by companies anxious for a government contract.

Accordingly, the Army issued a request for bid (RFB) in June 1940, the month France fell to the Nazis. But rather than just a modified version of an existing vehicle, the Army wanted a totally new rig with capabilities that seemed quite unbelievable at the time. In fact, the requirements were so daunting that of the 135 companies invited, only two made serious bids.
The original specifications called for a combination of light-duty truck and what we'd now think of as a motocross motorcycle. Besides four-wheel drive, it was to have a low silhouette, weigh no more than 1,300 pounds, pack at least 40 horsepower, and be able to travel over rough terrain while carrying a 600-pound payload. To top it off, the RFB mandated that plans be submitted within a week -- and a prototype in just 49 days.

Enter the tiny American Bantam Car Company of Butler, Pennsylvania. Organized by Roy S. Evans in 1935 out of moribund American Austin, it had been no more successful than its predecessor in selling four-cylinder minicars to a public that, despite the Depression, remained devoted to big iron.
By 1940 it was on the ropes, with fewer than 20 employees and lots of red ink. Bantam thus had little to lose -- and everything to gain -- by trying for this potentially lucrative government contract.

Sometime before the Army issued its RFB, Bantam's Frank Fenn contacted Detroit automotive engineering consultant Karl K. Probst about developing a small military vehicle based on the firm's 22-horsepower, 75-inch-wheelbase automobile. That idea was nixed once the RFB appeared, but Probst did agree to develop an all-new design.
He thus became an engineering department of one, working without salary in the hope of a fat, future payment once Bantam landed the contract.

In less than a week, Probst had lined up subcontractors to supply components for the vehicle, which he had on paper for presentation to Washington in just five days. There was only one problem: The calculated weight was 550 pounds more than the RFB specified, and there was no time for changes.
But Bantam was desperate. Rather than risk losing the contract, the firm simply decided to lie and see what would happen.

Delivering its paperwork only an hour before the deadline, Bantam found itself the only company in the running. Rival bidder Willys-Overland actually submitted a lower quote, but this was "with exception," the company saying it needed 75 days instead of 49. Thus, Bantam got the job.
The Army needed two weeks to process the order, so this was added to the schedule. Still, Bantam had only 63 days to produce its prototype -- and there was a $100-a-day penalty for being late.

Squarely facing its "Catch-22" predicament, Bantam hustled, hiring three more engineers and squeezing every possible ounce of expertise from its subcontractors. Its running prototype -- what would eventually become the Jeep CJ -- was ready for testing by September 21, 1940, just two days before it was due for military review at Camp Holabird, near Baltimore.
Powered by a 45-horsepower Continental four, it passed inspection with a brief test drive at Butler, though the engine wasn't broken in until the trip to Maryland.

The Jeep came into being due to military needs. Read more about the relationship between the military and the Jeep on the next page.

For more information on cars, see:

Consumer Guide New Car Search
Consumer Guide Used Car Search
Jeep CJ and the Military
Before the vehicle that eventually became known as the Jeep CJ was a Jeep CJ -- before it was even a Jeep -- it had to pass the rigorous examinations of the U.S. Army.

©2007 Publications International, Ltd.
The 1941 Willys Jeep MA, like all early Jeeps, was constructed for military use.

Fortunately for future Jeep CJ lovers, the Jeep-to-be was an instant hit. With its diminutive 79-inch wheel-base, a track just under 48 inches, and six forward speeds, it could scamper up hills where no four-wheel vehicle had gone before. But though thorough testing confirmed its promise, some officials noted that, at 2,030 pounds, it was 730 pounds heavier than it was supposed to be.
Then one very large colonel commented that the exact weight didn't matter as long as two soldiers could manhandle the vehicle out of a ditch. With the aid of one of his stronger troops, he heaved the Bantam from said ditch, and that was the end of that.
Of course, there's no telling what other companies might have developed had they known Bantam would be allowed to exceed the weight target by 56 percent.

After further tests, Bantam was given 12 weeks to build 70 additional units. Meanwhile, Willys and Ford Motor Company had obtained copies of the firm's project specifications, now military property, and submitted prototypes of their own, though with less concern about deadlines than Bantam.
Willys showed its "Quad" proposal on November 13, finalized under engineering vice-president Delmar G. "Barney" Roos, and Ford displayed its entry within 10 days.

Both were heavier than the Bantam, but the Willys had the most muscle, its "Go-Devil" four producing 60 horsepower. Not surprisingly, all looked much the same.

Bantam duly delivered its pre-production units, which proved successful in yet more tests. Suddenly, it seemed the company just might survive. Then, in March 1941, the Army ordered 1,500 units from all three companies. Acceptable weight was raised to 2,160 pounds, which let in even the Willys. At this point, competition was still keen and the choice of contractor very much a toss-up.

Because Bantam had no high-volume production facilities, Probst sought help from taxicab maker Checker Motors in Kalamazoo. Together they might have been able to meet the Army's 350-unit daily requirement, but Fenn killed the idea. In fact, when he learned that Checker had actually built a Jeep, he and Probst had angry words and then went separate ways.

Ultimately, the Army decided that the Willys Jeep was the sturdiest and most reliable and selected it over the Bantam and Ford designs for the sake of standardization. Designated MA, it measured 130 inches long on an 80-inch wheelbase and differed from the round-nose "Quad" in having a flat, vertical-bar grille, though headlamps were still perched atop the front fenders.
Power was supplied by the 134.2-cubic-inch, 63-horsepower L-head four from the 1941-1942 Americar passenger models. Since Willys was the lowest bidder with the highest production capacity, it won the main contract, with Ford designated a secondary supplier.

Due to its lack of facilities, Bantam was soon phased out of the production picture. In December 1941, just days before the Japanese attack on Pearl Harbor, Bantam Jeep number 2,675 rolled off the Butler assembly line, the last vehicle the company would ever produce.
Interestingly, most of these were shipped to the Soviet Union, then an ally engaged in a desperate struggle with the Wehrmacht and needing all the vehicles it could get. Indeed, the Jeep would play a critical role in World War II.

Learn more about the Jeep's importance to World War II on the next page.

For more information on cars, see:

Consumer Guide New Car Search
Consumer Guide Used Car Search
Jeep CJ and World War II
Perhaps the most prodigious child of World War II, the Jeep -- forefather of the Jeep CJ -- served beyond the call of duty on eastern and western front alike. Whether at Anzio or on the Burma Road, from South Pacific jungles to the shifting sands of North Africa, it was sure to be there, doing whatever was required of it -- and more.

©2007 Publications International, Ltd.
The World War II Jeep could -- and did -- go anywhere, as a platoon demonstrates in a wartime photo.

Though conceived mainly for reconnaissance work, its service record was far more varied. Jeeps carried troops, both well and wounded, mounted guns, hauled supplies, guarded lines, delivered messages, and transported everyone from commanding generals and VIPs to rank-and-file GIs.
President Roosevelt, stricken by polio but far from handicapped, used one when reviewing the troops. Army chief-of-staff General George Marshall termed it "America's greatest contribution to modern warfare."
Few who knew the Jeep disagreed with that. In many ways it was the most important product yet seen from the industrial era -- and the most marvelous.

The Jeep's now-legendary war exploits moved author A. Wade Wells to capture some of them in a 1946 book, Hail to the Jeep. Its preface pays homage to "that gallant four-wheeled vehicle that meant so much to us in war and promises to mean so much in peace . . .
"In its bulldog tenacity to hold on come hell or high water, in its dogged determination to keep slogging even when the road ends, the Jeep typifies America . . . Through honest performance and sheer merit, the Jeep became the emblem of our armed forces, America's goodwill ambassador-at-large."

Even the Russians paid tribute by giving the Jeep a nickname that translates into "the passes-everywhere." It's difficult to imagine another vehicle that has inspired such devotion, unless it's the Ford Model T or the Volkswagen Beetle.

©2007 Publications International, Ltd.
The wartime Jeep exploits were both numerous and legendary. Here, it leads the U.S. Fifth Army into the Italian town of Vergato in 1944.

Wells records one of the Jeep's most dramatic war stories in the battle for Egypt waged by British forces under the command of Field Marshal Montgomery:
"One night, a fleet of Jeeps moved silently out of British headquarters and disappeared into the desert. Traveling only by night and hiding by day, the ghostly caravan swung in a wide arc which finally brought it to a point far behind the German lines.
"Here, concealed on a strategic hilltop, the raiders strained their ears to pick up the sound for which they were waiting -- the throbbing engines of Nazi gasoline trucks pushing up to refuel the German Mark IV tanks still engaged at the front. Soon they heard the German motors breaking the silence.

"Down on the unsuspecting Nazis, now spread like clay pigeons over the sands, the invaders pounced in a crazy mile-a-minute attack. Spitting incendiaries from heavy machine guns, they wove their swift patterns of destruction in and out among the gasoline trucks.
"It was only a matter of seconds before the Jeeps slipped into the darkness again, leaving behind a blazing inferno of shattered trucks and high-test gasoline." With this raid, the Jeep defeated the Germans' ability to wage tank warfare in the desert.

Jeep heroics were told in countless other tales both during and after the war, of missions large and small, of battles won and lives saved. Naturally, it figured heavily in Willys' wartime advertising, typically with artwork that portrayed the Jeep in stirring battles.
Said one of those ads: "The Jeep has carried brave men into countless thrilling actions on every blazing front of the war." Of course, its civilian descendant, the Jeep CJ, would go on many adventures in peacetime. And that's why we're likely to be hearing Jeep "war stories" for a long time to come.

Continue reading to learn more about the Jeep's civilian offspring, the Jeep CJ.

For more information on cars, see:

Consumer Guide New Car Search
Consumer Guide Used Car Search
1946-1948 Jeep CJ
The end of World War II saw thousands of soldiers returning to the U.S. needing vehicles and enamored with the Jeep. Filling this need was the Jeep CJ.

©2007 Publications International, Ltd.
The first civilian Jeep CJ, the 1946 CJ-2A, was much like its military forebear.

By the end of World War II, Ford and Willys had built some 586,000 Jeeps: 227,000 and 359,489, respectively. All were designated MB and essentially the same, though there were detail differences.
For example, early examples actually bore each maker's name until the Army ordered an end to this "advertising," and Ford put its signature "F" on bolts. Also, look underneath on later models: Ford used inverted channel-beam stock, Willys tubular stock -- hence the expression among Jeep aficionados, "Willys round, Ford square."

Regardless, all the wartime MB Jeeps were identical to the Willys MA except for being two inches longer, weighing 2,450 pounds, and having grille-mounted headlamps in the now-familiar style and a fold-down windshield.

The last wartime Jeep was completed on August 20, 1945. Military production would continue, of course, but Willys wasted no time putting the concept in "civvies." By the end of the year the firm was turning out its first civilian model, designated Jeep CJ-2A, a mildly modified MB.
An all-steel station wagon loosely based on the original design bowed in 1946, followed two years later by the novel Jeepster, a four-passenger phaeton convertible styled by Brooks Stevens. The latter are beyond our scope, but they're interesting offshoots that have become minor collector's items today.


©2007 Publications International, Ltd.
The basic MB design found its way into the civilian world as the CJ-2A.

Unhappily for Willys, neither was a big success. The Jeepster (Models VJ-2/VJ-3) lasted only through 1951, and though the wagon (Model 463, later Model 685) survived into the early 1960s, it sold in diminishing numbers with each passing year.

©2007 Publications International, Ltd.
The Go-Devil engine on the Jeep CJ-2A was almost identical to the wartime Jeep.

Not so the Jeep CJ-2A, which saw 214,202 copies through 1949. Little different from the wartime MB, it rode the same 80-inch wheelbase and had a 48.25-inch track, 8.63-inch ground clearance, 800-pound payload capacity, and maximum gross vehicle weight of 3,420 pounds. About the only changes were larger headlights and a standard tailgate.
Motor Age magazine said it combined "the characteristics of a light truck, a tractor, mobile power unit, and passenger car with the provision of suitable attachments and accessories."

And indeed, both the factory and the aftermarket were only too happy to supply loads of bolt-on goodies for the growing number of recreational 4WD users -- everything from hardtops to power-takeoffs, even doors -- for the vehicle, making the Jeep CJ one of the most popular automotive buys of the 1946-1948 post-war era.

The Jeep CJ only continued to gain in popularity over the next two decades. Keep reading to learn more.

For more information on cars, see:

Consumer Guide New Car Search
Consumer Guide Used Car Search
1948-1970 Jeep CJ
The next post-war Jeep CJ was the Jeep CJ-3A, announced in 1948. Again there were only detail updates: one-piece windshield, semi-floating rear axle, stronger differential and transfer case, and a revised "Go-Devil" motor called "Hurricane," unchanged in displacement but producing up to 75 horsepower. Production totaled 131,843 through 1953.

©2007 Publications International, Ltd.
The "aerodynamic" Jeep CJ-3B from late 1953.

The Jeep CJ-3B arrived in late 1952, primarily for export, with a higher grille and hood to accommodate a taller overhead-valve engine as Willys switched from F-head power units across the board. Amazingly, this model would last through 1968 and 155,494 units.

By the time the Jeep CJ-5 "Universal" appeared in 1954, Willys had been taken over by fast-sinking Kaiser-Frazer. Nevertheless, the Jeep CJ-5 would endure for two decades.
Willys, of course, expired after 1955, and Kaiser gave up on the U.S. market to build cars in Argentina, leaving behind what became Kaiser Jeep Corporation in 1963.
Interestingly, 1955 brought another new Jeep, the Jeep CJ-6, a long-wheelbase CJ-5 that would remain in production through 1981. As before, there were export versions of both: The 1964-1967 Jeep CJ-5A saw just 7,397 copies, while the Jeep CJ-6A saw only 459.


©2007 Publications International, Ltd.
As if to prove there was no end to Jeep versatility, Jeep offered a pink-and-white CJ-5 model in 1960.

The Jeep CJ's main mechanical change in these years was the 1965 introduction of a 160-horsepower V-6 as an optional alternative to the Hurricane four. Called "Dauntless," it was basically the 225-cid Buick unit first seen in the mid-size Special of 1964 and derived from the GM division's 198-cid powerplant of two years earlier. Jeep had purchased the tooling from GM and, in a rare twist for the U.S. motor industry, would later sell it back.

The Jeep CJ certainly didn't lack for company in the 1960s, as Jeep continued to stimulate and exploit the slowly growing 4WD market. A line of forward-control (PC-series) trucks arrived in 1957, followed by the Wagoneer in 1963, another Brooks Stevens effort and still around today.
The latter spawned a line of Gladiator pickups, and 1967 brought a revival of the Jeepster idea, the short-lived Commando convertible, wagon, roadster, and pickup.

But the Jeep CJ remained the company's mainstay. And though the 4WD market was relatively small in those days, Jeep had most of it. In fact, the Jeep CJ would continue to dominate the field even after the late-1960s appearance of would-be rivals Chevrolet Blazer, Ford Bronco, and International Scout, all of which were larger, less agile, and far less distinctive.

Continue to the next page for information on the Jeep CJ through the 1970s and 1980s.

For more information on cars, see:

Consumer Guide New Car Search
Consumer Guide Used Car Search
1970-1986 Jeep CJ
A turning point in Jeep CJ history came in 1970, when American Motors bought the Toledo-based firm and renamed it Jeep Corporation. Two years later, the new owner began substituting its own engines for Kaiser Jeep's proprietary units and lengthened the list of Jeep CJ options.
Thus, AMC's 100-horsepower, 232-cid inline six became standard. Optional were its two-barrel 258 six with 110 horsepower and the CJ's first factory V-8, AMC's 150-horsepower, 304-cid unit.


©2007 Publications International, Ltd.
The Jeep CJ Renegade II appeared in early 1971 after AMC took over production.

Though it had changed in countless ways by this time, the Jeep CJ remained the recognizable descendant of the wartime Army Jeep and was more nostalgically lovable than ever. Not that AMC didn't try to broaden its appeal.
New for 1976 was the CJ-7, with a 93.3-inch wheelbase for a more comfortable ride and offering the first automatic transmission available on a Jeep CJ (the Wagoneer had been America's first 4WD so equipped).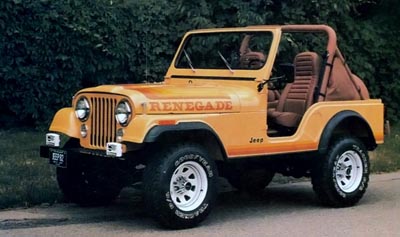 ©2007 Publications International, Ltd.
The Renegade was one of several CJ-5 option packages available for 1982.

By now, a host of car-like luxury features threatened to outnumber the functional ones: power steering and brakes, fancy upholstery, cut-pile carpeting, even air conditioning.
Fuel economy concerns in the wake of "Energy Crisis II" brought the return of a standard four for 1980, only now it was the 151-cid, 117-horsepower unit AMC was then buying from Pontiac.
Also, a new Jeep CJ-8 export model appeared on a 103,3-inch wheelbase. The V-8 departed the following year along with the Jeep CJ-6.

By the end of 1985 a total 27,792 Jeep CJ-8s and 379,299 Jeep CJ-7s had been built. But the record rightfully belonged to the Jeep CJ-5: exactly 603,303 since introduction.
Then in late 1985, AMC announced that U.S. CJ production would be halted after 40 years to free up capacity for the much more popular new XJ-series Jeep Wagoneer and Cherokee compact wagons.


©2007 Publications International, Ltd.
By 1984, the Jeep CJ-7 was the only Jeep left on the U.S. market.

This move was not entirely unexpected. On December 21, 1980, the CBS news program 60 Minutes aired a devastating report on the Jeep CJ-5. It alleged that because of its high, narrow design, the hallowed Jeep was much more prone to tip over in certain conditions than similar 4WDs with wider tracks and had already caused several injuries and deaths.
Based partly on studies by the Insurance Institute for Highway Safety, the report included interviews with victims or their families, as well as a film purportedly made by AMC that actually demonstrated the Jeep's relative lack of stability.

The 60 Minutes story rightly pointed out that any vehicle with a high center of gravity is more likely to tip over on a steep incline than one with a lower center of gravity. Nevertheless, John Lawlor chided the report for a number of errors in an article for Four Wheeler magazine.
For example, the CJ-5s shown tipping over were "driven" by servos that generated lateral forces no human could duplicate.

Nevertheless, the damage was done. The report stirred additional lawsuits that alleged rollovers, unleashing a torrent of adverse publicity that drowned Jeep CJ demand. While trying to settle quietly, AMC did everything it could to bolster sales: rebates, low-rate financing, lower prices, the works.
Meantime, it put the rush on developing a replacement for the vehicle that even CBS reporter Morley Safer admitted would be "near sacrilege to criticize . . . given the Jeep's noble history." With all this, AMC had little choice but to cancel the Jeep CJ-5, and it disappeared within two years of the 60 Minutes broadcast. Now the Jeep CJ-7, the last of the civilian Jeeps, is gone, too.

For its long life-span, the Jeep CJ didn't change all that much. Continue reading to learn more about the Jeep CJ's evolution.

For more information on cars, see:

Consumer Guide New Car Search
Consumer Guide Used Car Search
Jeep CJ Evolution
With the possible exception of the Volkswagen Beetle, the Jeep CJ has the most recognized shape in the automotive world. The newer ones, of course, are bigger, taller, and more rounded than the 1946 original, but they're obviously part of the same family, separated by a seemingly short 40 years much like a grandfather from grandson.

©2007 Publications International, Ltd.
A Jeep CJ-2A (foreground) next to one of the last Jeep CJ-7s shows how little the Jeep changed over the years.

It's funny how similar these Jeep CJ generations are from behind the wheel. With less weight, smaller size, and a lower center of gravity, the 1946 feels like it'll scamper anywhere, and its flathead four certainly seems to have the gumption. The gearbox feels right, and time has changed the rudimentary suspension but little. It's starkly Spartan, of course, but what military vehicle isn't?

Hopping into the 1986 Jeep CJ is like entering a time warp. You know this is a newly built rig from its seatbelts, "unleaded fuel only" warning, and the contemporary instruments, steering wheel, and bucket seats, but it's anything but modern.
There are more gauges now than there were in the 1940s, but most are still low down in the center of the dash. The accessory soft top flaps noisily above 40 mph, and the stiff suspension with its big radial tires delivers a bump-and-grind ride even on roads that look smooth.

Still, the Jeep CJ is a magnificent vehicle for a long drive in the desert, and driving through one one realizes why the CJ has hung on so long. With the greatest of ease it charges down trails that don't stand a chance of being paved, and driving through a stream bed is a nice way to cool off.
Climbing up from the desert over a boulder-strewn path requires concentration, but thanks to its amazing ground clearance, the CJ hurtles obstacles matter-of-factly. This form of travel may take more time, but it's sure a lot more fun.

Sadly, the Jeep CJ isn't nearly as much fun around town or on freeway expansion joints. The ride is unnervingly pitchy, top-up vision is mediocre despite the high seating position, and the power steering is overassisted yet slow.
A short wheelbase and tall build make hard cornering tippy, and rough surfaces tell you the body structure isn't nearly as stiff as the suspension. As they say, "Only in a Jeep,"

So despite air conditioning, stereo sound, and full carpeting, the last of the Jeep CJs is not the best way to reach your cabin in the woods, though it may be the only one of today's offroaders you'd want to keep there. Yet driving a Jeep CJ through a desert, you get the feeling you'd never give it up -- at least not without a fight.
And that's only right. After all, isn't fighting what got the Jeep started in the first place?

Continue to the next page to learn how collectors are keeping the Jeep CJ alive in the present day.

For more information on cars, see:

Consumer Guide New Car Search
Consumer Guide Used Car Search
Jeep CJ Collectors
When the Jeep CJ stopped production in the mid-1980s, Jeep CJ enthusiasts everywhere mourned. Los Angeles Jeep dealer John Walker even launched a "Keep the Jeep" campaign in the belief that there were enough die-hards to pressure AMC into reviving the Jeep CJ the way some cola drinkers forced the return of "old" Coke.
But AMC was dubious. As a company spokesman said, "I don't think there's much hope."


©2007 Publications International, Ltd.
This restored 1942 MB reflects the dedication of Jeep collectors.

Regardless of the outcome, Jeep CJs will always be around because their dedicated owners tend to keep them forever. And oddly enough, that's one reason sales have never been that high.
Laments Placentia, California, Jeep dealer Brian Chuchua: "There's no repeat business. With the old Jeepers, the vehicle is theirs for life." He watches owners rebuild their Jeep CJs constantly. And because they're relatively simple vehicles, it's entirely possible to keep doing that almost indefinitely.

Yet that same rugged simplicity is probably as much to blame as safety concerns for the Jeep CJ's dwindling sales in its last years. Competitors like Blazer and Bronco had become more civilized, comfortable, and thus better suited for all-around use, while the CJ hardly changed at all, still more at home on the dunes or a mountain trail than the freeway.
The proliferation of CJ creature comforts in the early 1970s suggests AMC itself recognized a shift in buyer tastes. As one AMC spokesperson confided: "People don't use these vehicles offroad nearly as much as they used to."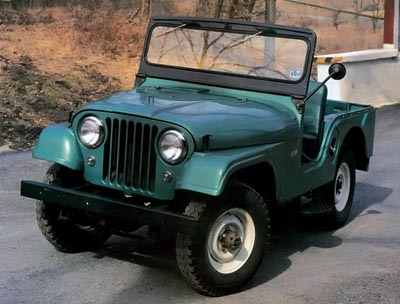 ©2007 Publications International, Ltd.
The 1962 Jeep CJ remains popular with collectors.

Then, too, would-be CJ buyers could now choose from a whole slew of compact 4WD pickups, a breed that hadn't existed 10 years earlier, offering greater comfort and similar go-anywhere ability for the same or less money.
And let's not forget the impact of inflation and government-mandated safety and emissions equipment over the years, not to mention a flood of well-made, low-cost Japanese 4WDs.

Yet for all its faults, there's still nothing like a Jeep CJ, and its unique character will probably never be duplicated. This largely accounts for the CJ's growing status as a cult collectible.
Which to choose among the many variations? For performance-minded Chuchua, it's no contest: "The best CJ ever built was the 1972 through 1976 with the V-8 and [full-time] Quad-Trac [4WD]." He notes the automatic models are more tractable offroad and thus easier to drive, and he likes the V-8's power.
Collectors might also consider the low-production Scrambler pickup of the early 1980s, perhaps the most versatile CJ of all. Whichever Jeep CJ you choose to collect, you will surely take care of it as well as it takes care of you.

The Jeep CJ's popularity over the years led to several variations of the vehicle. The next page outlines some of them

For more information on cars, see:

Consumer Guide New Car Search
Consumer Guide Used Car Search
Jeep CJ Derivations
For all the many Jeep CJ spin-offs that have appeared over the years, the basic CJ and its concurrent military counterparts stayed remarkably the same. But that's not to say that Willys, Kaiser Jeep, and most recently, American Motors haven't tinkered with the basic concept.

©2007 Publications International, Ltd.
The unique Jeep XJ001 in 1969 was one of several derivations from the basic CJ model.

For example, Willys tried grafting a downsloped hood onto a CJ-3B in 1953, with the aim of improving forward visibility. The idea never made production, but a surviving photo from Willys Engineering suggests that it probably would have improved aerodynamics as well, even though the industry wouldn't be concerned with such things for decades.

Some 15 years later, Kaiser Jeep created XJ001, a styling exercise on the 81-inch-wheelbase CJ-5 Universal chassis. Boasting a sporty and very modern fiberglass body with an open back, door-less sides, and sculptured, car-like contours, it was designed in 1969, just before the AMC takeover.
A company press release described it as "an experimental test platform for innovations in the growing recreational field." But according to AMC historian John A. Conde, Jeep's new owners "didn't know what to do with it, not having the finances to tool up for such a radical departure from the Jeep CJ.
"Fate solved the problem . . . On the way back from the Texas State Fair several years later, the truck carrying the model flipped over, caught fire, and the Jeep XJ001 was lost forever."


©2007 Publications International, Ltd.
AMC's first downsized Jeep was the 1977 Concept Jeep II.

Fuel economy concerns and the industry's embryonic "downsizing" movement prompted the Jeep II of 1977, one of several "Concept" vehicles AMC displayed late in that decade. Its press description was disarmingly honest:
"Concept Jeep II demonstrates Jeep Corporation's exploration of new ways to reduce vehicle size while maintaining usable interior room. This scaled-down version of the CJ-5 preserves the ruggedness and fun-to-drive character of the popular CJ series.
"In contrast to the current-production CJ-5, the Jeep II is two feet shorter and nine inches lower, and the wheelbase, at 76 inches, is eight inches shorter."

With less weight, a lower center of gravity, and more angular front end and fender styling, the Jeep II represented a return to the nimble efficiency and no-nonsense character of the wartime original.

Unfortunately, faltering AMC wouldn't have the wherewithal to rethink the basic Jeep CJ in earnest for another three years. While the impetus likely came from "Energy Crisis II" of 1979-1980, the means were unquestionably provided by Renault, which bought a controlling interest in AMC at about that time and sold Jeep CJs in Europe.
The development effort leading to the new Wrangler didn't get underway until about 1981. Although Concept Jeep II may have influenced its early phases, the notion of simply shrinking the Jeep CJ was soon discarded, and the program was ultimately coordinated with development of the XJ-series Cherokee/Wagoneer compact wagons that arrived for 1984.

Keep reading to learn about the Jeep that revived the CJ tradition.

For more information on cars, see:

Consumer Guide New Car Search
Consumer Guide Used Car Search
1987 Jeep Wrangler
While the Jeep CJ may have died out in the mid-1980s, its spirit lived on in the form of the 1987 Jeep Wrangler and its YJ-series, built not in Toledo but at AMC's Canadian plant in Brampton, Ontario.
The product of a five-year, 600,000-mile development program, it retained the beloved CJ look on a slightly smaller scale, but was somewhat lighter and strode a wider track.


©2007 Publications International, Ltd.
The Jeep CJ's successor was the 1987 YJ-series Jeep Wrangler.

The Jeep Wrangler retained body-on-frame construction per CJ tradition, but its chassis was a new perimeter design with four crossmembers and rectangular-section tubular siderails. Major chassis components were borrowed from the XJ-series Cherokee/Wagoneer.
Included were front and rear axles (supplied by Dana), recirculating-ball steering (from GM's Saginaw Division), front-disc/rear-drum brakes (with standard vacuum assist), manual transmission, and part-time Command-Trac 4WD with "shift-on-the-fly" transfer case (from New Process Gear).

The suspension comprised longitudinal semi-elliptic leaf springs all-round, track bars at each end, a front stabilizer bar, and wheels adapted from the Cherokee's. Standard power was provided by AMC's 2.5-liter (150-cid) four with throttle-body fuel injection, packing 117 horsepower at 5,000 rpm and 135 lbs/ft peak torque at 3,500 rpm.
Optional was the company's venerable 4.2-liter (258-cid) inline six with two-barrel carburetor, 112 horsepower at 3,000 rpm, and 210 lbs/ft torque peaking at 3,000 rpm. Chrysler's three-speed TorqueFlite automatic was optional for the six only. The standard five-speed manual on four-cylinder models came from Aisin of Japan, from Peugeot of France for the six.

For the record, the Wrangler earned EPA city/highway fuel economy ratings of 18/20 mpg for the base power-train, 17/21 for the five-speed six, and 16/18 for the automatic six. Curiously, those were about the same as for the 1986 CJ-7, though it was typically thirstier than the government suggested.
Consumer Guide, for instance, averaged a bit under 14 mpg overall with their last six-cylinder/automatic CJ-7.

Jeep fans were excited by the Jeep Wrangler's promise to be much livelier on the road. AMC claimed the four-cylinder/five-speed version could run 0-60 mph in about 14 seconds, with the manual six about two seconds quicker.
Durability was also supposed to be improved. Every Wrangler underbody received a full anti-corrosion spray treatment, two-sided galvanized steel was used for major body panels, and the bolt-on front sheetmetal (including windshield) was cathodic electro-coated.

It wasn't the Jeep CJ, but for Jeep lovers, the 1987 Jeep Wrangler was a welcome continuation of the Jeep tradition.

Learn more about 1987 Jeep Wrangler design on the next page.

For more information on cars, see:

Consumer Guide New Car Search
Consumer Guide Used Car Search
1987 Jeep Wrangler Design
Jeep CJ fans waited with bated breath for the release of the 1987 Jeep Wrangler. They weren't disappointed.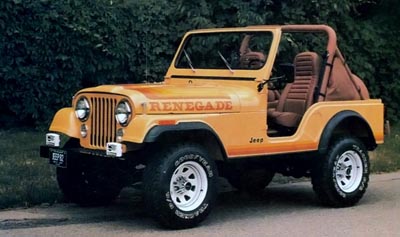 ©2007 Publications International, Ltd.
The 1987 Jeep Wrangler drew design inspiration from classic Jeeps such as the CJ-5.

Initially, the 1987 Jeep Wrangler was offered in three trim levels: base, Sport Decor, and Laredo. The last came only with a rigid hardtop that was optional for the other two, which had a factory-installed folding soft top.
Common to all was a brand-new dash sporting full instrumentation, with speedometer, tachometer, and warning lamp cluster positioned directly ahead of the driver. Also new was an integrated heat/vent/air conditioning system with lever control.
Standard equipment included metal half-doors, fuel tank skid plate, a padded roll bar connected to the top of the windshield frame by outboard side bars, swing-out tailgate, high-back front bucket seats, a foldable rear bench seat, tinted windshield, and P215/75R15 radial tires.
The Sport Decor Group added P215/75R15 Goodyear Wrangler "all terrain" tires, AM/FM monaural radio, extra carpeting, "Wrangler" hood decals, and bodyside tape stripes.

If you ordered the Laredo you got full carpeting, sound insulation package, "Buffalo-grain" vinyl trim, leather-wrapped sport steering wheel, center console, and carpeted door panels with map pockets, plus color-keyed wheel flares, full-length mud guards with cut-out side steps, chrome grille and bumpers, and 15 x 7-inch five-spoke cast-aluminum wheels.

As for options, the Jeep Wrangler picked up where the CJ left off. On the comfort/convenience side were tilt steering wheel, air conditioning, cruise control, electronically tuned stereo radios with or without cassette player, an electric rear window defroster for hardtops, and various trim items.
Among the more functional extras were power steering, halogen foglamps, "Trac-Lok" rear differential, and an Off-Road Package with 255mm tires and gas-filled heavy-duty shocks.

With all this, the Jeep Wrangler (which was to be sold in Canada as the Jeep YJ) was essentially the tried-and-true Jeep CJ formula updated for the 1980s. Most Jeepers hoped it would prove as tough as their old favorite. And with its lighter, more modern design, it was bound to be more comfortable in everyday on-road use, yet just as rugged offroad.

But you just don't forget a faithful friend that easily, let alone one you've known for over 40 years. And that's why the Jeep CJ, old soldier that it is, will never die . . . nor even fade away.

Check out 1987 Jeep Wrangler specifications next.

For more information on cars, see:

Consumer Guide New Car Search
Consumer Guide Used Car Search
1987 Jeep Wrangler Specifications
The 1987 Jeep Wrangler continued the tradition of the beloved Jeep CJs while paying attention to the safety concerns that plagued those earlier models.
Check out the specifications of the 1987 Jeep Wrangler below.

©2007 Publications International, Ltd.
The 1987 Jeep Wrangler is far more advanced -- yet somehow not so different -- from the original Willys prototype Quad.
1987 Jeep Wrangler Specifications

­
General

Manufacturer

Jeep Corporation/American Motors Corporation
Price

Base Soft-Top: $9,899; Sport Decor: $10,620; Laredo Hardtop: $12,205; Destination Charge (all models): $391

Vehicle Type

front-engine, rear/four-wheel drive, four-passenger sports/utility vehicle

Construction

steel body on separate perimeter chassis with rectangular-section tube siderails; folding soft top, metal half-doors, swing-out tailgate (all glass liftgate on hardtop models)



Dimensions
Wheelbase (in.)
93.4

Overall Length (in.)

152.0

Overall Width (in.)

66.0

Overall Height (in.)

68.6 (a)

Minimum Ground Clearance (in.)

8.1

Turn Diameter (curb to curb, ft.)

33.7

Curb Weight (lbs)

2,868 (b)

Fuel Capacity (gal)

15.0 (c)

Roll Center Height, front (in.)

16.1

Roll Center Height, rear (in.)

21.8

(a): open body; soft-top: 72.0; hardtop: 69.3; (b): four-cylinder; six-cylinder: 3,022 lbs; (c): 20-gallon tank optional



Chassis Specifications
Front Suspension

solid axle (Dana Model 30 with semi-floating disconnect), longitudinal semi-elliptic leaf springs, track and link-type stabilizer bars
Rear Suspension

live axle (Dana Model 35C semi-floating), longitudinal semi-elliptic leaf springs, track bar

Steering Type

recirculating ball (GM/Saginaw)

Steering Gear (turns lock-to-lock)

24:1 (5.3) manual, 14:1 (4.0) power

Brake System

11.0-in.-diameter vented front disc with cast-iron rotors; 9.8-1.8 in. rear drums, single diaphragm vacuum booster



Powertrain Specifications
Standard Engine
ohv inline four with throttle-body fuel injection

Bore x Stroke (in.)

3.88 x 3.19

Displacement (cu. in.)

150

Compression Ratio (:1)

9.2

Horsepower @ rpm (SAE net)

117 @ 5,000

Torque (lbs/ft) @ rpm (SAE net)

135 @ 3,500





Optional Engine

ohv inline six with two-barrel carburetor

Bore x Stroke (in.)

3.75 x 3.895

Diplacement (cu. in.)

258

Compression Ratio (:1)

9.2

Horsepower @ rpm (SAE net)

112 @ 3,000

Torque (lbs/ft) @ rpm (SAE net)

210 @ 3,000





Standard Transmission
Aisin (four-cylinder) or Peugeot (six-cylinder) five-speed overdrive manual
Final Drive Ratios (:1) (Standard)

4.11 (four), 3.08 (six)
Optional Transmission

Chrysler TorqueFlite three-speed torque-converter automatic (six-cylinder only)
Final Drive Ratios (:1) (Optional)

3.55 (except high altitude)

Transfer Case
Four-position dual-range New Process 207 (later changed to model 231)

Reduction Ratios (:1)

2.62 (high), 1.00 (low)

Wheels

15 x 7.0 JJ painted white-spoke; cast-aluminum optional

Tires

radial P215/75R15; P225/75R15 radial "all-terrain" optional
For more information on cars, see:
Consumer Guide New Car Search
Consumer Guide Used Car Search