King Midget fell on hard times in 1969-1970. As one King Midget worker recalls, one day in 1969 they counted up the unsold cars in factory stock. There were 125! With all that money tied up in unsold inventory, other bills began to go unpaid, including -- according to this same source -- taxes. The U.S. Internal Revenue Service soon padlocked the plant. King Midget was bankrupt.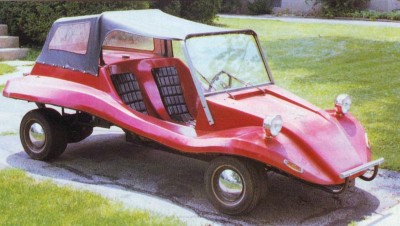 The 1970 King Midget Commuter featured a
fiberglass dune buggy-like body .
Production manager Vernon Eads ended up buying King Midget's remains and made an attempt to revive the company. He formed Barthman Corporation (his wife's maiden name), with plans to get back into production. Demand for the current King Midget seemed to be on the wane, however, so Eads decided to develop a new model.

The revised car, called the King Midget Commuter, used a one-piece fiberglass body, the idea being to reduce assembly cost. It was powered by the 12-bhp Kohler engine, but now came with a differential, reportedly from a Crosley. The Commuter was displayed at a few shows, but the public reaction to its "dune buggy" styling was negative. Eads tried to license production in Canada. He also set up a plant in Florida with the idea of exporting the Commuter to other countries. That might have worked, but we'll never know. A fire in the plant destroyed the only body mold, as well as about a dozen bodies awaiting final assembly. Only three Commuters were built.

Eads assembled a dozen of the steel-bodied third-series cars as 1970 models, and these, along with the three Commuters, comprised the total 1970 model run. With new safety and emissions rules on the horizon and a declining market for the car, the fire was the final straw, so Eads ended production.

Estimates of how many King Midgets were produced over the years inspires differences of opinion, since no factory production records have been found. The widely repeated number is 5,000 total over 24 years of production. But some people involved in the company have given estimates as low as 4,000 units and as high as 14,000.

Surprisingly, most of the leftover King Midget parts have survived over the years. In 1980, one enthusiast, John Weitlauf, assembled three new chassis from leftover parts, and it may be that they later received bodies from their owners. But the King Midget's biggest fan must be Dave Stults, who over the years has bought out all the parts stock from the old K-M and Barthman operations and the Florida and Canadian ventures -- some 14 tons in total -- as well as the rights to the King Midget name. Today, Stults's King Midget Auto Works is the largest supplier of parts to King Midget owners, who are still proud of the "World's Most Exciting Lowest Priced Car!"
For more information on cars, see:
Consumer Guide New Car Search
Consumer Guide Used Car Search
Advertisement