The 1941 Plymouth Special Deluxe Convertible was designed to be a solid contender in the convertible auto market.
Walter P. Chrysler advised new-car buyers in 1932 to "Look at All Three" for a good reason -- the low-price Plymouth his company had fielded only four years earlier was already nipping at the heels of market leaders Chevy and Ford.
In 1933, Plymouth responded to Chevy's six and Ford's V-8 with its first six. It was a 70-bhp L-head unit, five horses shy of Ford, but five and ten up on Chevy. In 1936, Plymouth output hit the magic half-million mark, helping Chrysler oust Ford from second place in sales.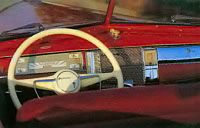 The 1941 Plymouth Special Deluxe Convertible was an improved 1940 model.
2007 Publications International, Ltd.
Plymouth in those days maintained a conservative attitude toward styling and engineering, concentrating instead on offering solid value for money. That approach served Plymouth -- and its customers -- well, many believing the ad line that proclaimed, "Plymouth Builds Great Cars."
The 1941 Plymouth was basically an improved 1940 model. The styling, for example, was nicely updated with an almost heart-shaped grille and "speedline" fenders with modest bright embellishment. Plymouth also claimed 10 engineering advances, among them oil-bath air cleaner, safety-rim wheels to hold the tire on in a blowout, improved rear springs, alligator-style-hood, and an under-the-hood battery (moved from under the driver's seat).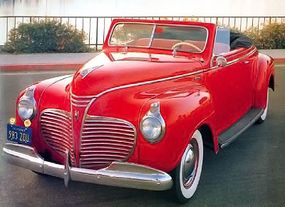 The 1941 Plymouth Special Deluxe Convertible had a longer wheelbase than Ford and Chevy -- but also had a higher price tag.
2007 Publications International, Ltd.
For $6.50, a buyer could opt for vacuum-assisted "Powermatic" shift. Also popular were extra-cost chrome wheel trim rings and center-mounted "Superguard" and "wingtip" bumper guards.
To justify slightly higher prices than Ford or Chevy, Plymouth rode a slightly longer 117-inch wheelbase. The top-line Special DeLuxe convertible sold for $1,007, about $60 more than the other two. But 10,545 buyers who "looked at all three" drove one home.
For more information on cars, see:
Classic Cars

New Car Search

Used Car Search