The 1941 Chevrolet Coupe Pickup was one of the most attractive and popular of the prewar Chevrolets.
Australians were also quite enamored with the "Ute," or coupe/pickup. That body style served "Down Under" at least well into the 1950s, and many an old Ute still works every day.
A number of American makers built "coupe pickups" in the 1930s -- Ford, Plymouth, Terraplane. The last sold a $750 Utility Coupe Pickup with a telescoping, three-position box that stored completely inside the car.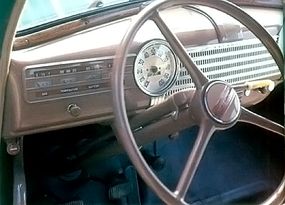 The instrument panel had a simple design.
credit
Ford and Plymouth models were both cheaper and more basic. And sales were low, so at Ford the coupe pickup lasted only one year -- 1937.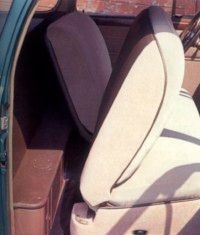 The backseats flipped forward for extrastorage space.
credit
Chevy had more staying power, offering a Roadster Pickup as early as 1926. After a lull, it was revived as a Coupe Delivery in 1936, and then kept on the roster through 1942.
The 1936 model, based on the Standard Coupe, featured a sidemounted spare and two bumper step plates; 3,183 were built. The 1937 model, the Master, placed the spare tire under the pickup bed -- fender-mounted spares had become passé by then. The load space measured a reasonably generous 66 inches deep, 38 inches wide, and 12 inches high. By 1939, sales had slipped to 1,264 units, and bombed to 538 for 1940.
Nonetheless, Chevy continued the Coupe Pickup into 1941, based now on the Master DeLuxe, the bottom-line series. Fender-mounted headlights and a Buick-like grille set it apart from the 1940 models.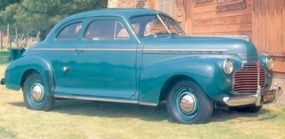 The 1941 model featured fender-mountedheadlights and a Buick-like grille.
credit
The 1941 Chevy has been described as "Everybody's Favorite." It has also long been considered by many as the most desirable and best styled of the prewar Chevys. Perhaps that's why sales of the Coupe Pickup more than doubled to 1,135 units for 1941.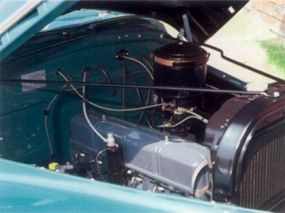 The pickup's Stove-Bolt six engine was dependable, making it an important selling feature.
credit
Then again, there was no competition to siphon away sales, and the $754 list price probably looked attractive to buyers who had need for such a specialized vehicle. Of course, the dependability of Chevy's "Stove-Bolt" six and 3,195-pound curb weight kept operating costs low.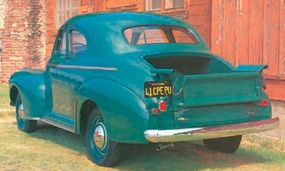 One of the most important selling features was the easily installed deck lid for commercial use.
credit
But the real selling point -- before anyone had heard of the two-car family -- was likely the convenience of being able to run a commercial vehicle during the week and then (by installing the deck lid) having a stylish coupe for the weekend.
For more information on cars, see:
Classic Cars

Consumer Guide New Car Search

Consumer Guide Used Car Search