The 1942 Mercurys looked stockier than the 1941s. That was purely an illusion because the body was the same, and would continue to be through 1948. The illusion was created via a more massive front-end designed with a horizontal-look theme developed for all three Ford makes to better compete against GM.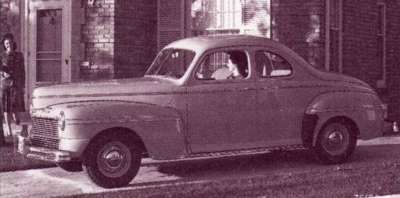 The 1942 Mercury coupe featured a grille similar to
that of Ford and Lincoln to give it a "family" look.

Mercury's slender bullet lights were sacrificed for rectangular parking lights placed high on the fenders inboard of the headlights (the same place Ford sited them). Running boards were now completely concealed under flared door bottoms, further enhancing the illusion of greater mass.

The instrument panels, too, were a concession to GM's most popular design formula: two identical circles for speedometer and clock, gauges to the left of the speedometer, glove compartment to the right of the clock, large radio speaker cover in the center.

Mercury's 1942 grille was deliberately tied very closely to that of the Lincoln-Zephyr and Continental to give the cars a "family" look. Lincoln-Mercury was still not a separate division, but obviously the firm was working hard to separate Mercury from Ford, at least insofar as the public was concerned. Horsepower was increased to 100 at 3800 rpm. The Ford V-8 was rated at 90 horsepower, retaining the 221-cid block.
Mercury's big engineering news for 1942 was "Liquamatic," Ford Motor Company's first semi-automatic transmission, and it was a disaster. Although nobody is quite sure how many cars were so equipped, it couldn't have been a lot, and likely most were Lincolns.

Manufactured by Warner Gear, Liquamatic was so unreliable that Ford quickly offered to replace all units free of charge with a conventional stickshift gearbox, so virtually none exist today. Fortunately, it wasn't available on 1942 Fords. Mercury wouldn't have another automatic transmission until Merc-O-Matic appeared in 1951, and that of course would be a true automatic.

Mercury production for the short 1942 model year totaled only 22,772 units (24,704 worldwide). That's because the government had restricted auto production throughout the model year, which lasted only from October 3, 1941, to February 10, 1942. After that, U.S. civilian output was halted as American auto plants were converted to the exclusive production of war material.

Edsel Ford probably wielded a lot of influence on the 1941 Mercury design, but less on the 1942 facelift. For one thing, massive front-end styling wasn't his trademark. And, unfortunately, his health was deteriorating rapidly. Ultimately, his condition was diagnosed as stomach cancer, perhaps aggravated by living a life with his stomach tied up in knots over his uneasy relationship with his father, Henry Ford.

The 1942 Mercury sedan featured a massive
front-end design with a horizontal effect.

Psychologists would have called the Fords a "dysfunctional" family of the highest order. Henry kept a mistress, ran the company like a feudal lord, and forced his son to walk in his shadow. Edsel died on May 26, 1943, the immediate cause being undulant fever brought about by drinking unpasteurized milk from the Ford farms. Henry was devastated, and Clara wouldn't speak to him for weeks. At this point, even tough guy Harry Bennett kept his distance from the old man.

Ultimately, the reclusive tycoon Henry Ford returned to take the helm at Ford -- but not for long. President Franklin Roosevelt released Henry II from the
Navy
later in 1943 to assist his grandfather. The young Henry became executive vice president in 1944 and assumed full command in September 1945, when old Henry reluctantly gave up the ship with a "Humbug." He died on April 7, 1947.
His last personal car was a blue 1942 Ford Super DeLuxe sedan with a 1946 grille. In his hardened heart and soul, the old man devotedly believed that the company should go back to the Model T. He passively approved of the 1949 Ford, but evidently denied that Lincoln and Mercury even existed.
On the next page, find out about the development of the 1945-1946 Mercury during wartime.
For more information about cars, see:
Consumer Guide New Car Search
Consumer Guide Used Car Search
Advertisement