The origins of Mercury are fraught with drama. If it had been up to Henry Ford, there would never have been a Mercury or Lincoln, only the Ford -- and it would have gone back to Model T basics in 1949. Yet, during the Forties Ford fielded only one medium-priced car to compete with the likes of Pontiac, Oldsmobile, Buick, Dodge, DeSoto, Hudson, Nash, and upper-level Studebakers.

The 1942 Mercury Club convertible featured whatwould
become recognized as unique Mercury characteristics on a
Ford body. See more pictures of Mercury cars.

Such was the pathetic lack of sound product planning at Ford Motor Company in the Thirties and early Forties. This backward and baffling "Fordonomics" produced only one car between Ford and Zephyr, the Mercury: pure Ford under the trim, but disavowing its heritage completely.

The 1947 Mercury Monarch displayed sleek styling,
which was compared to an airplane.
This isn't to say that the 1941-1948 Mercury wasn't a great car. It was the greatest flathead Ford ever built, all dolled-up in a Sunday suit. But it was still pure Ford, just as sure as President Harry Truman's promise that "the buck stops here."

From its very inception in 1937, Henry Ford denied that the Mercury even existed. His only contribution to the marque was in finally allowing Edsel go ahead with it. The reason for the car was obvious enough: to put something into the gnawing $500 gap between the Ford DeLuxe and the Lincoln-Zephyr.
The original 1939 Mercury debuted on November 5,1938, and shared Ford's antiquated transverse-spring suspension. However, the first Mercury frame wasn't quite the same as a Ford's because it was made more rigid and carried a four-inch-longer wheel-base.

The engine was pure Ford flathead V-8, bored out from 221 cubic inches to 239.4 to develop an additional 10 horsepower. However, the body was unique, sharing no panels with Ford, although design-wise the two were clearly related. Also unique to Mercury was the narrow B-pillared Club Coupe, arguably the forerunner of the hardtop body style.

While Edsel wanted to tie Mercury closely to Ford, design head E.T. "Bob" Gregorie and others in Ford styling wanted to set it apart. The Indians ultimately won out over the chief, at least for the first two model years.

On the next page, find out how the Mercury evolved in 1941.
For more information about cars, see:
Consumer Guide New Car Search
Consumer Guide Used Car Search
1941 Mercury
The 1941 Ford and Mercury got all-new styling and some engineering improvements. The two now shared the same bodyshell for reasons that have never been made entirely clear, but probably to raise Ford quality while lowering Mercury production costs.


The 1941 Mercury wagon greatly resembled
the styling of Ford.
A few years later, Tom McCahill, road tester for Popular Mechanix magazine, quite correctly noted that "the Mercury has always been the Ford that Ford would have built if there hadn't been such a thing as price competition."
Ford's wheelbase expanded by two inches to 114, Mercury's to 118. The 1941 Ford and Mercury now shared the same frame that had been developed earlier for the Mercury. Its main advantage was that it virtually eliminated Ford's famous body flexing and rattling, making any Ford car built on it as quiet as anything coming out of General Motors or Chrysler, at least for the first few years.

There were many chassis refinements for both makes, including spring lengths, rates, and deflections, plus changes in shackling, shocks, and an improved stabilizer bar -- but still transverse springing. It is important to remember that when you are talking about Fords and Mercurys from this period, you are talking about the same car under slightly different trim.

Ford's 1941 bodies remain controversial to this day. Some would call them "fat" (they were larger and wider than before), and few could say that the front-end design was an improvement over the classic look of 1939 and 1940. However, at the time it was designed, Ford stylists thought it quite attractive.

The interior of the 1941
Mercury wagon was
spacious.
The 1941 Mercury in retrospect was infinitely better looking due primarily to the sharper grille, more in keeping with 1939-1940 styling than Ford's approach. One reason the designers could put a more attractive front end on the Mercury was because they had an extra four inches to work with -- Mercury's longer wheelbase rode from the firewall forward, allowing for a longer hood and front fenders. Bodies were identical from the firewall back.
It's not hard to figure out who designed the 1941 Mercury because there were only about 20 people in Ford styling at the time. E.T. "Bob" Gregorie was the boss; Martin Regitko did body surface development; John H. Walker worked on instrument panels; Bruno Kolt designed grilles and sheetmetal; Willys P. Wagner shaped the bumpers, lights, and exterior hardware; Walter Kruke concentrated on interior trim; and an incredible old German, Dick Beneicke, served as the head clay modeler.

All of them are gone now except for Gregorie and apprentices Ross Cousins, Tucker Madawick, and John Najjar. Lawrence Sheldrick was chief engineer. Gregorie refused to work under him -- he worked for Edsel Ford and nobody else.

Some of the body features (again shared with Ford) were door bottoms that flared out over the running boards, allowing for wider seats and interiors; two inches more headroom; two-piece front fenders (three-piece at first); and more glass area. The front pillars were made slimmer and the windshield was widened, deepened, and angled more steeply.

Parking lights were separate and set atop the fenders for greater visibility. Headlight bezels were redesigned. In all closed Mercurys, including the two-door Sedan, the rear-quarter windows opened out. In 1940, the Club Coupe rear windows had rolled down, and there had been no rear-quarter vent windows in the two-door Sedan. Front vent wings were now crank-operated in both the Mercury and Ford, and in closed cars the ventilation wing support bars rolled down with the windows.

On the next page, learn more about the complicated relationship between Mercury and Ford.

For more information about cars, see:
Consumer Guide New Car Search
Consumer Guide Used Car Search
Mercury Versus Ford
Sizing up Mercury versus Ford makes clear some interesting differences. Early Mercuries had three-piece front fenders with no strip of stainless trim. Later examples utilized two-piece fenders with stainless. This was also true of the 1941 Fords.


The 1941 Mercury Town Sedan was likened to an
airplane in its advertising because of its sleek
look and powerful engine.

Early parking lights in Mercury were very close in design to those of the 1941 Ford, but later units were bullet-shaped and unique to Mercury. Early models had the starter button on the steering column support; it was later moved to the dashboard.

The V-8 engine remained virtually the same as in 1939-1940: 239.4 cubic inches developing a rated 95 horsepower at 3600 rpm, compared to the 1941 Ford's 221 V-8 with 90 horses at a slightly higher 3800 rpm. Some sources still listed the horsepower at 85, but Ford expert Paul Woudenberg has pointed out that Ford actually underrated the output a bit.

In any case, the Mercury needed the extra oomph because it weighed in at least 100 pounds heavier than a 1941 Ford V-8. (The margin of weight difference became less in 1942, and even less in the postwar models.) Even though Ford introduced a flat-head six-cylinder engine in 1941, a good one that challenged the output of the V-8, it was never offered in the Mercury.

While Mercury's instrument panel featured the same general horizontal theme as did Ford's, it was considerably better detailed. Upholstery materials, too, were upgraded and offered in Bedford cord or broadcloth in closed models. It should be pointed out that while Fords came in either DeLuxe or Super DeLuxe guise, Mercury offered only one trim level. In fact. Mercury didn't offer an upscale series -- the Monterey -- until 1952, way behind the rest of the industry.

Perhaps the biggest change for 1941 was the model lineup. The Convertible Sedan, offered in 1940 only, departed, but a coupe and station wagon were added. The woody wagon's body was identical to Ford's, produced at the company's Iron Mountain plant in Michigan's Upper Peninsula. The Sedan-Coupe (or Club Coupe) was retained, but no longer featured the distinctive hardtop-like styling with the chromed window frames, a la the Lincoln Continental Coupe and Cadillac Series Sixty Special. Again, this was a cost-cutting measure to give the Mercury and Ford Sedan-Coupes the same bodies.

The 1942 Mercury wagon enjoyed some success
after a wagon was first introduced in 1941.

The coupe, which had a completely different body than the Club Coupe, was offered two ways: either as a three-passenger business coupe with a solid front seat-back that hinged at the top and lifted up from the bottom edge to provide a front opening into the luggage compartment, or with a split front seatback and two auxiliary (or opera) seats behind.

The Club Convertible now boasted an electrically powered top. Seats in the rag-top and wagon were made of high-quality, hand-buffed, antique-finished leather in tan, red, or blue. Eight exterior colors were listed for all models, and later in the year two-tone paint schemes became available. Prices started at $910 for the business coupe and escalated to $1,141 for the wagon.

U.S. model-year production came in at 90,556 units, with some 98,412 produced for worldwide consumption (including exports and completely knocked-down kits).
Madison Avenue's Hucksters (if you recall the Clark Gable movie of 1947) were at their best when it came to promoting the 1941 Mercury. The advertising agency responsible for the Mercury account at the time was probably N. W. Ayer, which had managed the Ford account for years, but would lose it to J. Walter Thompson in 1944.

Advertisements claimed that Mercury had more power per pound than most cars, which it did, plus
aircraft
-inspired engineering, aerodynamics, and styling. In fact, many 1941-1942 ads showed the new Mercurys alongside airplanes. The slogans were: "The aviation idea in an automobile," and "The big car that stands alone in economy." But the Mercury wasn't any bigger inside than the Ford, it wasn't any more aircraft-inspired than a Ford, and it wasn't all that economical.
The newly designed ride-stabilizer,
brakes
, window vents, and the amount of trunk and seating space were presented as being something exclusive to Mercury. They weren't, but in reading any Mercury ad the reader might get the distinct impression that this car was totally unlike a Ford. By associating the cars with aircraft, Mercury advertisements were truly "reaching for the skies," or perhaps even "floating on cloud nine." Ah, what dreamers the advertising agency copywriters were in those days!
On the next page, read about the design concepts that influenced the 1942 Mercury.
For more information about cars, see:
Consumer Guide New Car Search
Consumer Guide Used Car Search
­
1942 Mercury
The 1942 Mercurys looked stockier than the 1941s. That was purely an illusion because the body was the same, and would continue to be through 1948. The illusion was created via a more massive front-end designed with a horizontal-look theme developed for all three Ford makes to better compete against GM.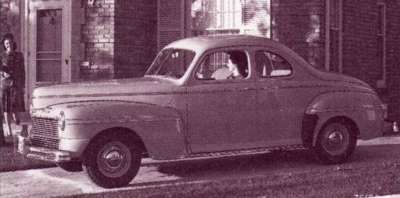 The 1942 Mercury coupe featured a grille similar to
that of Ford and Lincoln to give it a "family" look.

Mercury's slender bullet lights were sacrificed for rectangular parking lights placed high on the fenders inboard of the headlights (the same place Ford sited them). Running boards were now completely concealed under flared door bottoms, further enhancing the illusion of greater mass.

The instrument panels, too, were a concession to GM's most popular design formula: two identical circles for speedometer and clock, gauges to the left of the speedometer, glove compartment to the right of the clock, large radio speaker cover in the center.

Mercury's 1942 grille was deliberately tied very closely to that of the Lincoln-Zephyr and Continental to give the cars a "family" look. Lincoln-Mercury was still not a separate division, but obviously the firm was working hard to separate Mercury from Ford, at least insofar as the public was concerned. Horsepower was increased to 100 at 3800 rpm. The Ford V-8 was rated at 90 horsepower, retaining the 221-cid block.
Mercury's big engineering news for 1942 was "Liquamatic," Ford Motor Company's first semi-automatic transmission, and it was a disaster. Although nobody is quite sure how many cars were so equipped, it couldn't have been a lot, and likely most were Lincolns.

Manufactured by Warner Gear, Liquamatic was so unreliable that Ford quickly offered to replace all units free of charge with a conventional stickshift gearbox, so virtually none exist today. Fortunately, it wasn't available on 1942 Fords. Mercury wouldn't have another automatic transmission until Merc-O-Matic appeared in 1951, and that of course would be a true automatic.

Mercury production for the short 1942 model year totaled only 22,772 units (24,704 worldwide). That's because the government had restricted auto production throughout the model year, which lasted only from October 3, 1941, to February 10, 1942. After that, U.S. civilian output was halted as American auto plants were converted to the exclusive production of war material.

Edsel Ford probably wielded a lot of influence on the 1941 Mercury design, but less on the 1942 facelift. For one thing, massive front-end styling wasn't his trademark. And, unfortunately, his health was deteriorating rapidly. Ultimately, his condition was diagnosed as stomach cancer, perhaps aggravated by living a life with his stomach tied up in knots over his uneasy relationship with his father, Henry Ford.

The 1942 Mercury sedan featured a massive
front-end design with a horizontal effect.

Psychologists would have called the Fords a "dysfunctional" family of the highest order. Henry kept a mistress, ran the company like a feudal lord, and forced his son to walk in his shadow. Edsel died on May 26, 1943, the immediate cause being undulant fever brought about by drinking unpasteurized milk from the Ford farms. Henry was devastated, and Clara wouldn't speak to him for weeks. At this point, even tough guy Harry Bennett kept his distance from the old man.

Ultimately, the reclusive tycoon Henry Ford returned to take the helm at Ford -- but not for long. President Franklin Roosevelt released Henry II from the
Navy
later in 1943 to assist his grandfather. The young Henry became executive vice president in 1944 and assumed full command in September 1945, when old Henry reluctantly gave up the ship with a "Humbug." He died on April 7, 1947.
His last personal car was a blue 1942 Ford Super DeLuxe sedan with a 1946 grille. In his hardened heart and soul, the old man devotedly believed that the company should go back to the Model T. He passively approved of the 1949 Ford, but evidently denied that Lincoln and Mercury even existed.
On the next page, find out about the development of the 1945-1946 Mercury during wartime.
For more information about cars, see:
Consumer Guide New Car Search
Consumer Guide Used Car Search
1945-1946 Mercury
The 1945-1946 Mercury was painstakingly developed over time, even though the War Department forbade any work that was not related to the war.


The 1946 Mercury Sportsman was Mercury's
answer to Ford's convertible, also called Sportsman.

According to the original plan, entirely new Ford and Mercury bodies were slated for 1943. Just before he became ill, Edsel had worked closely with Bob Gregorie and his styling crew, who were developing the 1943 models. That all came to a screeching halt, of course, when the government stopped production.

By this time, the 1944s had gone as far as the clay mock-up stage. During 1943 and 1944, work progressed even further, although strictly speaking it was forbidden by the War Department. The most significant design thinking to come out of that period was the 1949 Mercury, which originated as a painting of a coupe done by Ross Cousins in 1943. At first, it had been intended to be the 1949 Ford. Other work, probably done primarily by Cousins, had a lot of influence on the 1946 Mercury facelift.
Mercury production resumed on November 1, 1945. Just ten days earlier, on October 22, Lincoln-Mercury had finally become a separate division. As with all other makes, the 1946 Mercury was a facelifted version of the 1942. The new "high-style" grille was a busy though pleasant affair with the upper diecast portion sporting closely spaced vertical bars grouped into eight sections, separated at the center by E-I-G-H-T in vertically arranged block letters.

This ensemble was encased in a body-color frame, highlighted by three mini chrome strips on each side. A lower painted catwalk section housed twin stainless steel, flattened oval grilles, each divided by a pair of horizontal bars. That bottom section, incidentally, was an integral part of the front fenders.

The 1946 Mercury wagon featured birch or
mahogany panels framed in maple.
The business coupe disappeared from the 1946 lineup, but not from Ford's. A new and very limited edition, the Sportsman, was Mercury's version of Ford's wood-bodied convertible, also called Sportsman. Due to its later introduction, this model wasn't shown in the Mercury brochure, perhaps part of the reason that only 205 were built for 1946 (compared to 3,025 Ford versions for 1946-1948).

It was the first Mercury to feature power windows (they were standard), and like the regular convertible, the Sportsman came equipped with an "automatic Hydraulic-Lift Top." Reportedly, only one survives. Seats in the convertible and wagon were upholstered in "tan, red or gray genuine leather."

Prices started at $1,448 for the Sedan (Mercury's name for the two-door sedan), rose to $1,729 for the woody wagon (maple framing with birch or mahogany panels), and topped out at a towering $2,209 for the Sportsman. The most popular model, the Town Sedan (Mercury lingo for four-door sedan), listed at $1,509.

Prices averaged $188 more model-for-model than for a Super DeLuxe Ford V-8. Despite early postwar materials shortages and widespread industry strikes, 86,608 Mercurys were produced for the 1946 model year.

Don't be deceived by 1946-1948 Ford and Mercury trim differences -- the cars were alike as peas in a pod underneath, despite Mercury's four-inch-longer wheelbase. What buyers got for the extra $188 in a Mercury was a little more exterior trim, such as twin chrome strips on the fenders. They also looked at a fancier instrument panel "smartly finished in metallic lacquer...and decorated with softly glittering chromium and plastic," complemented by a "beautiful plastic steering wheel and full horn ring [possessing] a jewel-like beauty..."

And passengers sat on better upholstery: "Gray-Green or Rust, seat cushions are smartly styled in rich broadcloth or cord cloth, and trimmed in genuine leather; side walls combine colored fabric with handsome simulated leather and plastic." The hopeful buyer also got on a waiting list that wasn't nearly as long as for a Ford because Lincoln-Mercury dealers generally weren't afraid to pad their prices high enough to always have good availability.

The 1946 Ford and Mercury engines were identical, developing 100 bhp at 3SOO rpm. Improvements included four-ring, cam-ground aluminum pistons; new tri-alloy bearings; and a high-pressure radiator cap that increased coolant pressure for higher-temperature operation.

Other advances included "Self-Centering Brakes" with increased lining area, a rear stabilizer bar, and reduced-frequency transverse springs. The last, called "Slow-Motion" springs by Mercury, promised a "Full-Cushioned Ride." They rode outside the wheelbase, providing a 129.38-inch "spring base," thus resulting in what Mercury hyped as a "luxury ride."

The 1946 Mercury Club convertible came with an
automatic Hydraulic-Lift Top.
The first two cars that Tom McCahill ever tested for Mechanix Illustrated were the 1946 Ford and Buick for the February 1946 issue. He loved the Ford, hated the Buick. In July 1946, he wrung out a Mercury, commenting that "I drove one of these new engines from coast to coast and purposely abused it whenever the going got tough. With a fully loaded car I never once took it out of high while crossing some of the toughest passes in the Rockies and later the High Sierras."

He continued, "At times my speed had been reduced from 70 to as little as 15 mph, but it was still in high and kept going without a buck. Across Texas and through Arizona I had driven this new engine as much as 650 miles in a day, several times covering as much as 70 miles in a single hour, so I can say with assurance that if there is an engine around that will top the Mercury for high speed cruising, and I mean an engine that does it without strain or heating up, then I don't know about it."

In California, McCahill tried to find out if the rest of the car was as good as the engine. Taking a new Mercury from the Long Beach plant, he approached the Hollywood Hills at 10 mph in high gear, then gave it full throttle, and found he did not have to shift on any grade he took. He was impressed by the Mercury's high-speed cornering, claiming it couldn't be surpassed or even equaled by the most expensive cars at the time.

This was a really interesting aspect of the Fords and Mercurys of the Forties: While their horse-and-buggy suspension was widely criticized in its day, it provided for such superior handling that today's Corvette uses a transverse rear spring.

On the straightaways, McCahill slowed down to a creep and found seat-pinning performance when accelerating up to highway speed. In less than a mile, he was doing better than 80 mph. (McCahill had yet to invent his famous 0-60 test.)

On the next page, learn about the changes made to the 1947-1949 Mercury.

For more information about cars, see:
Consumer Guide New Car Search
Consumer Guide Used Car Search
1947-1949 Mercury
The 1947-1949 Mercurys changed little -- hardly surprising given it was a seller's market at the time. In fact, the early 1947s, introduced on February 19, 1947, were identical to the 1946s.


The 1947 Mercury Club convertible was identifiable
from past models by the stainless strip along the
side of the hood.

Ford Motor Company vice president J. R. Davis, quoted by John A. Gunnell in 55 Years of Mercury, defended the lack of change: "So-called face-lifting, resulting in small appearance changes, is not necessary to designate a yearly model. It is up to the manufacturer to designate changes for the purposes of registering a car as a yearly model. We have done this so current buyers of Fords, Mercurys and Lincolns will get the benefit of 1947 titles."

It wasn't until April 3 that Lincoln-Mercury (and Ford) announced the "Spring Models" that are generally considered to be the "true" 1947s. The easiest way to identify them was by the stainless strip that ran along both sides of the hood. The 1946 strip extended nearly to the front of the hood, while the two strips of 1947 1/2-1948 extended barely half way forward of the cowl. The short forward piece carried the name "Mercury."

The upper grille frame was now chromed, eliminating the need for the three bright stripes at each outer end. Trunklid trim and bumper guards were mildly revised, and the hood ornament lost its red stripes. Hubcaps and instrument faces were slightly different, as well.

Actually, the biggest change was the price, up $150 on average from 1946. The Sportsman was gone, and the slow-selling two-door Sedan was eliminated after only 34 were produced for 1947.
The sole difference between the 1947 1/2 and the 1948 was that the ignition toggle switch was eliminated for 1948 on both the Ford and Mercury.

Model-year production for 1947 came in at 86,383 units (including the early 1947s). For the short 1948 model year (the all-new 1949 Mercury bowed in April 1948), it was 50,268. In each of these three years, about five times as many Fords were produced as Mercurys.
In reporting on the 1947 Ford and Mercury, McCahill found even better performance, but complained about corner-cutting on production costs. He noted, for example, that the Mercury no longer had a trip odometer, and it stinted on weather stripping and interior door trim.

He also pointed out that the 1947 Ford and Mercury engines remained the same -- but the rear axle was changed from 3.54:1 to the 3.78:1 of former years. It might be noted that the 1946-1948 Ford rode on 16-inch wheels, versus the Mercury's 15-inchers, for a slightly higher top speed, but the Mercury had marginally better pick-up.

The 1948 Mercury convertible was little
changed from past models.

The rear-end change for both makes meant slightly faster acceleration at all speeds, superior hill climbing ability, but a loss of the "almost overdrive effect" and a higher revving engine at cruising speeds, which also meant a bit more wear. By this time, Mercury's extra weight over Ford was so little that it made no real difference in performance.

Said McCahill enthusiastically: "The '47 Fords and Mercurys have more pep than last year's cars and they are much better at hill climbing. Their top cruising speed is a little less than before, but there's nothing else around of similar price that can beat them... For every owner swearing at his Ford you'll find a thousand swearing by it."

Until 1949, J. Walter Thompson handled Lincoln and Mercury advertising. The Mercury campaign continued the strategy set forth by N. W. Ayer before World War II, implying that Mercury was a very different car than the Ford, which it really wasn't. The ad campaign proclaimed, "More of everything you want with Mercury," but the truth was that beginning in 1946 it didn't even have a horsepower advantage over Ford. This was the time of Ford's landmark campaign, "There's a Ford in your Future," with whimsical cartoons that used cartoon animals.

The 1947 Mercury Monarch Sedan-Coupe
enjoyed advertising that differentiated it
from Ford, yet it was virtually alike.

Mercury advertising didn't take the product so lightly. Instead, it promised endless happiness on the open road, with the emphasis on "more": "In style...performance...beauty...comfort -- there's more of everything you want with Mercury."

What those grinning simpletons riding along smugly in the Mercury ads didn't realize was that the biggest more was the price they paid to have a Mercury name and grille on their Ford. But that's ad revving, folks.

For more information about cars, see:
Consumer Guide New Car Search
Consumer Guide Used Car Search
1941-1948 Mercury Models, Prices, and Production
The 1941-1948
Mercury
found a place among the
Fords
, despite the lack of Henry Ford's blessing. Find weight, production, and prices for the 1941-1948 Mercury in the following chart.
1941-1948 Mercury: Models, Prices, and Production
| | | | |
| --- | --- | --- | --- |
| 1941 Series 19A | Weight (lbs.) | Price | Production |
| Coupe, 5W, A/S | 3,049 | $936 | 1,841 |
| 2d Sedan | 3,184 | 946 | 18,983 |
| 2d Sedan-Coupe | 3,118 | 977 | 17,259 |
| 4d Town Sedan | 3,221 | 987 | 38,848 |
| Club Convertible | 3,222 | 1,100 | 8,157 |
| Coupe, 5W, 3P | 3,008 | 910 | 3,177 |
| 4d station wagon | 3,468 | 1,141 | 2,291 |
| Total 1941 Mercury | | | 90,556 |
| 1942 Series 29A | Weight | Price | Production |
| 2d Sedan | 3,228 | 1,030 | 4,820 |
| 2d Sedan-Coupe | 3,148 | 1,055 | 4,942 |
| 4d Town Sedan | 3,263 | 1,065 | 10,475 |
| Club Convertible | 3,288 | 1,215 | 956 |
| Coupe, 5W, 3P | 3,073 | 995 | 718 |
| 4d station wagon | 3,528 | 1,260 | 857 |
| chassis | -- | -- | 4 |
| Total 1942 Mercury | | | 22,772 |
| 1946 Series 69M | Weight | Price | Production |
| 2d Sedan | 3,240 | 1,448 | 13,108 |
| Sportsman Club Convertible | 3,407 | 2,209 | 205 |
| 2d Sedan-Coupe | 3,190 | 1,495 | 24,163 |
| 4d Town Sedan | 3,270 | 1,509 | 40,280 |
| Club Convertible | 3,340 | 1,711 | 6,044 |
| 4d station wagon | 3,540 | 1,729 | 2,797 |
| chassis | -- | -- | 11 |
| Total 1946 Mercury | | | 86,608 |
| 1947 Series 79M | Weight | Price | Production |
| 2d Sedan | 3,268 | 1,592 | 34 |
| 2d Sedan-Coupe | 3,218 | 1,645 | 29,284 |
| 4d Town Sedan | 3,298 | 1,660 | 43,281 |
| Club Convertible | 3,368 | 2,002 | 10,221 |
| 4d station wagon | 3,571 | 2,207 | 3,558 |
| chassis | -- | -- | 5 |
| 1947 Total Mercury | | | 86,383 |
| 1948 Series 9CM | Weight | Price | Production |
| 2d Sedan-Coupe | 3,218 | 1,645 | 16,476 |
| 4d Town Sedan | 3,298 | 1,660 | 24,283 |
| Club Convertible | 3,368 | 2,002 | 7,586 |
| 4d station wagon | 3,571 | 2,207 | 1,889 |
| chassis | -- | -- | 34 |
| Total 1948 Mercury | | | 50,268 |
For more information about cars, see:
Consumer Guide New Car Search
Consumer Guide Used Car Search