The 1940 Pontiac Special Six Station Wagon wasn't built by chance. Rather, it was the culmination of a series of events that swept through General Motors's Pontiac division in the late 1930s.
In 1935, Pontiacs appeared with a ribbed band of chrome down their centers, called "Silver Streak" styling. Designed in the Pontiac styling studio then headed by Franklin Hershey, the streaks would go on to serve as the make's visual signature for two decades. The same year, Pontiac returned to the production of six-cylinder cars with a 208-cid L-head engine good for 80 bhp.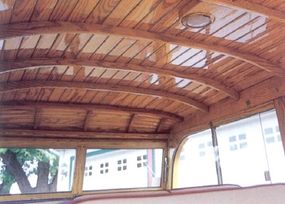 The arrival of station wagons was another factor that led to the Special Six. With demand for wood-bodied wagons growing steadily, Pontiac cataloged its first such car in 1937. It came in the DeLuxe Six series, in which the engine was newly enlarged to 222.7 cid and power was boosted to 85 bhp.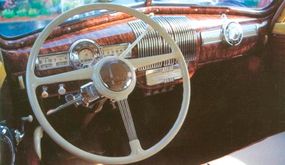 The final factor that led to the Special Six was the need for a low-cost line. To cover a perceived price gap at the bottom of its lineup, Pontiac brought out the Quality Six for 1939. The 115-inch-wheelbase series used Chevrolet bodies and included a station wagon.
Come 1940, the Quality Six was renamed the Special Six, but the concept behind it was unchanged. GM created a new A-body for Chevrolet, but Pontiac adapted it for the Special Six, where updated Silver Streaks bisected a wide-four 1940-grille of bright horizontal bars. Sealed-beam headlamps, which swept the industry that year, projected from the broad fenders.

Wheelbase grew by a couple of inches and there was more power under the hood. A compression boost to 6.5:1 (from 6.2) delivered 87 bhp at 3,520 rpm. The Special Six was offered in five closed body styles, including Pontiac's lone station wagon. Prices ranged from $783 up to $1015 for the eight-passenger wagon.
One of the problems with "woodies" was the special maintenance their bodies required. Given that, the restored car seen here couldn't have wound up in better hands. Owner Larry Lange, of Lake Geneva, Wisconsin, is a woodworker by trade.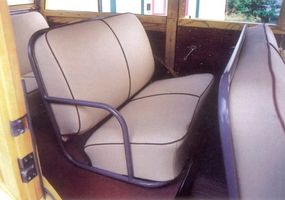 Lange said his Special Six spent most of its life in Connecticut. When he bought it from the second owner in 1998, the whole thing was painted black -- even the wood body built by the Hercules Body Company. Amazingly, as much as 70 percent of the ash framing was restorable. The mahogany side panels were all replaced, though. Aside from an engine rebuild, rechroming, and upholstery work, Lange tackled the remainder of the restoration himself.