The 1940-1942 Dodges had their styling roots in the silver-anniversary 1939 Dodges, designed by Raymond H. Dietrich of coachbuilding fame. Dietrich later commented that the engineers who then ran Chrysler prevented him from doing everything he would have liked to do.
The most popular model of the low-line 1940
Dodge Special series was the $815 two-door sedan.
Still, there were new bodyshells that year with sleeker profiles, integrated trunks, and two-piece vee'd windshields. Dietrich gave Dodges a fresh, Art Deco look via flush headlamps astride a rounded prow dividing a lower-profile horizontal-bar grille.
The 1940 models continued this basic theme on a new 119.5-inch wheelbase (up 2.5 inches), and looked cleaner despite having more chrome, including a larger grille stretched across the prow.
For 1941 came fuller, squarer fenders, a broader divided grille swept outboard to surround the headlamps, and the first use of the Dodge family crest (within a winged nose medallion).
The new grill design on the 1941 Dodge boasted
the full-width look that was in vogue at the time.
A major face-lift gave the 1942s elongated fenders and a more elaborate full-width grille with an eggcrate center, plus a handsome new symmetrically arranged dashboard with metal wood graining.
Dodge had revived a multi-series lineup for 1939, its first in five years, with price-leading Specials and upmarket DeLuxes. Long-wheelbase cars were absent that year, but a seven-passenger sedan and division-window limousine returned for 1940 on a new 139.5-inch chassis, the longest in Dodge history.
These were part of the DeLuxe group along with Dodge's only convertible, a business coupe, four-passenger coupe, and two- and four-door sedans. Prices were $803-$1,170. Specials comprised just the sedans and business coupe starting at $755.
This essential lineup repeated for 1941, but DeLuxe moved down to replace Special and the pricier models were renamed Custom. The business coupe became a three-window, long-deck style available only as a DeLuxe; the four-seat version remained a five-window type (called club coupe after 1941) open only to the Custom range.
A four-door Town Sedan, with a blanked-out rear
roof panel, was new for the 1941 Dodge.
DeLuxes got standard electric windshield wipers and "Airfoam" seat cushions like Customs, while the upper series added a fancier Brougham two-door sedan. Also new was a four-door Town Sedan with closed rear quarters and rear-door ventwings instead of the regular sedan's single large door window and separate glass in the C-pillar.
Turn signals remained optional for any model, as did running boards. The limousine and long sedan were still around, but on a two-inch-shorter wheelbase. The 1942 roster was identical, save for the addition of a club coupe to the DeLuxe series.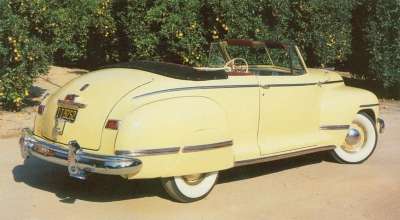 Apart from seven-passenger models, the rarest and
priciest 1942 Dodge was the Custom convertible.
Though not cheap for the day at $1,000-$1,200, early-1940s Dodge ragtops were fairly popular. Respective 1940-1941 production was 2,100 and 3,554; the 1942s numbered 1,185 despite the early shutdown of civilian car production following Pearl Harbor.
Convention still ruled when peace returned, with volume, not innovation, the order of the day in car-starved America. Dodge made a slow start, building barely 400 cars in 1945, but quickly hit its stride, usually finishing fourth behind Chevrolet, Ford, and Plymouth in the early postwar production races.
For more on the 1945 Dodge, continue on to the next page.

For more information on cars, see:
Consumer Guide New Car Search
Consumer Guide Used Car Search
Advertisement