The name Talbot has been used so often for so long that it confuses even the experts. Most recently, Peugeot used it the Eighties on cars it inherited from its buy-out of Chrysler-Europe.
In the early part of the century, the Talbot badge was seen on cars built both in England and France. In the Thirties, Sunbeam-Talbot-Darracq fell on hard times, and the English part was taken over by Rootes in 1934. The French unit went to S-T-D assistant director Major Antony Lago, who had gone to Paris in 1933 to rescue it. Thus was formed Talbot-Lago.
Under Lago, the firm specialized in fast, luxurious, and expensive road cars. Racing was also an important part of the firm's image-building plan; it competed at LeMans and elsewhere into the Fifties.
Shortly after Lago's takeover, a new 3,996-cc, overhead-valve six bowed, followed in 1938 by a 4.5-liter unit with a hemi head and three Solex carbs. This engine soon gained a reputation for fantastic torque and exceptional durability.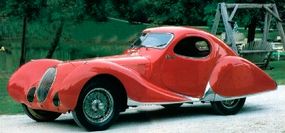 Since Major Lago had earlier helped engineer the Wilson preselector four-speed gearbox, he mated it to his new six. With it, the driver chose a gear in advance by moving a small lever to the desired "notch" and, when ready, depressing the clutch and letting it back up, thus effecting the gear change. This rugged gearbox helped Talbot-Lago win many races.

In addition to being fast, Lago insisted that his cars be visual knockouts. For some of them, he turned to Joseph Figoni, an Italian coachbuilder who had relocated to Paris a decade earlier. Ovidio Falaschi joined him in 1935, setting the stage for some of the most flamboyant cars of the Thirties. So unique were their creations that they received French patents for some elements of the designs.
According to automotive journalist Griffith Borgeson, they formed a car out of "five individually sculptured pods -- the four wings [fenders] and the pod for engine and occupants -- all of which flowed into each other to form a consummate unity...which constituted one of the absolute high points of automotive body design, worldwide, during the Thirties."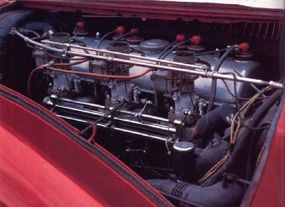 The 1938 Figoni et Falaschi Talbot-Lago seen here is an example of why their designs were also sometimes referred to as shocking, outrageous -- even vulgar. Sir William Lyons, Jaguar's creator and designer, was quoted as having said to Brooks Stevens, "The lines of that car are positively indecent." And sensuous. Likely, it's those very lines that caused Stevens, a noted industrial designer with the Excalibur and many other cars to his credit, to seek out the Talbot's owner in a restaurant and to later buy it from him.
The styling still looks sensational today. This coupe, one of only 12 built and often referred to as the Aerodynamica, can be seen at the Brooks Stevens Museum in Mequon, Wisconsin.
For more information on cars, see:
Classic Cars

Consumer Guide New Car Search

Consumer Guide Used Car Search