Packard debuted its Fifteenth Series models in September 1936, including the 1937 Packard 1507 Dietrich Convertible Victoria. Dealers were delighted, as was the American public, for there was much that was new.
At the bottom of the line, Packard introduced its first Six since 1928. Selling for as little as $795, it made it possible for more people than ever to realize their dream of someday owning a Packard.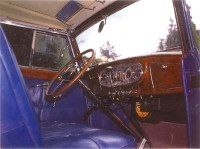 At the top of the line, the Twelve (and Super Eight) sported independent front suspension and hydraulic brakes, both standard features on the One Twenty since 1935.
No matter, the Twelve was sold as an out-and-out luxury car, not for trendy engineering.
Packard boasted in the mid-Thirties that more than 1,000 families had driven Packards for 21 years or more. "Such a record -- the greatest testimonial, we believe, ever accorded a fine motor car -- could not have been created by salesmanship alone."
Packard continued the theme in 1937, with an ad in the August issue of Fortune. "Socially -- America's First Motor Car," read the headline above a painting of a Packard embarking for the International America's Cup race. "At those sporting events which attract America's first families, you will see more people who own and drive large Packards than any other fine car. This is a vivid illustration of Packard's dominance of the fine car field -- a dominance which accounts for nearly half of all the large fine cars sold in America today."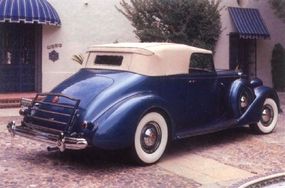 Packard's 1507 series Twelves rode a long 139-inch wheelbase. Power came from a 473-cubic-inch V-12, which churned out 175 horsepower, fully 25 more than the V-12 from Cadillac. But power wasn't the point: "There is a deeper significance in the quiet of the Packard Twelve motor than mere solace to your ears. Such quiet is a reflection of standards so precise as to be almost incredible."
The Packard Twelve seen here went the factory one better, for it's a Convertible Victoria by Dietrich. Delivered on April 3, 1937, by Eastman Motors, Inc. of Norwalk, Connecticut, this Regatta Blue Twelve was restored in 1979. It went on to take a first in class at Pebble Beach that year and has won numerous awards since.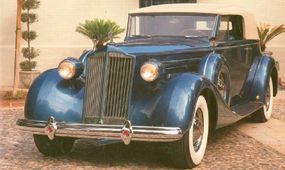 Backing up Packard's claims, Americans of means snapped up 1,300 Twelves in 1937, a record for the decade and smartly ahead of Cadillac's output of 474 V-12s. Total output that year hit 122,593 units, Packard's all-time best.
Truly, if you "asked the man who owned one" in 1937, you too would have chosen a Packard Twelve.