Studeophiles would like to add the 1937-1939 Studebaker Coupe Express to the long list of Studebaker "firsts" in the auto industry. This, however, would not be entirely accurate, since pickups based on passenger cars go back to the very infancy of auto production.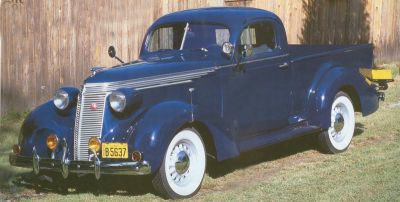 After dabbling with light-duty trucks for many
years, Studebaker joined the field again when it
introduced the 1937 Studebaker Coupe-Express. See more classic car pictures.
By the late 1930s, some automakers were beginning to make greater distinctions between their cars and their light trucks. But Studebaker, which was just entering the light-duty field, was one of those that kept close ties between them.

It's more than a car! It's more than a truck! It's the brand-new_." This advertising hoopla could have referred to the Studebaker Coupe-Express for 1937, except for the fact the catchphrase was actually taken from an ad for the first Ford Ranchero exactly 20 years after the Coupe-Express was introduced.

In fact, most light-duty commercial vehicles built prior to 1935 utilized passenger-car chassis and front-end sheetmetal, and Ford's 1931 Model A DeLuxe pickup -- with its bright trim parts and pickup bed integrated with the cab -- came closer than anything to blurring the car/truck line in the early 1930s. Indeed, Studebaker was somewhat late in joining the ranks of builders of pickups.

While Studebaker did make a fair number of light-commercial vehicles between 1911 and 1917, it ceased commercial-car production as the U.S. entered World War I. It wouldn't be until July 1925 that Studebaker reentered the commercial-car field with the introduction of the Big Six bus chassis.
In the late 1920s and early 1930s, Studebaker made only feeble efforts in the light commercial field with its 3/4-ton Dictator screen-side express and panel (1927), an Erskine 1/2-ton delivery (1928), and boulevard delivery on the Dictator chassis in 1930.
In 1933, the company produced a very limited number of "hump back" deliveries in the economical Rockne line. A single Rockne prototype pickup suggested that the company was considering this as a possible production option, but, the entire Rockne line was soon dropped.

There would be no more light-commercial vehicles available from Studebaker for the next four years, though the company continued to expand its large truck line during the mid 1930s. By 1937, Studebaker was offering four different truck chassis ranging from the smallest, a J-15 1 1/2-ton model on a 101-inch wheelbase, to the largest, a J-30 four-ton model with a 166-inch wheelbase.
However, without a light-duty offering, Studebaker could not lay claim to being a full-line truck producer. The introduction of the J-5 Coupe-Express in January 1937 would fill that void. In the next section, learn how the Coupe-Express was developed.

For more information on cars, see:
Consumer Guide New Car Search
Consumer Guide Used Car Search
Advertisement