Chevrolet spent some $26 million -- big money, for those times -- tooling up for the 1937 models, so it comes as no surprise that the 1938 Chevrolet line was little changed. A restyled grille and enlarged hood louvers were the most obvious external signs of change in the 1938 Chevrolets.
A triangular badge identified the 1938 Chevrolet
sedans from the rear.
The smart new diecast grille, featuring horizontal bars in place of vertical ones, was the work of Frank Hershey, who had come to General Motors a few years earlier to design the handsome 1933 Pontiac. But in most respects, Agramonte's beautiful 1937 design was left intact.
Mechanical changes for 1938 were minor, yet significant. Heavier valve springs were fitted to the engine; the water pump was improved; a voltage regulator was added; a sturdier, yet smoother, clutch was adopted; the worm-and-roller steering, formerly confined to the Master DeLuxe models, was extended throughout the line; and thanks to a new axle, the rear tread was widened from 579/16 to 59 inches.
Chevrolet prices were increased slightly for 1938. The volume-leading Master DeLuxe Town Sedan, for instance, sold for $750, compared to 1937's $720, a difference of about four percent. The increase was poorly timed, however, for 1938 proved to be a recession year and Chevrolet's volume (calculated on a calendar-year basis) fell by 43.5 percent. Most other manufacturers did even worse. At Ford, for instance, volume was down by 51.7 percent, while Dodge lost just over 63 percent of its 1937 market.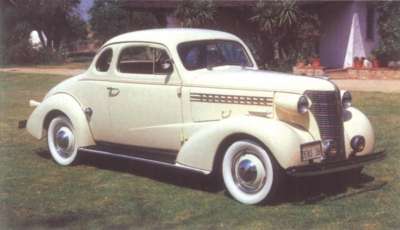 The two-passenger 1938 Chevrolet Master DeLuxe
vastly outsold its rumble-seated running mate.
As had been the case with 1937 Chevrolets, all 1938s rode a 112.3-inch wheelbase. The two-door town sedan remained the most popular model in the entry-level Master series; with 95,050 produced, it outsold its trunkless companion model by almost 29-to-1.
For an additional $61, a Chevy shopper could have the Master DeLuxe version of the town sedan, which included such standard niceties as dual windshield wipers and taillights. The faired-in trunk compartment used external hinges.
An economic recession wreaked havoc on the auto market of 1938. Chevrolet wasn't immune to the sharp dip in sales, but for some reason, demand for its relatively costly Master convertible actually increased by more than 1,000 cars.
The nation experienced a partial economic recovery during 1939, and Chevrolet was ready for it with an unusually attractive new model. "Only Chevrolet Gives So Much for So Little," proclaimed the sales brochures.
The 1937-1938 body was so thoroughly reworked as to effectively disguise its origins. A new, prowlike grille was clearly inspired by that of the contemporary Cadillac, as were the "suitcase" fenders. Overall length was increased by five inches, adding to the new model's impressive appearance.
For more on the 1939 Chevrolet, continue to the next page.

For more information on cars, see:
Consumer Guide New Car Search
Consumer Guide Used Car Search