The big news for the 1939 Lincoln Zephyr Series 96H was hydraulic brakes, long overdue at Ford Motor Company and a feature on all its cars this year. The same body styles returned with a number of appearance alterations, though the new models didn't look all that different from the 1938s at first glance.

There were new pressings for hood, front fenders, and prow, plus a new hood ornament and side trim and new-design headlamp lenses. The front bumper was cut away in the center to accent a reshaped, vertical-bar grille, and the vestigial running boards, perhaps the most dated styling feature of the original Zephyr, were covered by skirts for a smoother look.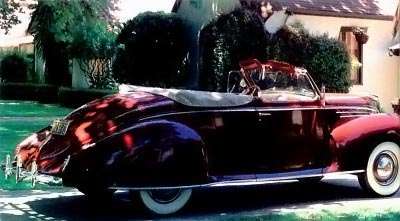 The epitome of streamlined 1930s styling, the Zephyr
was arguably the best-looking car of its type.
Interiors were spruced up with a new dash stamping and gauges plus a wider trim selection. Closed models were now offered with an expensive custom broadcloth option available in maroon, blue, gray, or tan, with color-keyed instrument panel, window moldings, and control knobs.
The leather-lined open cars could now be ordered with gray, red, or brown hide as well as tan, and there was a new extra-cost trim combining leather in any of these colors with tan whipcord fabric.

Production recovered slightly to reach 20,905 units. It might have been higher had it not been for the arrival of an intramural competitor, the new medium-price Mercury. Another of Edsel's ideas, it offered similar styling and more speed for less money. Predictably, it outsold the Zephyr, recording 75,000 units for the model year, a better than three-to-one margin.
A "hidden" storage area in the 1939 Zephyr
was provided under the back seat.
Check out the next page for information on the 1940 Lincoln Zephyr.

For more information on cars, see:
Consumer Guide New Car Search
Consumer Guide Used Car Search