1936-1948 Lincoln Zephyr Prototypes
Several coachbuilders had special in-house design staffs that would occasionally build prototypes for volume producers like Ford as a way to influence their thinking and generate new business. The 1936-1948 Lincoln Zephyr prototypes were an example, coming from Briggs Manufacturing Company, which Edsel had contracted to supply Lincoln's standard "factory" body styles.

One of Briggs' employees in the early 1930s was John Tjaarda, a brilliant Dutch-born engineer who had emigrated to the United States in 1923. Tjaarda was fascinated by the possibilities of applying aircraft design and construction principles to cars and had been working on a series of concepts along these lines that he called "Sterkenberg."

The basic theme was a radical teardrop-shaped body built in unit with a sophisticated chassis featuring all-independent suspension and a rear-mounted engine. W. O. Briggs was the first industrialist to take Tjaarda's ideas seriously, and it was he who suggested the engineer show his sketches and a scale model of the Sterkenberg to Edsel Ford, with the hope of winning a much more substantial contract to supplement the firm's declining Lincoln orders.

Edsel reacted most favorably, and Tjaarda was instructed to come up with a prototype suitable for volume production. This second step toward the Zephyr was carried out in complete secrecy from both Ford and Briggs executives.

The number of Zephyr prototypes has been a subject of much confusion over the years. Tjaarda told Motor Trend magazine in 1954: "Originally we prepared three proposed designs -- one rear-engine car, the same car with the engine in the front, and sort of a first draft of a convertible coupe. Since everyone [at that time] was losing money on convertibles, it was decided not to build them at first."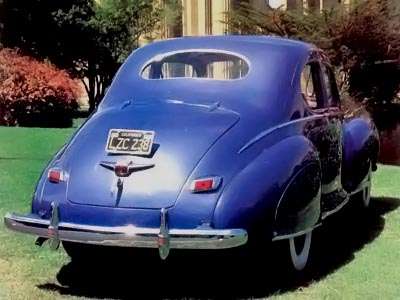 Most of the Zephyr prototypes featured
a rear-engine design.
The rear-engine proposal was a full-size wood mockup, marked by a louvered fastback roof topped by a small dorsal fin. Completed in October 1933, it was displayed in Detroit and New York as part of the company's "Exhibition of Progress" road show and at various Ford dealerships. Though it apparently lacked any sort of running gear, it was described as able to accommodate a V-8 engine and automatic transmission.

This model was also taken to the "Century of Progress" at the Chicago World's Fair in 1934. That same year, a front-engine car created by Ford's own design department was built and shown, done as a two-door on one side, a four-door on the other. Presumably, this is the drivable prototype that Tjaarda has said was built at about the same time as the wood "pushmobile."
He also recalled that two more running front-engine cars were completed while the wood mockup was on tour, but some sources say that at least one of those was rear-engined.

In any case, all the prototypes were eventually destroyed, and the only surviving photographs from this phase of the Zephyr project are of the rear-engine design.

Ford carefully polled the many people who saw the Zephyr-to-be and found most liked the idea of a smaller, less-expensive Lincoln. They also liked the forward-thinking design.

The Zephyr prototypes may be shrouded in mystery, but there's no mystery about the public's response to them. Ford carefully questioned many people who saw the Zephyr-to-be and discovered that most were very receptive to the idea of a smaller, less-expensive Lincoln -- and the forward-thinking design. This convinced management that it was more or less on the right track.
Find details about the Lincoln Zephyr's engine in the next section.

For more information on cars, see:
Consumer Guide New Car Search
Consumer Guide Used Car Search