Development of the 1936 Cord 810
Development of the 1936 Cord 810 happened in a rather roundabout fashion. In the late summer of 1933, Duesenberg president Harold T. Ames called designer Gordon Buehrig to discuss his ideas for a new "junior" Duesenberg.

©2007 Publications International, Ltd.
Perhaps the most prized of all late-1930s Cords is the 170-horsepower supercharged 812 Sportsman of 1937.

What Ames had in mind was a lower-cost companion to bridge the yawning chasm between the relatively affordable Auburn Twelve and the frightfully expensive Model J. Existing Auburn components, including a reworked chassis, would be used wherever possible, clothed in eye-catching new bodywork.
Then just 29, but already a designer of considerable talent, Buehrig had resigned as head of Duesenberg's styling department in early 1933, joining Harley Earl's Art & Colour Section at General Motors in the face of a luxury-car market decimated by the Depression. Now, with Ames's assurance of carte blanche authority, he returned to spearhead this new project.
Providing able assistance were Phil Derham and August Duesenberg, the latter the brilliant engineer of the Model J and brother of company cofounder Fred. The trio was duly assigned a small work area in a corner of the firm's sprawling Indianapolis plant.
Buehrig came up with a novelty right off the bat: a "hermetically sealed" engine compartment with dual external radiators. Sketches of this highly advanced concept were shown to Ames in November. Then came a clay scale model, a four-door sedan with the radiators located outrigger-fashion between the hood-sides and unusual "pontoon" front fenders.
Overall, this design looked more like a spaceship from a mid-1930s Flash Gordon serial than even the most modern of contemporary passenger cars. After careful study, Ames approved building a single full-size prototype, but nixed the sealed-hood idea as impractical.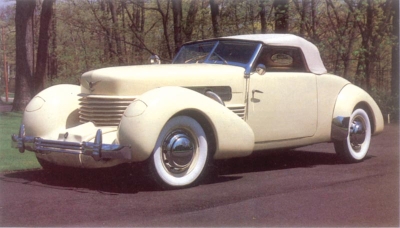 ©2007 Publications International, Ltd.
The winged hood emblem on this 1937 Supercharged 812 Sportsman was made as a running change that year.

The "baby Duesenberg" emerged with envelope-style steel sedan coachwork by the Weymann Body Company, with Phil Derham working out a myriad of small details. In the interim, Augie Duesenberg modified an Auburn Eight chassis to suit, and also engineered twin belt-driven fans for the outboard radiators.
Completed in just four months, the prototype was a model of functional beauty. Then came Auburn's 1934 sales disaster. Ames dispatched Buehrig and Augie up to Auburn with a modest $50,000 budget for a hasty makeover, and the junior Duesenberg was forgotten.
But just temporarily. In the early summer of 1934 came belated approval from the Cord Corporation board for construction of a pre-production "baby" prototype -- only the final version would be called a Cord, and Auburn would build it, not Duesenberg. What's more, it would have front instead of rear drive, and a yet-to-be-designed V-8.
For Buehrig, who would have overall responsibility for the styling package, it was the opportunity of a lifetime. Such a situation would be unheard of today, when designers are routinely assigned to develop individual components but seldom an entire car.
See the next page for changes to the new model, which would become the 1936 Cord 810.

For more information on cars, see:
Consumer Guide New Car Search
Consumer Guide Used Car Search