Only three 1933 Packard Twelve Sport Phaetons were built, each for a major auto show.
In Washington, D.C., Franklin Delano Roosevelt rode to his inauguration as President amidst a fleet of aristocratic Packards. At the Century of Progress Exposition in Chicago, millions of visitors from around the world discovered a crown jewel in the Transportation Building: the "Car of the Dome," a 1933 Packard Twelve Sport Sedan with a body by Dietrich, prominently displayed in the rotunda.
In those days it seemed Packards always played a starring role at functions of import.
No less a celebrity was the car pictured here, a Dietrich-bodied 1933 Packard Twelve Sport Phaeton on that year's 147-inch wheelbase. This blue example was originally displayed in Philadelphia. A white sibling was seen in Chicago, a maroon duplicate in New York.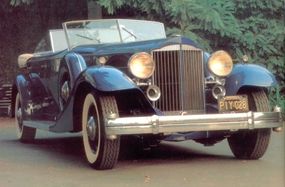 The feature car's 160-horsepower V-12 received a complete overhaul and blueprinting. The car has amazing torque and, in line with Packard's reputation for smoothness, the engine is so quiet that one almost needs to see the fan running to know it's running.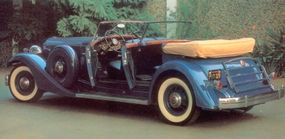 Though the body suggests a dual-cowl phaeton at first glance, it might be more properly described as a dual-windshield phaeton.
The hardware for the rear screen and side windows is unique, allowing the latter to move with the door when opened, or to be folded against the windshield and lowered with it for "wind-in-the-face" motoring. Unlike many of its day, the top is easy to operate and stows neatly.
For more information on cars, see:
Classic Cars

New Car Search

Used Car Search