Four-cylinder Fords made their final appearance in 1933, but V-8 models got all the attention, and none moreso than the 1933 Ford Cabriolet.


Ford's "flathead" V-8 engine had debuted in '32, shoving aside the popular four-cylinder Model A and reaching past Chevrolet's six-cylinder cars.

Now, stylists -- directed by Edsel Ford, Henry's only son -- tucked that V-8 into a more stylish machine, with a jauntily slanted grille and windshield. Sharp corners were rounded, and the hood mated with the windshield. Wheels shrunk to 17-inch size for a lower stance. Streamlining was in vogue, and Ford determinedly followed the trend.
The dashboard and interior of the Ford Cabriolet were sparse yet functional.
Engineers redesigned the Ford's frame and injected an extra 10 horsepower into the V-8, for a total of 75. Hot rodders later grew to love that flathead engine, praised for its power by none other than bank-robber John Dillinger.

One of 16 V-8 models, the Cabriolet cost $585. A total of 7852 were built, plus 24 that used the four-cylinder engine. Model-year volume rose by 100,000 cars, but Ford trailed Chevrolet in total sales.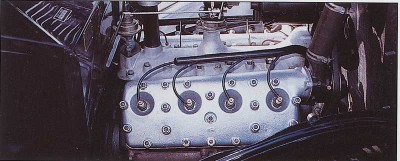 The Cabriolet boasted Ford's new V-8 engine, adding power to its clean look.
In its second season with V-8 power, Ford offered a long list of body styles and trim levels -- none more appealing than the Cabriolet, flaunting a rakish new profile.
For more classic convertibles of the 1930s and 1940s, see:
For more information on all kinds of cars, try these:
Classic Convertible Cars: See profiles on more than 70 classic convertibles.
Muscle Cars: Get information on more than 100 tough-guy rides.

Consumer Guide New Car Reviews: Looking for a new car? Get the Consumer Guide rating.

Consumer Guide Used Car Reviews: Considering a used car purchase? You'll want to check the Consumer Guide used car rating.
Advertisement