The 1933 Cadillac V-16 Convertible Victoria represented extreme luxury in the depths of the depression. Despite tough times, Cadillac fielded an extensively revamped lineup of V-8s, V-12s, and V-16s for 1933. Most notably, the boxy look of the Twenties began to give way to the streamlined look of the Thirties. Featured were fully skirted, flowing fenders and a graceful "windsplit" veed grille, which boasted a painted shell that blended in smoothly with the bodywork.
In addition to a longer 149-inch wheelbase, the V-16s received a unique grille, a larger -- and more elegant -- "Goddess" hood ornament, and massive "four-bar" bumpers. Also, the three rectangular ventilator doors seen on the sides of the hood of the V-8s and V-12s yielded to three functional "spears" on the V-16, a theme repeated on the lower front fenders.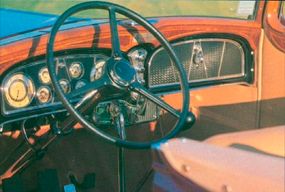 The magnificent V-16, first shown at the 1930 New York Auto Show, continued as before. Basically, the 45-degree, overhead-valve unit consisted of two inline eights sharing the same crankshaft, with each side of the engine having its own carburetion and exhaust system. With a 3.00 x 4.00-inch bore and stroke, it displaced 452 cubic inches. Horsepower was rated at 165, outdone only by Duesenberg's 265 horsepower, although Packard's 160-horsepower V-12 came close.

Ten Fleetwood body styles were listed. Prices ranged from $5,540 for an Imperial cabriolet to $8,000 for the All-Weather phaeton. These prices exceeded Packard's priciest V-12s, and had to be viewed as staggering at the time, when a Chevy started at $445.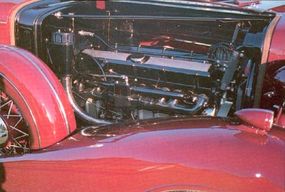 Cadillac proclaimed that the 1933 V-16 would be "limited to 400 cars for the current year." That figure turned out to be highly optimistic -- output reached only 125.
The five-passenger V-16 Convertible Victoria seen here is one of only two built in 1933.