The 1932 Packard Light Eight was born of economic necessity. It died for the same reason.
Introduced in early 1932, it was the first newly designed Packard since 1923. More critically, it was the first medium-price Packard, a "junior edition" intended to sell in higher volume to help the firm weather the Depression, which had all but wiped out the luxury market by that time.
Though it sold for some $500-$850 less than the least costly senior model, the Standard Eight, it was built with the same meticulous care as any Packard.
And that was the problem. The Light Eight cost as much to make as any Packard. Worse, as the most affordable car ever to bear the prestigious marque, it drew many customers away from the more expensive -- and more profitable -- larger models. As a result, Packard's stream of red ink became a $7 million flood in 1932.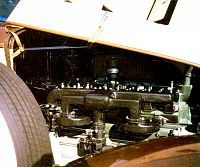 President Alvan Macauley axed the Light Eight after only one year, then turned to the task of coming up with a less "cannibalistic" successor.
Despite its name, the Light Eight (officially Series 900) used the same smooth-running 320-cubic-inch engine that powered the Standard Eight, rated at 110 horsepower that year. It also shared the new X-member 1932 frame design with its larger linemates but rode the shortest wheelbase, 127.75 inches.
This made it somewhat chunkier-looking, but master designer Werner Gubitz managed to create a handsome car nevertheless. In contrast to Packard's usual plethora of body styles, the Light Eight was limited to coupe roadster and sedan, rumble-seat coupe, and four-door sedan.
When this picture was taken, the beautiful coupe roadster featured here belonged to Tampa, Florida, collector Eric Thurstone, and was a recent AACA national award winner. The odometer showed just 15,000 miles.