Most old-car enthusiasts know of the mighty Duesenberg, "The World's Finest Motor Car." First shown at the New York Salon on December 1,1928 -- while the Twenties were still roaring -- the Model J, like this 1930 Duesenberg Torpedo Convertible Berline, stood out above all the other cars on display.
And what a gorgeous machine! Finished in silver and black, it was a dual-cowl phaeton bearing LeBaron coachwork. The price wasn't specified, except to note that the bare chassis sold for $8,500 (later $9,500). Add to that at least $2,500 for a coach-built body, and a buyer would have been looking at a price tag equivalent to 22 Model A Fords.
Left to his own devices, Fred Duesenberg would never have produced anything so pretentious. But financial problems had overtaken the Duesenberg Motor Company of Indianapolis, and by 1926 Erret Lobban Cord had acquired control of the firm.
Cord was at that time president of the Auburn Automobile Company. Cord wisely left Fred and his brother, August, in charge -- but he made it clear that he wanted the brothers to develop something very special.
The Model J was an enormous automobile. Two wheelbase lengths were offered: 142.5 and 153.5 inches. And the cars were heavy -- the lightest weighed close to 5,500 pounds.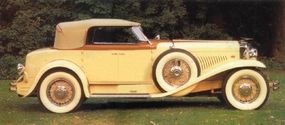 Under the hood was a fabulous 419.7-cubic-inch, dual-overhead-camshaft straight eight. Fitted with four valves per cylinder, it produced a mind-boggling 265 horsepower and 374 pounds/feet torque. By comparison, America's second most powerful production car in 1929 was the Pierce-Arrow, rated at 125 horsepower. The Model J could do 89 mph in second gear, and topped out at 116.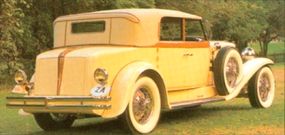 Bodies were supplied by the nation's leading coachbuilders: Murphy, Holbrook, Derham, LeBaron, Willoughby, and Weymann, to name but a few.
By late 1930, the Depression already had a tight grip on the U.S. economy. Even so, this demo car, a Washington Blue long-wheelbase 1930 Duesenberg Torpedo Convertible Berline, found a home. The car bore engine number J-391, chassis 2315, and body 952. The coachbuilder was Walter M. Murphy, whose Pasadena firm bodied more Duesenbergs than any other.