A few changes marked the 1935 and 1936 Pierce-Arrow lineups. The 1935 Pierce-Arrows were predictably little more than '34s with minor revisions, such as full-length fender skirts, new headlamp lenses, and rearranged hood louver doors (from two groups of two to a single line of three). The major change was a completely redesigned dash.

Instruments were now grouped into two large dials flanking the steering column, one housing speedometer and odometer, the other incorporating oil pressure, water temperature, ammeter, and fuel level gauges. Minor controls were placed in the center, and a glovebox with an electric clock mounted in its door was on the right.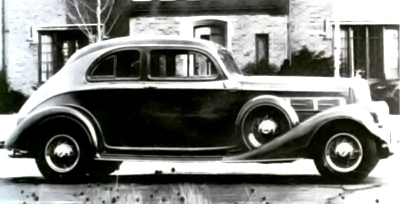 The 1935 version of the production Silver Arrow coupe was offered on a 144-inch chassis in both eight-cylinder and V-12 form.
Orders numbered only 875, but fiscal problems did not prevent Pierce from building newsworthy cars. Witness this story from
Time
magazine in 1935: "Two swank blue limousines were sent to Washington [D.C.]. Both were rated to do 110 mph, both fitted throughout with bulletproof glass, both had bodies armored with an invisible protection of bulletproof steel plate. One was addressed to J. Edgar Hoover, the other to Franklin D. Roosevelt."
Now operating on a very limited budget, company engineers brought forth a vastly reworked and attractively styled design for 1936. The result was what was very likely the finest Pierce-Arrow ever built and one of the greatest cars of the Classic era.
As "The One Great Name That Identifies Fine Cars Exclusively," Pierce-Arrow could boast of more than 30 important improvements on its new models, launched in October 1935.

Advertised as "The World's Safest Motorcar," the '36 had the largest and most efficient brakes in the industry, assisted by a new power vacuum booster. Though some models weighed more than three tons, they could be brought to a safe, sure stop in less than half the distance demanded by state safety laws.

On all models the radiator was moved forward several inches, and the steering box was relocated ahead of the front axle with a trailing drag link, which put the pivot point nearer the exact center of the steering axis for turning that was near effortless.
An additional cruciform member made for the heaviest and strongest box-girder frame ever used in a passenger car, with five cross-members in all, three of them tubular, plus a sturdy X-member for increased rigidity.

Pierces had always been easy to drive despite their immense proportions, but the revised steering geometry, suspension, and weight distribution made for outstanding ride and handling on the 1936s.
Power output on the 385-cid straight eight went up to 150 horsepower, and the V-12 was boosted to 185 horsepower via aluminum cylinder heads with higher compression and new mufflers with reduced back pressure. These ratings were equal to or greater than those of any other comparable American luxury car.

In addition, there were powerful integrated driving lights, longer springs with wider mountings, front and rear stabilizers, a spacious trunk integral with the body and incorporating a light in the top-hinged trunklid with a mercury switch, plus automatic overdrive with built-in freewheeling, a lower center of gravity, and improved seating arrangements in most body types.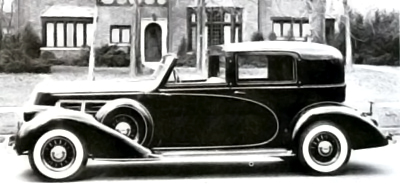 Brunn supplied this special town car style. Shown is the 1936 Model 1603 edition.
Fresh new styling more in keeping with current trends was achieved via a narrower and more rakish radiator shell and streamlined fenders, an ensemble that nevertheless retained the customary Pierce-Arrow look.
The eight-cylinder Series 1601 and the twelve-cylinder Series 1602/1603 offered the same body styles and wheelbases previously available: five- and seven-passenger sedans, coupe, town car, formal sedan, limousine, convertible sedan, and coupe-roadster.
Prices ranged from $3,115 for the Model 1601 two-passenger coupe to $4,995 for the Model 1603 limousine. Also shown in the catalog was a Brunn-built "Metropolitan Town Brougham," listed at $5,295 as an Eight and $500 higher as a Twelve.
See the next section for details on the 1937 and 1938 Pierce-Arrows.

For more information on cars, see:
Consumer Guide New Car Search
Consumer Guide Used Car Search
Advertisement