Of all the great American marques -- Stutz, Lincoln, Duesenberg, Packard, and the rest -- none was more synonymous with meticulous craftsmanship and refined luxury than the noble Pierce-Arrow, one of the fabled "three Ps" of U.S. automotive royalty. Here is the history of Pierce-Arrow.

An outgrowth of the former George N. Pierce Company of Buffalo, New
York -- one-time bicycle manufacturer and, earlier, bird cage maker -- the Pierce-Arrow Motor Car Company had achieved a position of prominence by the mid-Teens.

In the early years, company advertising promoted the image of the Pierce-Arrow owner as one not only of considerable means but discriminating taste and astute judgment. Leading artists and illustrators such as Frank Leyendecker, Adolph Treidler, and Myron Perley vied for commissions, and their efforts were among the finest in this medium.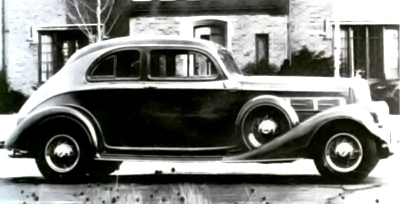 This 1929 Model 133 victoria coupe is part of a collection of original Pierce publicity photos. See more classic car pictures.

Typically, Pierce advertisements were directed solely to those of high social status. Elaborate color spreads appeared in such leading upper-crust magazines as Vanity Fair and Country Life and usually displayed formally attired folk of obvious refinement arriving at the opera, theater, or a gala reception, their stately Pierce-Arrows attended by footman and chauffeur clad in subdued, matching livery.
Reflecting the firm's low-key attitude, ad copy was restrained, stressing that Pierce-Arrows offered simply the utmost in convenience, unfaltering quality, and luxurious appointments on a grand scale.

Pierce-Arrow had arrived at the forefront of social preference by 1918. Its most impressive offering that year was the Model 66A, a car of such staggering proportions that it literally dwarfed all others.
Towering more than seven feet tall, the most costly of the more than 20 standard body types available was the $8,000 Vestibule Suburban Landaulet. By comparison, a Ford was priced at a paltry $525, and Packard's most expensive model, the Twin Six Imperial Limousine, sold at a "modest" $5,850.

Mounted on a 147.5-inch wheelbase, the Model 66A had a 32-gallon gas tank and rode on tires nearly four feet in diameter. Powering this leviathan was a monstrous 824.7-cubic-inch T-head six having a 5.00-inch bore and 7.00-inch stroke.
Aside from the Peerless 6-60 of the early Teens and the short-lived 1917 Fageol (which used a Hall-Scott aircraft engine), no automobile ever boasted such a Herculean powerplant.

Unfortunately, management's staunch conservatism led to stagnation, and Pierce-Arrows were technically passé by the mid-1920s despite the marque's well-deserved reputation for excellence.
By early 1929 the company was awash in red ink, its products still admired by the well-to-do but hopelessly outdated. It appeared that unless something was done soon, the venerable automaker would fail to see the next decade.

That something occurred in midsummer. Following months of negotiations, Studebaker Corporation acquired control of Pierce-Arrow through a stock transfer. Pierce's need for a guardian angel was fortuitous for Studebaker's accountant-turned-president, Albert R. Erskine, who wanted a prestige nameplate for the automotive empire he hoped to build in South Bend.

Almost overnight, the Buffalo manufacturer received a huge infusion of badly needed capital to underwrite new models still on the drawing boards, and this imbued its managers with a zeal to revitalize the company. Accomplishing that meant embracing new technology and rejecting the hidebound policies of the past.

Under the new arrangement, Pierce continued as an independent entity under its own general manager, Arthur J. Chanter, though Erskine took over as president. Equally important, Pierce and not Studebaker engineers continued to be responsible for new-model development.
Learn about the 1930 Pierce-Arrow in the next section.

For more information on cars, see:
Consumer Guide New Car Search
Consumer Guide Used Car Search
1930 Pierce-Arrow
It was a totally new Pierce-Arrow that was unveiled at 1929 auto shows, far superior to anything the company had offered since its very first automobile of 1901. Simply designated the Eight, it offered sleek, up-to-the-minute styling on two wheelbase lengths, plus what was arguably the finest L-head straight eight the industry had ever seen.
With 3.50 × 4.75-inch bore/stroke and 366 cid, this superior new powerplant developed a conservative 125 horsepower at 3,200 rpm and featured nine large main bearings that ensured vibration-free running at any speed.

The new models were also better looking, better handling, faster, lower slung, and lower priced than their six-cylinder predecessors, and deserved to be enthusiastically received. They were: Pierce-Arrow had the greatest year ever in its history with 9,700 unit sales, double those of 1928.

Pierce-Arrow's famous "archer" mascot was a remarkably delicate and artistic piece of automotive ornamentation.
Unfortunately for Pierce and the entire industry, the Depression touched off by the October 1929 stock market crash was spreading across the land. The traditionally small prestige-car market began shrinking and had all but vanished by the early 1930s. Yet even this didn't immediately affect Pierce volume, which continued to rise through the spring of 1930.
But as the $4,000-to-$10,000-plus market dwindled, so, too, did the ranks of companies catering to it. McFarlan, Loco-mobile, and Stearns-Knight were some of the early casualties, and other patrician names were teetering on the brink of oblivion.
Competition was fierce as the survivors strove in near desperation to best their competitors by offering still larger and more powerful engines -- including 12- and 16-cylinder units -- longer wheelbases, custom-built bodywork, and the most luxurious accoutrements since the dawn of the automobile.
In the end, this rivalry became a dance of death that killed the very thing it created: the great cars of what we now call the Classic era.

But at least Pierce would last long enough to be part of this golden age, which also witnessed the finest flowering of Cadillac, Duesenberg, Lincoln, Marmon, Packard, Peerless, Stutz, and the Springfield Rolls-Royce.
Peerless, like the American Rolls, was only a shadow of its former self by 1930 and of little importance as a competitor. So were Duesenberg, Marmon, and Stutz.

Cadillac and Lincoln were bankrolled by big corporations, and thus had the best chance of survival in this rarefied group, Pierce's closest rival in the financially perilous 1930s was Packard. They were the last of the great independents. Though each make had its own distinctive appearance, they were remarkably similar in engineering.

Pierce's eight arrived five years after Packard's, but it was technically superior and offered more performance. Packard, of course, was stronger, reflecting the inherent advantages of its Detroit location and a more forward-looking management team. By the time Pierce introduced its straight eight, Packard's lead was too great to overcome.

Yet Pierces of the early 1930s showed the marque still had potential for greatness. In engineering, styling, quality, refinement, and prestige, Pierce-Arrow and Packard marked the summit of American classic-car achievement. They acknowledged few rivals. They had no superiors.

Many people had previously counted the Pierce-Arrow among life's finer possessions and had always held its traditional craftsmanship in reverent esteem. Now these customers found themselves increasingly accused of poor taste by a growing mass of the unemployed who echoed the popular song, "Brother, Can You Spare a Dime?"
Check out the next page for details on the 1931 and 1932 Pierce-Arrow.

For more information on cars, see:
Consumer Guide New Car Search
Consumer Guide Used Car Search
1931, 1932 Pierce-Arrow
With its established market in disarray as it introduced the 1931 and 1932 Pierce-Arrow lineups, the aristocratic company faced a future that seemed uncertain at best. Yet in 1931 there was no immediate concern in Buffalo, and though sales had been down for 1930 -- to 6,795 units -- it was still the second-best total in Pierce history. The firm simply couldn't see the darker days that lay ahead, and it again viewed the market with its old combination of arrogance and naivete.

This outlook was no doubt the result of the Studebaker takeover and the false sense of security it engendered, and it wouldn't last. Sales began dropping behind 1929 levels during the second quarter of 1930.
The 1931 line comprised four distinctive series on four different wheelbase lengths, and many cars were turned out with custom coachwork by such preeminent houses as LeBaron, Derham, Dietrich, and Brunn. But the '31s found only 4,522 buyers, a worrisome 46 percent decline compared to Pierce's high-water mark of just two years earlier.

In reaction to this situation -- and determined to prove that Pierce-Arrow prestige had a mechanical as well as a social basis -- the company pulled out all the stops for 1932 by announcing not one but two Twelves, plus an improved Eight.
From 1932, here is the straight-eight Model 54 rumble-seat coupe.
Flagship of the fleet was the Model 52, available on both 142- and 147-inch wheelbases and priced from $4,295 to $4800 with factory bodywork. Power was supplied by an advanced V-12 designed by chief engineer Karl M. Wise and boasting 429 cid (3.38 × 4.00-in. bore and stroke) and 150 horsepower.
The second twelve, a 398-cid (3.25 × 4.00), 140-horsepower version of this same design, was used for the Model 53, offering a much broader array of body styles on 137- and 142-inch wheelbases and priced nearly $800 less than comparable 52s.

Unlike competing V-12s, both Pierce engines had an included cylinder bank angle of 80 degrees for smoother operation and easier valve accessibility, two downdraft carburetors for more efficient combustion and higher maximum performance, plus seven main bearings.

The Model 54 shared most body styles with the two 12-cylinder series but employed the 125-horsepower, 366-cid eight with minor improvements. All 1932 Pierce-Arrows featured eight-point rubber engine-mount bushings to ensure the utmost steadiness, plus a stronger frame that effectively stopped chassis deflection.

Standard equipment for all series included freewheeling, safety glass, "fingertip" adjustable shock absorbers, silent hypoid rear axle, and Startix automatic starting system. Closed models were fitted with multiple layers of thick felt and jute padding to isolate passengers from noise, heat, and cold. With justification, Pierce-Arrow claimed more hours of skilled labor went into its interiors than other firms put into their entire cars.

The 1932 Pierce-Arrows were superb machines, built to the same exacting standard as earlier models but priced substantially lower. Yet they brought no rewards to the beleaguered company. Sales continued to fall, totaling only 2,692 at the end of the model year, and Pierce posted a $3 million loss on a turnover of but $8 million.
It was painfully obvious that even more drastic measures would be required to stave off financial ruin, especially since Studebaker was also losing money, though it continued to pump funds into financially troubled Pierce-Arrow.

In an effort to cut costs, the two firms decided to standardize several manufacturing processes for their two vastly dissimilar product lines. This cooperation did not, as has been implied, lessen Pierce-Arrow's image nor the quality of its cars, but it was too little, too late in any case. Continuing dependence on costly luxury cars and a stubborn refusal to field more modestly priced models would, in time, bring about Pierce's demise.
Our story continues with the 1933 Pierce-Arrow on the next page.

For more information on cars, see:
Consumer Guide New Car Search
Consumer Guide Used Car Search
1933 Pierce-Arrow
The 1933 Pierce-Arrow lineup arrived in late 1932 evidencing only slight external change. There were now four series: the straight-eight Model 836 and the 12-cylinder Models 1236, 1242, and 1247.
Skirted fenders, the most noticeable outward difference, drew attention from several important internal improvements, including hydraulic valve lifters -- an industry first -- plus standard power brakes, automatic chokes, and more horsepower.

A beautiful 1933 Model 1242 V-12 with Pierce-Arrow convertible sedan bodywork.
The smaller 398-cid V-12 was axed in an economy move, leaving just two basic engines. The eight was now rated at 135 horsepower, the 429-cid V-12 at 160 horsepower. For the big 1242 and 1247 series cars, the twelve was bored out from 3.38 to 3.50 inches for 452 cid and gained higher-compression heads. The result was a majestic 175 horsepower at 3,400 rpm.
Development of the new 462 was suggested by noted race driver Ab Jenkins, whom Pierce had retained to improve the twelve's output and performance. Testing his theories, Jenkins went to Utah's Bonneville Salt Flats with a prototype 1933 roadster in late 1932 and proceeded to average 112.9 miles per hour over 2,710 miles in a 24-hour nonstop run.
The car ran without fenders, windshield, or road equipment, which were then reinstalled when it was immediately driven back to Buffalo, a distance of over 2,000 miles. It was an amazing demonstration of Pierce performance and durability.

Jenkins returned to the Salt Flats in August 1933, determined to break the World's Unlimited Record, then held by a specially prepared French-built Voisin. For the assault on this and other speed records, this car was powered by a slightly modified V-12 producing 207 horsepower and was stripped of its fenders.

Timed by AAA officials, Jenkins hit speeds as high as 128 mph during the 251/2-hour trial and set a total of 79 world and international records in the process.
Pierce-Arrow was presumably above such public exhibitionism, but a company spokesperson provided this explanation for why the firm now resorted to it: "I don't want to drive an automobile 125 miles per hour or even 100 miles an hour. But I do want to own a motorcar that is built so perfectly and engineered so soundly that normal speeds are but child's play for it."
See the next section for details on another 1933 model -- the Silver Arrow.

For more information on cars, see:
Consumer Guide New Car Search
Consumer Guide Used Car Search
1933 Silver Arrow
Impressive though the 1933 Pierces were, neither the public nor the motoring press was quite prepared for the revolutionary 1933 Silver Arrow, which made its unannounced debut at both the New York and Chicago Auto Shows in January of that year.
Designed by Philip Wright, a former stylist with the Murphy Body Company, it was the product of numerous wind tunnel experiments and a striking aesthetic success for those dark times. Proclaimed company literature: "It gives you in 1933 the car of 1940."

Pierce helped introduce streamlining to the American public with the rakish 1933 Silver Arrow show car. Only five were built.
Although it did not directly inspire the styling of future Pierce-Arrows, it was truly futuristic. Headlights faired into the front fenders, long a Pierce hallmark, were featured but were even more integrated into the sheet metal, thereby reducing wind resistance. Flanking a swept-back V-shaped vertical radiator, they announced slab-sided front fenders with concealed side-mount spare tires.
There were no visible running boards, and the pronounced pontoon rear fenders set off a radically tapered fastback tail with a narrow slit cut into the roof for the rear window. This was no cut-down roadster or phaeton but a four-door, five-passenger sedan weighing 5,700 pounds with full road equipment.
Despite this heft, a surprising 115 mph was claimed for the Silver Arrow, which was not unlikely given its 175-horsepower V-12 and short 139-inch wheelbase.
The beautiful Silver Arrow was America's dream car, but an advertised $10,000 price prevented it from becoming anything more than that, and only five were built. One paced the 1933 Indianapolis 500; another astounded visitors to Chicago's Century of Progress Exposition in mid-summer.

Roy Faulkner, the dynamic former president of Auburn, took over as Pierce-Arrow sales manager in late 1932. His promotional efforts, including the Silver Arrow and Jenkins' speeds runs, were apparently successful -- at least initially.
Sales of the 12-cylinder models jumped by 200 percent in January 1933 and by 130 percent in February; through October of that year they were 55 percent better than the 1932 total.

But strikes at tool-and-die makers interfered with the fragile recovery, and 300 to 400 sales were lost in late 1933. Studebaker protected Pierce by bankrolling these losses, but the South Bend firm, now hopelessly overextended itself, was forced into receivership in February. Albert Erskine committed suicide the following July, leaving Pierce saddled with debt, largely due to his mismanagement.

Studebaker's receivers ordered the sale of Pierce-Arrow to bring in needed funds. In August a group of Buffalo-area businesspeople and bankers bought control of the firm for a mere $1 million, determined to give it a new lease on life. Faulkner returned to Indiana about a month later, thus ending the rumors of a possible merger with Auburn that had been whispered since his arrival.

Independent once more, Pierce was, ironically, more financially healthy than Studebaker. The new owners appointed former general manager Chanter, now 43, to take Erskine's place, and he began laying plans to expand sales.
Find out what happened in 1934 on the next page.

For more information on cars, see:
Consumer Guide New Car Search
Consumer Guide Used Car Search
1934 Pierce-Arrow
Let's set the stage for the 1934 Pierce-Arrow lineup. For a time it appeared that the downward spiral had bottomed out. Pierce's debts were canceled, and the company realized a minuscule profit of $4,770 by the end of the second quarter of 1933. The company hoped to break even at 3,000 annual sales and make a million dollars profit at 4,000 units.
But sales reached only 2,152 by the end of the year, less than the dismal 1932 figure. Nevertheless, management believed an economic turnaround was just ahead, and Chanter persuaded Faulkner to come back to assist in the firm's hoped-for renaissance.

As part of that effort, Pierce fielded three greatly improved models for 1934. There were two V-12 series, the 1240 Salon Twelve and 1248 Custom Twelve, both powered by the 175-horsepower 462-cid unit as used in the Silver Arrow.

Pierce-Arrow bodywork became even smoother
and less boxy for 1934.
The eight-cylinder Model 840 employed a stroked (3.50 × 5.00) 385-cid version of the existing 366-cid engine that produced 140 horsepower at 3,400 rpm. Both 840 and 1240 were offered on two wheelbases, 139 and 144 inches, while the 1248, the most luxurious of the new trio, used the long 147-inch chassis.
Prices ranged from $2,795 to $4,495 for the eight standard body types, with LeBaron and Brunn custom styles appropriately higher. A fastback two-door sedan, a pale imitation of the 1933 show car and also called Silver Arrow, was available on the 144-inch platform in both eight-and twelve-cylinder form.
The more conventionally styled bodies gained more headroom, and closed models featured draft-free vent wing windows, adjustable rear seats, concealed curtains, increased sound deadening, and an almost unlimited choice of colors and upholstery materials.

A further attempt to widen Pierce-Arrow's customer base arrived in April with the Model 836A Eight on a shorter 136-inch wheelbase. Using the 135-horsepower 366-cid powerplant, it was available in just two body styles -- four-door sedan and a two-door brougham/coach priced at $2,295 and $2,195, respectively.
For $100 extra, you could order a Salon package consisting of special upholstery, mahogany rear door trim strips, twin outside horns, and other deluxe items.

An attractive albeit plain-looking car lacking Pierce-Arrow's traditional "archer" radiator mascot, the 836A was the least expensive model in the company's history, but it was built to the same time-honored standards of excellence as its larger brothers. Yet even at this price level it was still far too expensive to bring customers rushing into the showrooms. Continued with few changes into early 1935, it was quietly discontinued after selling less than 900 units.

Pierce-Arrow's initial 1934 registrations were disappointing: 341 units in the first two months of the year versus 363 in 1933. The sales push showed results in April-June deliveries, which increased 10 percent, but the firm continued to lose money by the bucketful: $861,000 in the first six months followed by another $176,000 in July. Pierce-Arrow filed for bankruptcy the very next month, following futile merger discussions with Auburn and Reo.

Chanter sought funds from the Buffalo community and New York banks and managed to raise $1 million. The workforce, which had numbered 2,200 to 2,400 employees since 1930, was slashed to between 600 and 800, a nearly 70 percent cut.
With its new capital, a leaner reorganized company named Pierce-Arrow Motor Corporation began operations in May 1935. A new breakeven point of 1,000 units per year was established, but even this modest figure would prove to be hopelessly optimistic.
For details on 1935 and 1936 Pierce-Arrow automobiles, check out the next page.
For more information on cars, see:
Consumer Guide New Car Search
Consumer Guide Used Car Search
1935, 1936 Pierce-Arrow
A few changes marked the 1935 and 1936 Pierce-Arrow lineups. The 1935 Pierce-Arrows were predictably little more than '34s with minor revisions, such as full-length fender skirts, new headlamp lenses, and rearranged hood louver doors (from two groups of two to a single line of three). The major change was a completely redesigned dash.

Instruments were now grouped into two large dials flanking the steering column, one housing speedometer and odometer, the other incorporating oil pressure, water temperature, ammeter, and fuel level gauges. Minor controls were placed in the center, and a glovebox with an electric clock mounted in its door was on the right.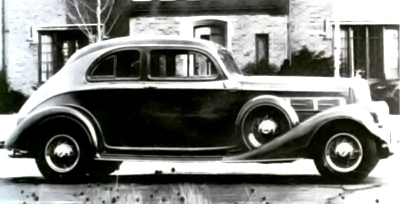 The 1935 version of the production Silver Arrow coupe was offered on a 144-inch chassis in both eight-cylinder and V-12 form.
Orders numbered only 875, but fiscal problems did not prevent Pierce from building newsworthy cars. Witness this story from
Time
magazine in 1935: "Two swank blue limousines were sent to Washington [D.C.]. Both were rated to do 110 mph, both fitted throughout with bulletproof glass, both had bodies armored with an invisible protection of bulletproof steel plate. One was addressed to J. Edgar Hoover, the other to Franklin D. Roosevelt."
Now operating on a very limited budget, company engineers brought forth a vastly reworked and attractively styled design for 1936. The result was what was very likely the finest Pierce-Arrow ever built and one of the greatest cars of the Classic era.
As "The One Great Name That Identifies Fine Cars Exclusively," Pierce-Arrow could boast of more than 30 important improvements on its new models, launched in October 1935.

Advertised as "The World's Safest Motorcar," the '36 had the largest and most efficient brakes in the industry, assisted by a new power vacuum booster. Though some models weighed more than three tons, they could be brought to a safe, sure stop in less than half the distance demanded by state safety laws.

On all models the radiator was moved forward several inches, and the steering box was relocated ahead of the front axle with a trailing drag link, which put the pivot point nearer the exact center of the steering axis for turning that was near effortless.
An additional cruciform member made for the heaviest and strongest box-girder frame ever used in a passenger car, with five cross-members in all, three of them tubular, plus a sturdy X-member for increased rigidity.

Pierces had always been easy to drive despite their immense proportions, but the revised steering geometry, suspension, and weight distribution made for outstanding ride and handling on the 1936s.
Power output on the 385-cid straight eight went up to 150 horsepower, and the V-12 was boosted to 185 horsepower via aluminum cylinder heads with higher compression and new mufflers with reduced back pressure. These ratings were equal to or greater than those of any other comparable American luxury car.

In addition, there were powerful integrated driving lights, longer springs with wider mountings, front and rear stabilizers, a spacious trunk integral with the body and incorporating a light in the top-hinged trunklid with a mercury switch, plus automatic overdrive with built-in freewheeling, a lower center of gravity, and improved seating arrangements in most body types.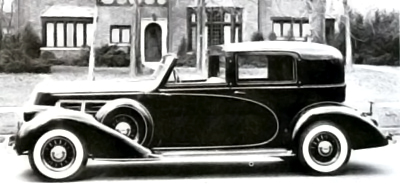 Brunn supplied this special town car style. Shown is the 1936 Model 1603 edition.
Fresh new styling more in keeping with current trends was achieved via a narrower and more rakish radiator shell and streamlined fenders, an ensemble that nevertheless retained the customary Pierce-Arrow look.
The eight-cylinder Series 1601 and the twelve-cylinder Series 1602/1603 offered the same body styles and wheelbases previously available: five- and seven-passenger sedans, coupe, town car, formal sedan, limousine, convertible sedan, and coupe-roadster.
Prices ranged from $3,115 for the Model 1601 two-passenger coupe to $4,995 for the Model 1603 limousine. Also shown in the catalog was a Brunn-built "Metropolitan Town Brougham," listed at $5,295 as an Eight and $500 higher as a Twelve.
See the next section for details on the 1937 and 1938 Pierce-Arrows.

For more information on cars, see:
Consumer Guide New Car Search
Consumer Guide Used Car Search
1937, 1938 Pierce-Arrow
Now let's chronicle the 1937 and 1938 Pierce-Arrow lineup.
Briefly during 1936 it appeared Pierce-Arrow had turned the corner. Registrations showed a 25 percent gain for the first third of the year, but sales quickly tapered off to below 1935 levels. Despite the smart appearance, engineering advances, and superlative comfort of the new models, deliveries totaled just 787 units.

The Buffalo automaker was clearly in trouble, and the months ahead would seal its fate. Merger rumors came and went amidst talk of new stock offerings and another reorganization. There was even speculation about a cheaper "companion" car to be announced as soon as sufficient capital could be secured.

The 1938 models were all but indistinguishable from the 1937s, but they were unmistakably Pierce-Arrow in appearance. Note the vee'd front bumper on this Model 1803 limousine.
In the meantime, the firm bravely carried on with a 1937 line bearing only a few interior trim changes to distinguish it from the previous year's group. Chassis, engines, and most other specifications remained unchanged, as did the styling.
In a throwback to a breed long since consigned to history, Pierce made a last desperate bid for the super-luxury coachbuilt market with a "Special Custom Body Group." This referred to several esoteric body types that were given prominent space in the 1937 catalog, including two town cars and a high-roof "Opera" limousine.

Unfortunately, neither these nor the standard models succeeded in reversing the slide toward oblivion. Suppliers, justifiably dismayed by the abysmally poor sales of just 166 cars in 1937, turned a deaf ear to company pleas for additional credit, and Pierce soon suspended all production save auto show cars and spare parts.

Yet somehow, there was a 1938 Pierce-Arrow. Only 17 are estimated to have been built, making them among the rarest in the company's 37-year history. A "banjo-type" plastic-rimmed steering wheel, a new license plate lamp on closed cars, a color change for hubcap centers, and a relocated emergency brake handle were the only clues to these last-of-the-line models, announced in October 1937.

The success of Packard and Lincoln with their medium-priced models inspired another reorganization scheme for Pierce. In August 1937 the company announced plans to raise $10.7 million through a stock sale for the production of 25,000 medium-priced cars, plus 4,800 trailers and 1,200 luxury models, and proposed turning over management duties to Postmaster General James A. Farley, then intending to leave the Roosevelt Administration. But none of this came to pass.

Farley had received similar offers from Studebaker and Willys, which he also rejected because all required him to use his influence with the government, presumably to obtain contract work or federal loans. Pierce declared bankruptcy again in December 1937 after losing nearly $250,000 in the 17 months from July 1936 through November 1937. The firm was declared insolvent the following April. A month later, it was summarily liquidated.

Pierce-Arrow produced only a handful of 1938 models, its last cars. Most sources peg actual production at less than 40 units.
Why did Pierce-Arrow wait so long before considering a medium-priced car? There are several reasons. For one thing, the firm's share of the total market was constant through 1932, and its share of the prestige segment actually increased. Summer and fall sales increases during 1933, together with a higher level of V-12 sales, indicated that the three-year sales decline had been reversed.
The Model 836A of 1934 actually was an attempt at a lower-priced product, but as noted, it was not sufficiently less expensive to generate the needed sales volume. Then, too, the 1935 reorganization would have been jeopardized had the company admitted that it could survive only with cheaper models, given the prohibitive tooling costs for any sort of new product in those days.

Pierce publicity unwittingly gave a clue to the firm's insoluble dilemma when it proclaimed: "Pierce-Arrow's floor area, if used for ordinary mass production, would have a capacity four times that possible under Pierce-Arrow methods."

The Pierce-Arrows of the 1930s will be remembered as superb road machines of uncompromising craftsmanship. Their engines were powerful, smooth, and quiet, and provided outstanding acceleration and hill-climbing ability. Braking, steering, and handling were all of a high order, yet tuning and maintenance were straightforward.

Though Pierce-Arrow lacked the enormous technical resources of General Motors, its cars remained comparable with Cadillac's throughout the decade. Success, however, has always been on the side of the big battalions. Thus, America's pioneer grand marque -- built by highly skilled craftsmen in a plant run by old New England gentlemen -- passed into history and with it, an American institution.
Find specifications for Pierce-Arrow cars in our final section.

For more information on cars, see:
Consumer Guide New Car Search
Consumer Guide Used Car Search
Pierce-Arrow Specifications
Pierce-Arrow was always known for its superb craftsmanship and ultimate luxury. Along with Packard and Peerless, it was one of the fabled "three Ps" of U.S. automotive royalty. Take a look at the chart below to see how Pierce-Arrow specifications compared with some of the other luxury liners'.
| | | | | | | | | | |
| --- | --- | --- | --- | --- | --- | --- | --- | --- | --- |
| Make | Series | Wheelbase (inches) | Engine Type | CID | horsepower @ rpm | No. M/B* | B/A (square inches)** | Price (Limo) | Production |
| Pierce-Arrow | 1601 | 139/144 | L-head I-8 | 385 | 150 @ 3400 | 9 | 342 | $3,650 | 787 |
| Pierce-Arrow | 1603 | 147 | L-head V-12 | 462 | 185 @ 3400 | 7 | 342 | $4,995 | |
| Packard | 1405 | 144 | L-head I-8 | 385 | 150 @ 3200 | 9 | 240 | $3,580 | 1330 |
| Packard | 1408 | 144 | L-head V-12 | 473 | 175 @ 3200 | 4 | 284 | $4,485 | 682 |
| Lincoln | K | 145 | L-head V-12 | 414 | 150 @ 3400 | 4 | 335 | $4,700 | 1459 |
| Cadillac | 75 | 138 | L-head I-8 | 346 | 135 @ 3400 | 3 | 270 | $2,995 | 3227 |
| Cadillac | 85 | 138 | ohv V-12 | 368 | 150 @ 3600 | 4 | 270 | $3,695 | 651 |
*number of main bearings
**total effective braking area
prices in contemporary dollars
Sources: MoToR Annual Show Number, November 1935; NADA Official Used Car Guide, January 1937; The Production Figure Book for U.S. Cars.
For more information on cars, see:
Consumer Guide New Car Search
Consumer Guide Used Car Search