Of all the great American marques -- Stutz, Lincoln, Duesenberg, Packard, and the rest -- none was more synonymous with meticulous craftsmanship and refined luxury than the noble Pierce-Arrow, one of the fabled "three Ps" of U.S. automotive royalty. Here is the history of Pierce-Arrow.

An outgrowth of the former George N. Pierce Company of Buffalo, New
York -- one-time bicycle manufacturer and, earlier, bird cage maker -- the Pierce-Arrow Motor Car Company had achieved a position of prominence by the mid-Teens.

In the early years, company advertising promoted the image of the Pierce-Arrow owner as one not only of considerable means but discriminating taste and astute judgment. Leading artists and illustrators such as Frank Leyendecker, Adolph Treidler, and Myron Perley vied for commissions, and their efforts were among the finest in this medium.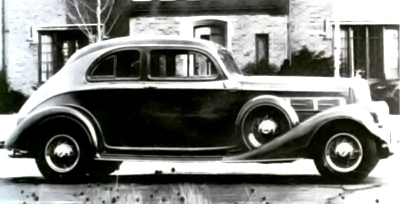 This 1929 Model 133 victoria coupe is part of a collection of original Pierce publicity photos. See more classic car pictures.

Typically, Pierce advertisements were directed solely to those of high social status. Elaborate color spreads appeared in such leading upper-crust magazines as Vanity Fair and Country Life and usually displayed formally attired folk of obvious refinement arriving at the opera, theater, or a gala reception, their stately Pierce-Arrows attended by footman and chauffeur clad in subdued, matching livery.
Reflecting the firm's low-key attitude, ad copy was restrained, stressing that Pierce-Arrows offered simply the utmost in convenience, unfaltering quality, and luxurious appointments on a grand scale.

Pierce-Arrow had arrived at the forefront of social preference by 1918. Its most impressive offering that year was the Model 66A, a car of such staggering proportions that it literally dwarfed all others.
Towering more than seven feet tall, the most costly of the more than 20 standard body types available was the $8,000 Vestibule Suburban Landaulet. By comparison, a Ford was priced at a paltry $525, and Packard's most expensive model, the Twin Six Imperial Limousine, sold at a "modest" $5,850.

Mounted on a 147.5-inch wheelbase, the Model 66A had a 32-gallon gas tank and rode on tires nearly four feet in diameter. Powering this leviathan was a monstrous 824.7-cubic-inch T-head six having a 5.00-inch bore and 7.00-inch stroke.
Aside from the Peerless 6-60 of the early Teens and the short-lived 1917 Fageol (which used a Hall-Scott aircraft engine), no automobile ever boasted such a Herculean powerplant.

Unfortunately, management's staunch conservatism led to stagnation, and Pierce-Arrows were technically passé by the mid-1920s despite the marque's well-deserved reputation for excellence.
By early 1929 the company was awash in red ink, its products still admired by the well-to-do but hopelessly outdated. It appeared that unless something was done soon, the venerable automaker would fail to see the next decade.

That something occurred in midsummer. Following months of negotiations, Studebaker Corporation acquired control of Pierce-Arrow through a stock transfer. Pierce's need for a guardian angel was fortuitous for Studebaker's accountant-turned-president, Albert R. Erskine, who wanted a prestige nameplate for the automotive empire he hoped to build in South Bend.

Almost overnight, the Buffalo manufacturer received a huge infusion of badly needed capital to underwrite new models still on the drawing boards, and this imbued its managers with a zeal to revitalize the company. Accomplishing that meant embracing new technology and rejecting the hidebound policies of the past.

Under the new arrangement, Pierce continued as an independent entity under its own general manager, Arthur J. Chanter, though Erskine took over as president. Equally important, Pierce and not Studebaker engineers continued to be responsible for new-model development.
Learn about the 1930 Pierce-Arrow in the next section.

For more information on cars, see:
Consumer Guide New Car Search
Consumer Guide Used Car Search
Advertisement