1938 Ford Trucks
Ford pickup trucks were fitted with a new cab, front-end sheetmetal, and bed for 1938, while 11/2-ton versions got a new chassis.
A further attraction was the debut of a truck that slotted between the light-duty car-based pickup and the heavy-duty 11/2-ton models. Rated at one ton, the new series was appropriately called the "One-Tonner." It would be followed by a Three-Quarter Tonner the following year. Also introduced by Ford in 1938 were the industry's first Cab-Over-Engine (COE) models.
Bulbous front and rear fenders marked the 1938 Ford pickup trucks.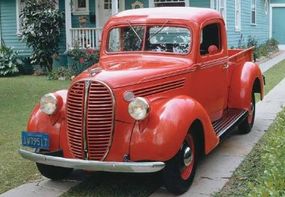 The 1938 Ford pickup truck also got a new cab and pickup bed.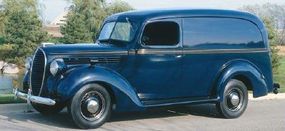 An oval grille was the final new touch to the 1938 Ford pick truck models.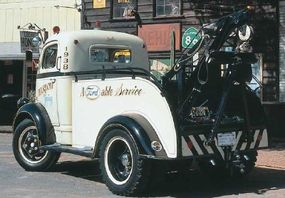 Wrecker with Ford Cab-Over-Engine 1938 chassis and body
A wrecker sports the Cab-Over-Engine (COE) chassis and body Ford introduced for 1938. It provided for a shorter overall length with a given-size utility body -- which in this case was pretty short to begin with.
<<p>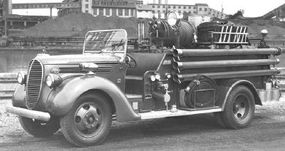 This 1938 fire truck was used by Ford at its Rouge Plant in Detroit.
The final year of the decade marked a first for Ford trucks -- hydraulic brakes -- and other changes for Ford trucks. Read about 1939 Ford trucks in our final section.
Want more information about Ford trucks? Try these:
1990-1999 Ford Trucks

1960-1969 Ford Trucks

1950-1959 Ford Trucks

1940-1949 Ford Trucks

Consumer Guide Auto New Large Pickup Truck Prices and Reviews

Consumer Guide Auto New Compact Pickup Truck Prices and Reviews

Consumer Guide Auto Truck Buying Guides

Consumer Guide Auto Used Compact Pickup Truck Prices and Reviews

Consumer Guide Auto Used Large Pickup Truck Prices and Reviews