The 1918 Harley-Davidson 18-J was Harley's most powerful motorcycle for that year. As such, it was well suited for use with the matching sidecar, which afforded its occupants far more luxury -- and better weather protection -- than the motorcycle's rider enjoyed.
The staggered shifter gate for the three-speed transmission placed first gear toward the front, with neutral, second, and third to the rear. As it had since 1915, the tank-mounted speedometer was driven by a gear on the rear wheel.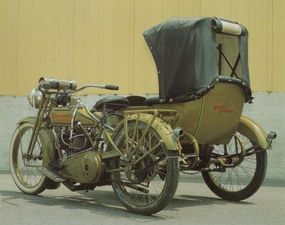 Though electric lighting was available, this example is fitted with an acetylene-powered headlight and taillight that were fed from a tank mounted on the handle bars.