The 1915 Chevrolet Series H lineup carried over both of its models from 1914. These were the Baby Grand touring car and the Royal Mail roadster, both built on the same 104-inch wheelbase. Painted in gray or plum, a Baby Grand cost $875 with a magneto and Prest-O-Lite gas lighting, or $1,000 with full Auto-Lite electricals -- including starter.
While the Royal Mail was descended from the Little, Baby Grands bore no kinship to prior models. Both were billed as "The Product of Experience."
Chevrolet referred to its overhead-valve engine as a "valve-in-head" design, which drew considerable publicity because most rivals were flatheads. Exposed pushrods actuated valves in the detachable crossflow cylinder head. The starter now sat at the rear, operating a ring gear, as in modern
engines
. Instead of a water pump, it used thermo-syphon cooling. Unlike the Royal Mail, which employed gravity fuel feed, the Baby Grand got a pressurized system.
For 1915, wheelbases stretched to 106 inches, and larger-diameter
brakes
were installed. Electric starters became standard -- a "first" in the low-priced field. Addition of a deluxe Amesbury Special roadster, with wood or wire wheels, helped bolster Chevy's image.
Just 5,005 Chevrolets were built in 1914, but the total climbed past 13,000 for 1915, earning a $1.3 million profit.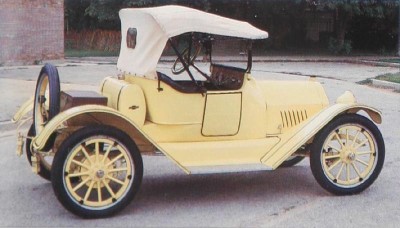 The 1915 Chevrolet Series H was available
as the jaunty Royal Mail roadster.
1915 Chevrolet Series H Facts
| | | | |
| --- | --- | --- | --- |
| Model | Weight range (lbs.) | Price range (new) | Number built |
| 1915 Series H | 2,000-2,500 | $750-$985 | 12,605 (approx.) |
For more picture-packed articles about Chevys and other great cars, see:

Classic Cars: Learn about more than 400 of the world's finest classic and collectible automobiles.
Muscle Cars: Look back at tire-smoking Chevys and scores of other machines from the golden age of American high performance.
Sports Cars: Discover the pleasure of sports motoring at its purest in these captivating articles on the best sports cars from around the world.
Consumer Guide Automotive: Here's your source for news, reviews, prices, fuel-economy and safety information on today's cars, minivans, SUVs, and pickups.
Consumer Guide Used Car Search: In the market for a used Chevy or virtually any other pre-owned vehicle? Check out these reports, which include safety recalls and trouble spots.
How Chevrolet Works: Get the inside story of one of America's greatest automotive marques in this lavishly illustrated history of Chevrolet, beginning with its founding in 1911.
Advertisement