The 1911, 1912, and 1913 Chevrolet Series C Classic Six was the first model that Chevrolet sold -- and, almost as if it anticipating the "badge engineering" of future Chevy parent General Motors -- it wasn't sold by Chevrolet alone.
By the time corporate entrepreneur William C. Durant hired Swiss-born Louis Chevrolet as a consultant early in 1911, Louis had already won fame as a race-car driver. In 1905, Louis had set a land-speed record of 111 mph. Two years later, he and brother Arthur raced for Buick.
In 1911, Durant took over the Flint Wagon Works, incorporating both the Little and Mason companies. Months before the Chevrolet Motor Car Co. was incorporated (on November 3), Louis and Durant had come up with a prototype for a new, costly automobile to be known as the Chevrolet. Actual design work hailed from the hand of Etienne Planche, following the instructions of his old friend Louis.
Large and well-constructed, the first Chevrolet was just what Louis wanted: a precision-quality motorcar. Durant was less enthralled, preferring a low-priced model. To grab that end of the market, Durant also produced the Little -- sized as its name suggests and selling for just $650, it was intended as a rival to Ford's Model T.
Riding a 120-inch wheelbase, the Chevrolet Classic Six (Series C) carried a 299-cubic-inch six-cylinder T-head engine. With dual camshafts and a T-head configuration (intake and exhaust valves mounted in the block, on opposite sides of the cylinders), that engine developed 40 horsepower. A cone clutch and three-speed gearbox were mounted on the rear axle.
Sporting low running boards along a low-slung chassis, the Classic Six imparted a European flair. A Simms magneto and compressed-air starter were installed at first, but later models got a Gray and Davis electric starter. The car had electric headlights and cowl lights as standard equipment.
After actual production began late in 1912, Chevrolets sold for no less than $2,150. Although Durant's companies sold 2,999 automobiles that year, they were mainly Littles. After hand-crafting the prototype, which ran on Detroit streets, Louis spent all of 1912 on tests and modifications. Customers admired the Chevrolet, built only as a five-passenger touring car, so the plant had to expand.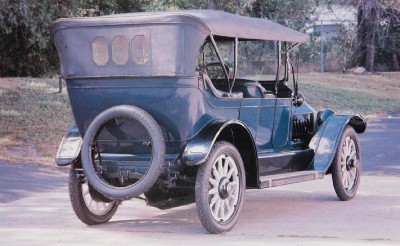 The Chevrolet Classic Six had a
299-cubic-inch six-cylinder engine.
1911-1913 Chevrolet Series C Classic Six Facts
| | | | |
| --- | --- | --- | --- |
| Model | Weight (lbs.) | Price (new) | Number built |
| 1911-1912 C tour 5 pass. | 3,500 | $2,150 | 2,999 (approx.) |
| 1913 C tour 5 passenger | 3,750 | $2,500 | 5,987 (approx.) |
For more picture-packed articles about Chevys and other great cars, see:
Classic Cars: Learn about more than 400 of the world's finest classic and collectible automobiles.
Muscle Cars: Look back at tire-smoking Chevys and scores of other machines from the golden age of American high performance.
Sports Cars: Discover the pleasure of sports motoring at its purest in these captivating articles on the best sports cars from around the world.
Consumer Guide Automotive: Here's your source for news, reviews, prices, fuel-economy and safety information on today's cars, minivans, SUVs, and pickups.
Consumer Guide Used Car Search: In the market for a used Chevy or virtually any other pre-owned vehicle? Check out these reports, which include safety recalls and trouble spots.
How Chevrolet Works: Get the inside story of one of America's greatest automotive marques in this lavishly illustrated history of Chevrolet, beginning with its founding in 1911.
Advertisement