1914 and 1915 Ford Trucks
Ford continued to make trucks in 1914 and 1915 even as the company grew in other areas. In 1914, Ford initiated its $5 per day wage program, which was double the industry's normal rate of pay. This allowed Ford assembly-line workers to buy the cars they were building. It also helped to increase sales -- which were growing by leaps and bounds anyway -- prompting Ford to open another seven assembly plants.
Ford Model T chassis were adapted for all kinds of uses; this 1914 version was outfitted as a hook-and-ladder fire truck. During this era, Model Ts were powered by a 177-cubic-inch four-cylinder engine rated at a rousing 20 horsepower. The least-expensive "civilian" Model T, a two-passenger runabout, listed for $440, while a chassis (which included everything but the passenger compartment, trunk, and rear fenders) went for $410.
Ford offered new-car buyers a $50 rebate during 1914. It was also the first year that Model Ts were offered only in black.
Ford reached a major milestone in late 1915 with the production of its one-millionth vehicle. That year also saw the opening of nine new assembly plants, with another three added the following year. This rapid expansionin capacity would allow the company to build its two-millionth vehicle a scant 18 months later.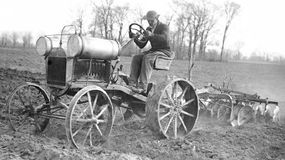 Henry Ford experiments with a prototype Model T-based tractor.
A farmer at heart, Henry Ford began experimenting with Model T-based tractors in the mid Teens. Because pulling a plow placed the engine under a constant heavy load, extra cooling capacity was needed; it was supplied by one of the large cylindrical tanks beside the hood. The other held fuel. Frame rails that were normally straight were bent to allow for more ground clearance.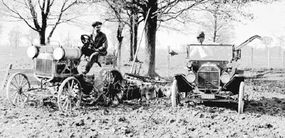 Ford experimental tractor and Model T.
This 1915 photo shows one of Ford's experimental tractors next to a contemporary Model T.
The later part of the decade brought significant changes to the Ford Model T. Find out what happened to this classic Ford truck in the next section.
Want more infomation about Ford trucks? Try these:
1990-1999 Ford Trucks

1960-1969 Ford Trucks

1950-1959 Ford Trucks

1940-1949 Ford Trucks

Consumer Guide Auto New Large Pickup Truck Prices and Reviews

Consumer Guide Auto New Compact Pickup Truck Prices and Reviews

Consumer Guide Auto Truck Buying Guides

Consumer Guide Auto Used Large Pickup Truck Prices and Reviews

Consumer Guide Auto Used Compact Pickup Truck Prices and Reviews